I received this galley in consideration for an honest review.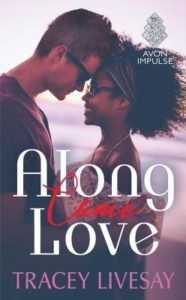 Along Came Love by Tracey Livesay
Series: Shades of Love #2
Published by Avon on October 25, 2016
Genres: Romance
Goodreads


When a silly, impulsive decision lands free-spirited India Shaw behind bars in San Francisco, she has no choice but to call the only person she knows in the unfamiliar city—the very man she abandoned after a steamy two-day fling. The fact that she's pregnant with his child is something she'd rather not divulge.

Tech executive Michael Black never thought he'd hear from the quirky beauty after she left his bed four months ago, much less be called upon to post bail. He's got his hands full with a corporate merger that could make or break his career, but his honorable nature—and an overwhelming need to see her again—means he can't just leave her in jail. And when India reveals the truth about her pregnancy, Mike insists she stay with him until the baby is born.

India doesn't want to depend on him for anything, but their constant proximity stirs up feelings she can't ignore. She's never desired a family before and she knows a future with Mike isn't possible . . . but then along came love to shake up all her plans.
I love the uptight guy/free spirit girl trope, as long as the girl doesn't tun into a one-dimensional MPDG. Luckily, that was not the case in this book. Of course, we also have one of my other favorite tropes – surprise baby!  India is a free spirit, but as the book progresses, you realize that her constant movement might be more like running away.  Her upbringing in the foster system still lingers in her sub-conscience and I loved the way she confronted how that impacted her feelings of fear as she faces motherhood.  Mike has to learn that you can't simply throw money at every problem or plan someone's life without consulting them, and as India tries to come to terms with her options, a sweet and sexy romance rekindles.  I liked the emotional conflict in this book and how honest and vulnerable India's inner thoughts were.  I enjoyed Along Came Love and I am going to circle back and read book one, as well!
I received this galley in consideration for an honest review.
The Perks Of Loving A Scoundrel
by
Jennifer McQuiston
Series:
The Seduction Diaries #3
Published by
Avon
on September 27, 2016
Genres:
Romance
,
Historical Romance
Goodreads


Every girl dreams of a hero . . .

No one loves books more than Miss Mary Channing. Perhaps that's why she's reached the ripe old age of six-and-twenty without ever being kissed. Her future may be as bland as milk toast, but Mary is content to simply dream about the heroes and adventures she reads about in her books. That way she won't end up with a villain instead.

But sometimes only a scoundrel will do.

When she unexpectedly finds herself in the arms of Geoffrey Westmore, London's most notorious scoundrel, it feels a bit like a plot from one of her favorite novels. Suddenly, Mary understands why even the smartest heroines can fall prey to a handsome face. And Westmore is more handsome than most. But far worse than the damage to her reputation, the moment's indiscretion uncovers an assassination plot that reaches to the highest levels of society and threatens the course of the entire country.

When a tight-laced miss and a scoundrel of epic proportions put their minds together, nothing can stand in their way. But unless they put their hearts together as well, a happy ending is anything but assured.
I loved the meet-cute in this book because it was so not what you usually read in an historical romance.  The Perks of Loving a Scoundrel is actually set in Victorian England (not Regency) and features a hero who is suffering from PTSD after his time in Crimea.  Mary, of course, is determined to live a quiet life, but it becomes clear that she's really just hiding.  The adventure that Geoffrey and Mary embark upon to save the queen was full of intrigue and some pretty good twists.  I thought the romance and adventure were pretty well balanced, although some of their misunderstandings were a little unbelievable.  The plot meandered a bit in places, but it found its footing by the end.  Overall, I liked The Perks of Loving a Scoundrel.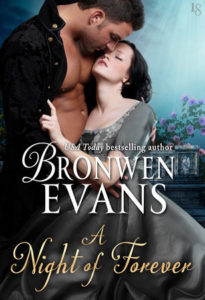 A Night Of Forever by Bronwen Evans
Series: The Disgraced Lords #6
Published by Random House on October 25, 2016
Genres: Romance, Historical Romance
Goodreads



Arend Aubury trusts no one besides his fellow Libertine Scholars. After his family escaped from France, penniless and persecuted, only the Scholars took him in. So when the stepdaughter of the villainess who has been plotting against them approaches Arend with allegations against their enemy, he suspects a double cross. Yet Isobel is a tantalizing prize, with lips as sweet as champagne and skin as creamy as Camembert. Is she a feast for the senses—or a bitter trap?

Lady Isobel Thompson dreams of marrying an honorable gentleman with a spotless reputation, a trait that Arend seems to lack completely. But Isobel believes that her stepmother is responsible for her father's death, and only Arend has the skills to uncover the truth. As a cover, Arend suggests a fake betrothal—and soon Isobel finds herself forgetting that their courtship is a ploy. He's so different from the man of her fantasies, and yet he's so terribly handsome, so dangerously intoxicating—and all Isobel wants is more
I really wanted to read this because it was the end of a long series and the resolution of a six book mystery.  Honestly, if I hadn't invested so much in the series already, I would have just put it down.  Unfortunately, this story just fell really flat.  It was repetitive and boring in many places, and the hero was a huge jerk. Isobel's character was inconsistent and didn't have a lot of chemistry with Arend.  The plot meandered and seemed unfocused, and there was a twist at the end that was a tad ridiculous.  While I enjoyed the earlier books in this series, A Night of Forever just didn't quite do it for me.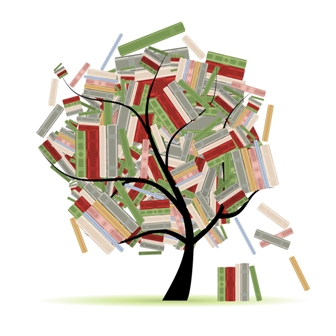 Related Posts