I received this galley in consideration for an honest review.
The Rogue Not Taken by Sarah MacLean
Series: Scandal & Scoundrel #1
Published by Avon on December 29, 2015
Genres: Romance, Historical Romance
Goodreads



When she finds herself the target of very public aristocratic scorn, Sophie Talbot does what she must to escape the city and its judgment—she flees on the back of a carriage, vowing never to return to London…or to society. But the carriage isn't saving her from ruin. It's filled with it.

Kingscote, the Marquess of Eversley, has never met a woman he couldn't charm, a quality that results in a reputation far worse than the truth, a furious summons home, and a long, boring trip to the Scottish border. When King discovers stowaway Sophie, however, the trip becomes anything but boring.

He thinks she's trying to trick him into marriage. She wouldn't have him if he were the last man on earth. But carriages bring close quarters, dark secrets, and unbearable temptation, and suddenly opposites are altogether too attractive
One thing I love about Sarah MacLean's books are the heroines, who are always the right combination of romantic and unconventional for their time.  Sophie is not exception.  Her impulsive decision to leave town by hiding in a carriage that she thought was going back to her neighborhood.   King was an interesting character as well, and I thought it was interesting that he felt as trapped by his reputation, much as Sophie felt trapped by that of her family.  It was not love at first sight for these two and King's exasperation with his stowaway was hilarious.  There was a lot of banter between the romantic couple, which I have always thought was Sarah McLean's strength as a writer.  The family drama quickly takes over the story, and you find out that King has a lot to deal with regarding his father.    While not quite a steamy as some of her other books, there was definitely a lot of sexual tension and it's more of a slow build throughout the entire book.  I can't say that this was my favorite book by this author, but it was a lot of fun and I will definitely be on the look-out for the other books in this series.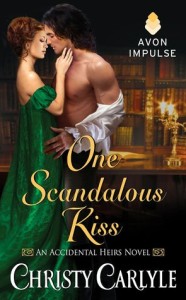 One Scandalous Kiss
by
Christy Carlyle
Series:
Accidental Heirs #1
Published by
Avon
on September 8, 2015
Genres:
Romance
,
Historical Romance
Goodreads


When a scheming marquess' daughter offers her one hundred pounds to publicly kiss a nobleman, a desperate Jessamin Wright agrees. She believes the money will save her failing bookstore and finally free her from her father's debts. But when Jess bursts into an aristocratic party and shocks the entire ton, she never expects to enjoy the outrageous embrace she shares with a grim viscount.

Lucius Crawford, Viscount Grimsby, has never met, or kissed, anyone like the beautiful suffragette who unsettles him with a single touch. He has always strived for control and avoided passion at all costs. Lucius is determined to protect his title and restore the estate he's unexpectedly inherited, but Jess' appearance in his life poses a threat to his plans and his heart. After a country house party brings them together once more, neither can resist temptation, and both find that one scandalous kiss just isn't enough.
I don't remember how I stumbled across this book, but this was a really fun start to a series.  It looks like all of the women who are the main characters are connected by their membership in the women's suffrage society, which is a cool little sub-plot.  There was a lot about defying social class norms in this book, since Lucius is titled, but Jessamin is not.  I liked the conflict that Lucius felt between what he saw as his duty and his desire to be happy. His character slowly changed into someone who recognized Jessamin's worth, not just as a love interest, but as a person who could be a true partner.  This book was relatively tame in the sexy times department, but I felt it did a very good job of setting up a story that had a lot of substance and chemistry between the characters,  I am going to continue with the series and see where it takes me!
The Viscount Who Lived Down The Lane by Elizabeth Boyle
Series: Rhymes With Love #4
Published by Avon on October 28, 2014
Genres: Romance, Historical Romance
Goodreads



As she arrives in Mayfair, Louisa Tempest is horrified when her incorrigible cat bolts from the carriage and dashes into a neighbor's house, where she comes face-to-face with the reclusive Viscount Wakefield. But even more dismaying than his foul temper is the disarray in which she finds his home. Convinced his demeanor would improve if his household were in order, Louisa resolves to put everything to rights.

...until she meets the viscount who lives down the lane.

Much to his chagrin, Wakefield finds it impossible to keep the meddling Louisa out of his home, invading his daily life with her "improvements," and his nights with the tempting desires she sparks inside him. Wounded in the war, he's scorned society ever since his return . . . until Louisa opens the door to his heart and convinces him to give love a second chance.
This story was cute, but it didn't blow me away.  I really loved that the dynamic between the viscount and Louisa. Wakefield is suffering from PTSD after his return from the war with France, so he pretty much spends his time self medicating with alcohol.  Louisa's determination to help him results m a lot of confrontation, as you an imagine and their story is somewhat intertwined with that of Louisa's benefactor, since the two are related.  There were parts, though, that were a bit repetitive and his realization that he loved Louisa seemed to appear out of nowhere.  They were a good couple, but there wasn't a great set-up for their relationship.  I enjoyed reading the book, but I'm not sure I will read anything else in this series.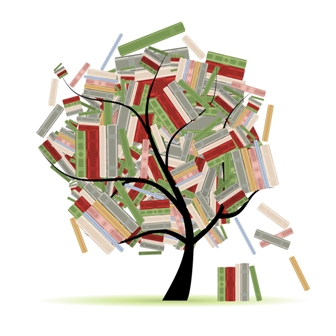 Related Posts