I received this galley in consideration for an honest review.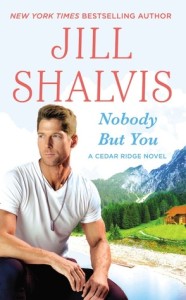 Nobody But You by Jill Shalvis
Series: Cedar Ridge #3
on March 29, 2016
Genres: Romance
Goodreads

After an overseas mission goes wrong, Army Special Forces officer Jacob Kincaid knows where he must go to make things right: back home to the tiny town of Cedar Ridge, Colorado. All he needs to scrub away his painful past is fresh mountain air, a lakeside cabin, and quiet solitude. But what he discovers is a gorgeous woman living on a boat at his dock.

Sophie Marren has nowhere else to go. She's broke, intermittently seasick, and fighting a serious attraction to the brooding, dishy, I'm-too-sexy-for-myself guy who's now claiming her dock. Something about Jacob's dark intensity makes her want to tease—and tempt—him beyond measure. Neither one wants to give any ground . . . until they realize the only true home they have is with each other.
Ever since reading My Kind of Wonderful, I have been dying for Jacob's story.  Both the main characters were kind of a mess, although in different ways, at the beginning of this book.  Jacob struggled with feelings of guilt after his friend's death in combat and Sophie was struggling with feelings of inadequacy as she tried to rebuild her life post-divorce.  They had great chemistry, which was made even stronger by the "I could leave any day" vibe from Jacob.  I especially enjoyed his relationship with his twin brother, Hud. They had a lot of hurt and history to work through, and I loved the strong sense of family that ran through the story.  Nobody But You was definitely fun and sexy, but it was also emotional and full of characters that struggled, but ultimately leaned on family to overcome those problems.
I received this galley in consideration for an honest review.
All Chained Up
by
Sophie Jordan
Series:
Devil's Rock #1
Published by
Avon
on March 29, 2016
Genres:
Romance
Goodreads

Some men come with a built-in warning label. Knox Callaghan is one of them. Danger radiates from every lean, muscled inch of him, and his deep blue eyes seem to see right through to Briar Davis's most secret fantasies. But there's one major problem: Briar is a nurse volunteering at the local prison, and Knox is an inmate who should be off-limits in every way.

Knox feels it too—a shocking animal magnetism that drives him to risk his own life to protect Briar's. Paroled at last, he tries to resist her. She's too innocent, too sweet, and she has no idea what Knox is capable of. But a single touch can lead to a kiss—and a taste . . . until the only crime is denying what feels so right . . .
Wowee!  I was so excited to see a new contemporary series from Sophie Jordan and All Chained Up did not disappoint.  The love interests in this new series all have some kind of relationship with prison, and in this first installment our hot leading man was sent away for killing someone who hurt a family member.  Knox is 100% alpha male, but still maintains that whole noble convict persona.  Briar tries to avoid violence and violent people as much as possible, so when she starts working as a nurse at the local prison, she comes face to face with the worst of humanity.  I liked the way her opinion about prisoners was turned around and while Knox is understandably closed off, watching him become more vulnerable was a big part of my enjoyment of this story.  There were some interesting subplots that I assume will be the subject of subsequent books.  Overall, I thought All Chained Up was a very steamy and entertaining start to this series!
Because of Miss Bridgerton by Julia Quinn
Series: Rokesbys #1
Published by Avon on March 29, 2016
Genres: Romance, Historical Romance
Goodreads


Sometimes you find love in the most unexpected of places...

This is not one of those times.

Everyone expects Billie Bridgerton to marry one of the Rokesby brothers. The two families have been neighbors for centuries, and as a child the tomboyish Billie ran wild with Edward and Andrew. Either one would make a perfect husband... someday.

Sometimes you fall in love with exactly the person you think you should...

Or not.

There is only one Rokesby Billie absolutely cannot tolerate, and that is George. He may be the eldest and heir to the earldom, but he's arrogant, annoying, and she's absolutely certain he detests her. Which is perfectly convenient, as she can't stand the sight of him, either.

But sometimes fate has a wicked sense of humor...

Because when Billie and George are quite literally thrown together, a whole new sort of sparks begins to fly. And when these lifelong adversaries finally kiss, they just might discover that the one person they can't abide is the one person they can't live without...
I have been a Julia Quinn fan since high school, but I had never read any of the Bridgerton books.  Because of Miss Bridgerton is a sort of prequel to the popular Regency series, telling the stories of the previous generation, set in England during the 1780s.  Billie is very much a Bridgerton; singular, witty, not a fan of convention, and fun to read.  Her love interest is quite the opposite, as he bears the responsibility of the estate and the title.  There love story wasn't exactly hate to love – more like, indifference to love, since they had known each other theior whole lives.  The dialogue is clever and quick, which keeps the story moving.  You do not have to read the Bridgerton series to appreciate this one, but ifyou'r like me, reading this will make you want to go back and read all about them.  I love a grumpy hero and George was that, as well as being balanced with a very thoughtful manner.  I can already see some of the groundwork being laid for the other books in the series and I can't wait to read about the other Rokesby siblings.  This book was fun and sexy and Julia Quinn fans will not be disappointed!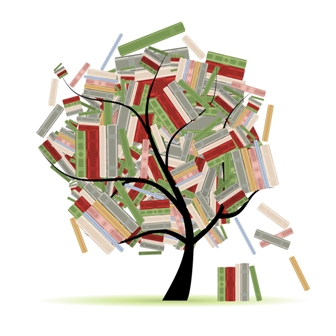 Related Posts