I received this galley in consideration for an honest review.
Highland Awakening by Jennifer Haymore
Series: Highland Knights #2
Published by Random House on March 29, 2016
Genres: Romance, Historical Romance, Scottish Romance
Goodreads

As the secret author of racy romances, Lady Esme Hawkins goes to great lengths to protect her family's honor. Which is why she carefully disguises herself before entering a notorious bordello to do research. But when Esme comes face-to-face with a brooding Highland bodyguard, she can't easily refuse a harmless kiss . . . a kiss that inflames desires ripped from the pages of her novels. Acting on them, however, would risk revealing Esme's identity—and the fact that she's engaged to another man.

As a Highland Knight sworn to protect the crown, Camden McLeod never expected to follow his client into a bordello—nor could he anticipate meeting a bright, innocent lass with lush lips and eyes the color of the sea. Instantly, Cam knows he must possess her. But to do so, he'll need to give up his rakish ways, embrace his role as heir to his despised father, and snuff out a deadly threat to his brothers in arms. By comparison, winning Esme away from her insipid fiancé will be pure pleasure.
The second in the Highland Knights series was just as strong as the first installment. The intrigue continues as the band of Highlanders navigate the world of espionage  post-Waterloo England. Our heroine, who is the sister of book one's love interest, was an interesting character. She is an author, quite the scandal at the time, but even worse, she writes romances!  I loved this part of the plot and it felt like a small nod to romance fans everywhere.  Camden's own troubled history with his father comes into play and it turns into a story that's full of emotional family drama and steamy romance.  Highland Awakening is another winner in this series.
I received this galley in consideration for an honest review.
Once A Soldier
by
Mary Jo Putney
Series:
Rogues Redeemed
Published by
Kensington
on June 28, 2016
Genres:
Romance
,
Historical Romance
Goodreads


As heir to a title and great wealth, Will Masterson should have stayed home and tended his responsibilities. Instead he went to war. Now, after perilous years fighting the French, he intends his current mission to be his last. But all his plans are forgotten when he arrives in the small mountain stronghold of San Gabriel and meets her.

Knowing herself to be too tall, strong, and unconventional to appeal to a man, Athena Markham has always gloried in her independence. But for the first time in her life, she finds a man who might be her match.

Two of a kind, too brave for their own good, Athena and Will vow to do whatever it takes to vanquish San Gabriel's enemies. For neither will back down from death, and only together can they find happiness and a love deeper than any they'd dared imagine.
Once again, we find ourselves in a post-Waterloo world, only this time it is in a tiny country bordering Spain.  There were things I really like about this story.  First, the heroine is quite tall, which I appreciate as a tall person.  Not everyone is 5'2.  Second, I liked the the main characters were older. There was no older man/virgin dynamic in this book, which was refreshing in a historical romance.  However, it was really light on the romance.  There were so many details about the plan and plot, the war and the state of the principality, that I felt like I was reading historical fiction rather than romance.  So, while it was not a bad book, I was left wanting a little more romance in my romance.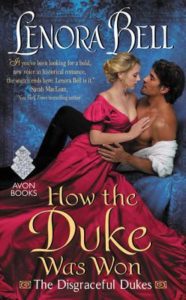 How The Duke Was Won by Lenora Bell
Series: The Disgraceful Dukes #1
Published by Avon on April 26, 2016
Genres: Romance, Historical Romance
Goodreads


Four ladies. Three days. What could go wrong?

She is not like the others…

Charlene Beckett, the unacknowledged daughter of an earl and a courtesan, has just been offered a life-altering fortune to pose as her half-sister, Lady Dorothea, and win the duke's proposal. All she must do is:

* Be the perfect English rose [Ha!]

* Breathe, smile, and curtsy in impossibly tight gowns [blast Lady Dorothea's sylph-like figure]

* Charm and seduce a wild duke [without appearing to try]

* Keep said duke far, far from her heart [no matter how tempting]

When secrets are revealed and passion overwhelms, James must decide if the last lady he should want is really everything he needs. And Charlene must decide if the promise of a new life is worth risking everything . . . including her heart.
This book had a little bit of  Bachelorette feel to it, as a Duke who sees marriage as a business transaction, invites four ladies to his estate for the weekend with the idea that he'll choose one to marry.  The story takes on a farcical tone as the heroine is actually playing the part of her half-sister, who she has never met.  Of course, the Duke thinks she is a well behaved daughter of a peer and has no idea that she is actually an aristocratic by-blow  and has spent her life in a bordello. The only one who does actually know whats happening is Dorthea's mother, which is kind of funny.  The chemistry was fantastic and the Duke's backstory was intriguing, as well. (You'll want hot chocolate after you read this, trust me.)  How the Duke Was Won combined hilarious mishaps, a roguish Duke, a progressive heroine, and lots of sexy times.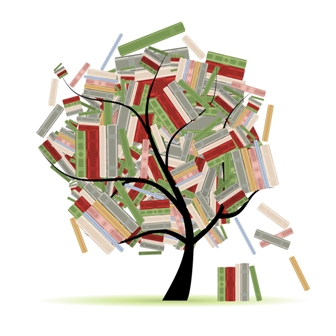 Related Posts