I received this galley in consideration for an honest review.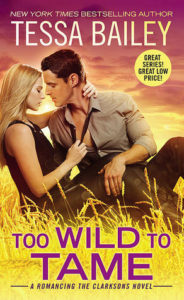 Too Wild To Tame by Tessa Bailey
Series: Romancing The Clarksons #2
Published by Grand Central on September 6, 2016
Genres: Romance
Goodreads

By day, Aaron Clarkson suits up, shakes hands, and acts the perfect gentleman. But at night, behind bedroom doors, the tie comes off and the real Aaron comes out to play. Mixing business with pleasure got him fired, so Aaron knows that if he wants to work for the country's most powerful senator, he'll have to keep his eye on the prize. That's easier said than done when he meets the senator's daughter, who's wild, gorgeous, and 100 percent trouble.

Grace Pendleton is the black sheep of her conservative family. Yet while Aaron's presence reminds her of a past she'd rather forget, something in his eyes keeps drawing her in. Maybe it's the way his voice turns her molten. Or maybe it's because deep down inside, the ultra-smooth, polished Aaron Clarkson might be more than even Grace can handle .
In Too Hot To Handle we were introduced to the Clarkson family and their weird, dysfunctional road trip to fulfill their mother's last wish.  In Too Wild To Tame, the story continues as we get to know Aaron, the slick political consultant who has fallen from favor and is trying to get his career on track.  He's not exactly likeable, but his humanity keeps peeking through and he has to face some ugly facts about his chosen line of work.  Grace, of course, helps him see the better side of his job (and his nature) and he is forced to tap into his capacity for good.  The chemistry was off the charts and the intimacy between Grace and Aaron was very emotional.  What I love about this series is the way the emotional journeys are written.  It's very angsty, which I love, and it doesn't shy away from really digging into the pain of the characters, even the alpha males, in a way that makes the seem very vulnerable.  Grace is a bit of a MPDG, but her character is rounded out as the story progresses and her back story was very interesting.  As with book one, we are getting hints of what the other siblings are dealing with, which makes me want the other books now.  If you haven't read this series yet, it's one that I highly recommend!
I received this galley in consideration for an honest review.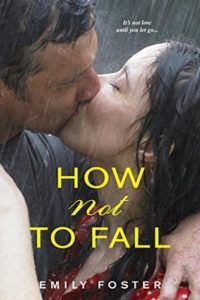 How Not To Fall
Series:
The Belhaven Series #1
Published by
Kensington
on June 28, 2016
Genres:
Romance
Goodreads
Data, research, scientific formulae--Annabelle Coffey is completely at ease with all of them. Men, not so much. But that's all going to change after she asks Dr. Charles Douglas, the postdoctoral fellow in her lab, to have sex with her. Charles is not only beautiful, he is also adorably awkward, British, brilliant, and nice. What are the odds he'd turn her down?

Very high, as it happens. Something to do with that whole student/teacher/ethics thing. But in a few weeks, Annie will graduate. As soon as she does, the unlikely friendship that's developing between them can turn physical--just until Annie leaves for graduate school. Yet nothing could have prepared either Annie or Charles for chemistry like this, or for what happens when a simple exercise in mutual pleasure turns into something as exhilarating and infernally complicated as love.
Oh, how I LOVED this book!  Two smart protagonists (they are both neuroscientists) embark upon an affair that is only supposed to be for a few weeks before Annie goes to Harvard for grad school.  There is a lot of really emotional stuff going on in this story, but it is also very, very sexy.  The story was so compelling that all of the sex didn't interfere with the writing, that is to say that the plot didn't seem like it was only there as a vehicle for sexytimes.  Charles has an interesting back story and emotional issues that will, of course, provide many roadblocks.  Annie is the narrator and her voice is really honest and funny.  I will mention that there is a sequel that you will want immediately upon finishing How Not To Fall, but unfortunately it looks like it won't be out until next year.  Don;t let that deter you from reading this book, though.  It's been on of my favorite contemps this year and a shining example of what new adult romance can and should be.
I received this galley in consideration for an honest review.
A Highlander's Christmas Kiss by Paula Quinn
Series: The MacGregors: Highland Heirs #5
Published by Grand Central on September 27, 2016
Genres: Romance, Historical Romance, Scottish Romance
Goodreads



Christmas may be coming to Linavar, but Temperance Menzie is far from joyful. Grief-stricken over the death of her father at the hands of the Black Riders, she almost didn't see the wounded stranger in the woods. And now she's determined to give this braw, brooding Highlander the help she couldn't give her father. But there's a secret lurking in the depths of his blue-gray eyes. And Temperance won't rest until she uncovers it . . .

A killer for hire. It's the last thing Cailean Grant ever thought he'd become, but being part of the Black Riders was his only way to survive. Now, his guilt grows day by day, along with his desire for the beautiful, brave lass nursing him back to health. As Christmas, the season of miracles, draws near and the truth of his identity threatens to come out, Cailean must risk the only thing he has left to lose-his heart.
This book had all of the elements of something I would love, but it just didn't come through. To begin, it took waaaay to long to get going.  Temperance and Cailean (Colin) were thrown together pretty quickly, but then everything slowed down to a snails pace.  I was bored out of my mind,to be honest, and none of the side characters or plots seemed to help or make it better.  There really wasn't a whole lot of chemistry, either. I hate to say it, but I don't think this one was for me.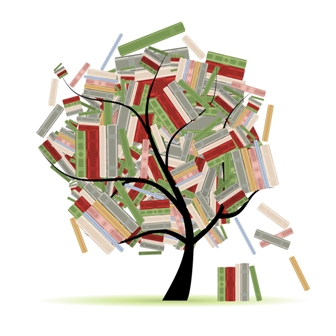 Related Posts