I received this galley in consideration for an honest review.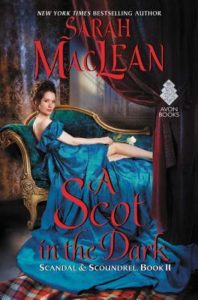 A Scot In The Dark by Sarah MacLean
Series: Scandal & Scoundrel #2
Published by Avon on August 30, 2016
Genres: Romance, Historical Romance
Goodreads

Miss Lillian Hargrove has lived much of her life alone in a gilded cage, longing for love and companionship. When an artist offers her pretty promises and begs her to pose for a scandalous portrait, Lily doesn't hesitate...until the lying libertine leaves her in disgrace. With the painting now public, Lily has no choice but to turn to the one man who might save her from ruin.

The Duke of Warnick loathes all things English, none more so than the aristocracy. It does not matter that the imposing Scotsman has inherited one of the most venerable dukedoms in Britain—he wants nothing to do with it, especially when he discovers that the unwanted title comes with a troublesome ward, one who is far too old and far too beautiful to be his problem.

Warnick arrives in London with a single goal: get the chit married and see her become someone else's problem, then return to a normal, quiet life in Scotland. It's the perfect plan, until Lily declares she'll only marry for love...and the Scot finds that there is one thing in England he likes far too much.
This was absolutely fantastic!  Instead of a scandal involving nudes released on social media or someone's cloud being hacked, Sarah MacLean basically took the 19th century equivalent  – a nude portrait that was only supposed to be for private viewing – and made it the source of the scandal that brings her guardian out of hiding.  It was fabulous the way this 19th century setting was so very relevant to today.  Lily went through the gamut of emotions when she found out that the person she trusted ended up being a total scumbag, but mostly she was unwilling to back down.  Our Hero is a bit of an alpha male and their interactions were interesting because Lily was unwilling to compromise her future. I really loved the way this story exposed how differently we judge men and women for their sexual histories and putting a 21st century "scandal" in an 19th century setting made it even more obvious.  Lily and Warnick had great chemistry, and the story had all of the witty dialog and swoony romance you would expect from this author.  I highly recommend A Scot in the Dark!
I love the long-lost couple trope and A Taste of Seduction had that and one of my other favorites, which I can't disclose because of spoilers.  So, I was very much looking forward to this story.  It was good, overall, but it faltered in its execution in some places.  The great mystery seemed to be resolved rather anti-climatically and I wanted a little more pain, a little more suffering (emotionally) in order for the ultimate reconciliation to have the emotional impact that I look for.  Unfortunately, it fell a bit flat.  Since this is a part of a series with the same mystery running through it, the to main characters and their problems were sometimes overshadowed.  I wanted to know about Evangeline's marriage and about Hadley, but we really didn't get much background information.  I enjoyed this story, but I just kept wanting it to be a little better and a little more in-depth than it was.
Ever since I read Duke of My Heart, I was excited to have more stories in this world, and A Duke To Remember did not disappoint.  Elise is a trusted member of Chegarre and Associates and puts her acting skills to great use.  In this book, Elise has to delve into a sad family secret to unearth a long lost heir.  instead of finding the heir has gone to India to make his fortune, she finds a man who has made a good life for himself in the countryside.  His life is quiet and meaningful, if not a bot lonely.  The chemistry between Elise and Noah is instant and I really loved their romance and their friendship, which sort of simultaneously developed.  There was something so sweet about this story, too.  The Duke is so in love with Elise, but her doubts keep them apart.  It was nice to have the woman in this position, instead of some distant and cold Duke who keeps rejecting the lady. Instead, Noah had to work hard to convince Elise they should be together.  I really loved Noah as a more beta hero, or perhaps alpha light, with Elise being the one who was often called to come to the rescue.  A Duke to Remember was an excellent addition to this series and I highly recommend it!
I enjoyed the heroine, Thea, in this book.  She was over being put on the marriage mart and who could blame her?  I loved that Dalton thought he was doing her a big favor, when in fact he ruined everything.  That premise not only told you a lot about Thea, but it was a great initial conflict for their relationship.  Their dialogue was funny and witty, with Dalton's ego being taken down a notch by Thea's anger over her newfound popularity.  As she escapes to her new and quiet life,  they have a lot of madcap adventures on the way. Thea drags the Duke along in and almost MPDG zeal that makes for some interesting situations.  The family drama was interesting in that it provided a catalyst for Dalton's single-mindedness regarding the search for the man who he thought ruined his life.  The ending was a bit rushed, and it would have hurt to have a few more chapters, I thought, but I liked it.  I am definitely in for the third book in this series, die to be out next summer.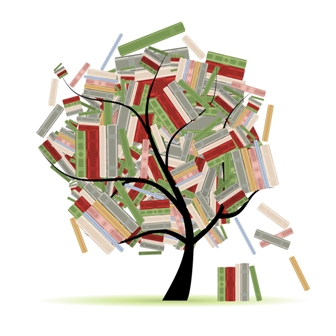 Related Posts