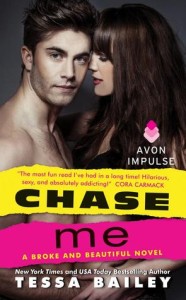 Chase Me by Tessa Bailey
Series: Broke and Beautiful #1
Published by Avon on March 17, 2015
Genres: Romance
Goodreads


College drop-out, Roxy Cumberland, moved to New York with dreams of becoming an actress, but her dwindling bank account is quickly putting the kibosh on that fantasy. To make some quick cash, she signs up to perform singing telegrams. Her first customer is a gorgeous, cocky Manhattan trust-funder if she ever laid eyes on one. And what could be more humiliating than singing an ode to his junk, courtesy of his last one night stand? Maybe the fact that she's dressed in a giant, pink bunny costume...

After a night out to celebrate winning his last case, lawyer Louis McNally II isn't prepared for the pounding in his head or the rabbit serenading him from the front door. But the sassy wit and sexy voice of the girl behind the mask intrigues him, and one look at her stunning face—followed by a mind-blowing kiss against his doorjamb—leaves Louis wanting more.

Roxy doesn't need a spoiled rich boy who's had everything in life handed to him on a Tiffany platter. But there's more to Louis than his sexy surface and he's determined to make Roxy see it...even if it means chasing her all over NYC
I ended up really enjoying this one.  Without realizing it, I read the third book in this series, which center around three roommates and their romance shenanigans.  Chase me is the first in the series, which introduces Roxy, who is your typical Jersey Girl; outspoken, string, and not taking crap from anyone.  However, her dream to become an actress and her determination to do it on her own made her character one that I really rooted for.  The fact that Louis was from the wealthier side of the tracks threw a wrench into their relationship, as did a subplot involving Roxy's desire to avoid the casting couch.  The romance was very steamy and their chemistry and banter made this a fun book.
Once Upon a Marquess
by
Courtney Milan
Series:
The Worth Saga #1
Published by
Self-Published
on December 8, 2015
Genres:
Romance
,
Historical Romance
Goodreads


The last man Judith Worth wants to see again is Christian Trent, the Marquess of Ashford—the man who spent summers at her family home, who kissed her one magical night…and then heartlessly ruined her father. But when a tricky business matter arises, he's the only one she can ask for help. With any luck, he'll engage a servant to take care of the matter, and she won't even have to talk with him.

But Ashford has never forgotten Judith. He knows she will never forgive him for what he's done, but when offered the chance to assist her, he arrives in person. His memory of Judith may have haunted him, but it pales in comparison to the reality of the vivacious, beautiful woman he rediscovers. Throughout his life, he has always done what is correct. But now, he finds himself doing something utterly wrong…falling in love with the one woman he can never have
This was my first Courtney Milan book and it's the start of a new series that I am now determined to read.  The fall from wealth trope isn't necessarily a new one in Historical romance, but the return of the ex-fiance was a pleasant change.  Judith is dealing with some heavy family issues while trying to support her two siblings that are living with her.  When Christian shows up to help, it brings back a lot of pain that they are both working through in their own way.  Christian was not the invincible hero, in fact he suffers from OCD, and his struggle to be accepted by his family in spite of that was an excellent sub-plot.  The banter between Judith and Christian became a bit much, at times, and weighted down the story more than once.  However, I still enjoyed it and I am very intrigued by the future books in this series.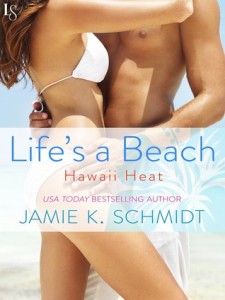 Life's A Beach by Jamie K. Schmidt
Series: Hawaii Heat #1
Published by Random House on January 5, 2016
Genres: Romance
Goodreads


When Amelia Parker arrives in Maui, newly single and unemployed, she's shocked to discover the resort she booked is actually a ramshackle little beachside hotel. At least the scenery is easy on the eyes—as is the toned, laid-back snorkel instructor, "Dude." After two weeks of sun, serenity, and mind-blowing sex, she even accepts a job as the hotel's concierge. But what Amelia really wants is to relaunch the place completely. And that means convincing the absentee Wall Street billionaire owner, Samuel Kincaide, to take a chance on her.

Samuel has a plan, too: selling off every last reminder of his former life and chilling all day, every day as his slacker altar ego . . . Dude. He loves his romps in the ocean, and under the sheets, with the feisty Amelia. If she discovers his true identity, her boundless enthusiasm and innovative business plan will seriously diminish his hammock time. But when Amelia runs into real trouble on the island, he'll put everything on the line to keep her safe. He just hopes that the woman who's falling for Dude will feel the same about Samuel.
This one started with such promise and really, it was very good for most of the book.  It was funny, lighthearted, and who doesn't love the secret rich guy trope, right?  It definitely made me want to go to Hawaii and the cast of locals that made up the hotel staff were really fun.  Amelia was escaping a series of bad luck and bad choices, so her 'nothing to lose' attitude was the perfect set-up for her affair, which was fun and sexy.  The story centered around some intrigue involving Samuel's sale of the hotel, but it didn't quite follow through.   Unfortunately, the ending was very boring.  There wasn't enough conflict to make the resolution satisfying.  It just kind of ran out of steam, so to speak.  I'm not sure if I'll be reading more books in this series.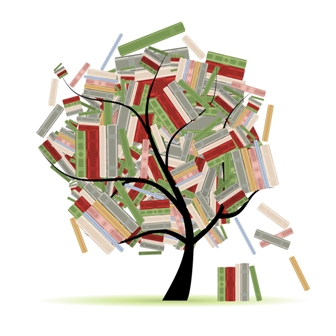 Related Posts