I received this galley in consideration for an honest review.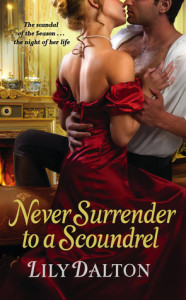 Never Surrender To A Scoundrel by Lily Dalton
Series: One Scandalous Season #3
on January 27, 2015
Goodreads

Lady Clarissa Bevington is in trouble. A reckless indiscretion has left her with two choices: ruin her family with the scandal of the Season, or marry Mr. Kincraig, the notorious scoundrel mistaken as her lover. Desperate and disgraced, Clarissa vows to love and cherish a veritable stranger, a man whose eyes smolder with danger—and undeniable desire. As an agent for the Crown, Lord Donovan Blackmer has spent the last two years guarding Clarissa's grandfather from an unknown assassin while disguised as the rakehell Kincraig. His mission may now be over, but his duty has just begun. Salvaging his beautiful, impetuous wife's virtue will cost him his fortune and his position as an officer—but it might save him from the ghosts that haunt his own past. When their marriage "in name only" leads to exquisite seduction, Donovan must risk the only thing he has left to lose . . . his heart
Oh, how I love the forced into marriage by scandal trope!  This book had the added bonus of spies, secrets, and a very sweet romance that was able to build throughout the story.  I really loved that there was no love at first sight for these two, because it gave the romance some room to grow and it gave the story line a little more substance. I also loved the epilogue, which was quite long compare to some, butt was wholly satisfying and left my heart feeling very warm.  After I finished, I realized that this as the third in a series, so I will be circling back to read the first two books, as well.  If you haven't red any of Lily Dalton's books before, this series would be an excellent place to start!
I received this galley in consideration for an honest review.
Dearest Rogue
by
Elizabeth Hoyt
Series:
Maiden Lane #8
Published by
Grand Central
on May 26, 2015
Genres:
Romance
Goodreads

Lady Phoebe Batten is pretty, vivacious, and yearning for a social life befitting the sister of a powerful duke. But because she is almost completely blind, her overprotective brother insists that she have an armed bodyguard by her side at all times-the very irritating Captain Trevillion. Captain James Trevillion is proud, brooding, and cursed with a leg injury from his service in the King's dragoons. Yet he can still shoot and ride like the devil, so watching over the distracting Lady Phoebe should be no problem at all-until she's targeted by kidnappers.
Caught in a deadly web of deceit, James must risk life and limb to save his charge from the lowest of cads-one who would force Lady Phoebe into a loveless marriage. But while they're confined to close quarters for her safekeeping, Phoebe begins to see the tender man beneath the soldier's hard exterior . . . and the possibility of a life-and love-she never imagined possible.
What a swoony and sweet romance!  It's not regency, being set in the 1740s, but I can tell that it will be one of my favorites for 2015. Phoebe is blind, the victim of a degenerative ocular illness that they had no cure for at that time and she is constantly trying to find ways to find bits of freedom, which gave her her character an adventurous personality with a tinge of sadness.  I also loved the difference in social class, which was a bit reversed from the norm, with the Captain being "lower born" than Phoebe, which really made is even more romantic, somehow.  I really felt like I got to know James and the circumstances that gave Phoebe and her guard a chance to really get to know each other also allowed me to peer into the life that the hero left behind.  It also gave me a chance to really see Phoebe's frustrating with the way people treated he because of her disability. It was a very touching story and I realize that giving the romantic hero that vulnerability is something that Elizabeth Hoyt is very good at doing.  Of course, the forbidden romance aspect made the story very sexy.  Overall, it was  a great read!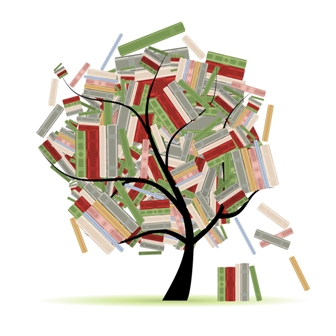 Related Posts