I received this galley in consideration for an honest review.
Always On My Mind by Bella Andre
Series: The Sullivans #8
Published by Harlequin on March 5, 2013
Genres: Romance
Goodreads



After a tragic loss three years ago, Grayson Tyler left his life in New York City behind and started over in the rolling hills of the California coast. He's convinced himself that all he'll ever need again is the blue sky, a thousand acres of pasture, and the crashing waves of the ocean. Until one day, Lori Sullivan barges into his life and promptly blows his emotionless and solitary world to shreds, driving him crazy as only a woman nicknamed "Naughty" can. But will Lori be able to convince him that it's safe to love her...and that forever isn't actually out of reach?
I have been waiting for the other Sullivan sister's story, and so I was eager to read the latest in this fantastic series.  If you like the handsome, stoic type you will love Always On My Mind.  Grayson is grumpy and reclusive, but Lori manages to break through those barriers showing the personality we've gotten a glimpse of in other books.  I liked the dynamic between Lori and Grayson, and the combination of steamy romance and emotional storytelling made this extremely enjoyable!
I received this galley in consideration for an honest review.
Once In A Lifetime
by
Jill Shalvis
Series:
Lucky Harbor #9
Published by
Grand Central
on February 18, 2014
Genres:
Romance
Goodreads

After a wrenching loss, Ben McDaniel tried to escape his grief by working in dangerous, war-torn places like Africa and the Middle East. Now he's back in his hometown and face-to-face with Aubrey Wellington, the hot-as-hell woman who is trouble with a capital T. Family and friends insist she's not the one to ease his pain, but Aubrey sparks an intense desire that gives Ben hope for the future. Determined to right the wrongs of her past, Aubrey is working hard to make amends. But by far, the toughest challenge to her plan is sexy, brooding Ben - even though he has absolutely no idea what she's done.
I have seen this series around forever, but this was my first Lucky Harbor novel and I have officially fallen down the rabbit hole on this one.  Lucky Harbor combines all fo the best about small towns: funny characters, close friendships, and (of course) romance.  Ben and Aubrey's story is sweet and very steamy, with a lot of emotion thrown in for good measure.  They both have pain they must overcome and at times, that past pain intertwines a bit, which made the story more interesting.  As I went back and read a few more out of this series, I saw ho well they books puzzle-piece together without taking anything away if you haven't read the other stories.  If you're waiting for a sign that you should pick up these books, here it is!  You won't regret it.
Hold On Tight
by
Serena Bell
Series:
Returning Home #1
Published by
Random House
on June 17, 2014
Genres:
Romance
,
Military Romance
Goodreads

Fighting for his country gave Jake Taylor's life shape and meaning. Now as an injured war hero he struggles to find purpose, until he runs into the gorgeous woman he dated briefly—and disastrously—before being deployed eight years ago. Turns out Jake doesn't just need to figure out how to be a civilian . . . he also needs to learn how to be a dad. Eighteen, pregnant, and totally lost, Mira Shipley couldn't track down the soldier who fathered her child, so she put college on hold and focused on making a good life for her son. Now she's determined to be something more than Sam's mom, her parents' daughter, or Jake's girl—as hot as she finds her old flame's take-charge attitude in and out of bed. Soon Mira and Jake realize that their passion didn't disappear when Sam was conceived—and that instead of running away, sometimes it's better to hold on tight.
Hold On Tight was a romance that was not only romantic and sexy, but very, very emotional.  Jake's return from combat leaves him hollow and struggling for direction.  When he and Mira reconnect, they have a long road back to understanding each other.  This book gave a really good glimpse into what returning soldiers deal with, so that part of the story is what provided a lot of the intensity.  I really felt how much both characters has changed in the years they were separated.  This is a fantastic story and one that I highly recommend.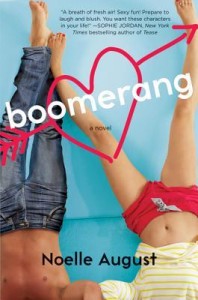 Boomerang by Noelle August
Series: Boomerang #1
Published by William Morrow on July 8, 2014
Genres: Romance, New Adult
Goodreads



Mia Galliano is an aspiring filmmaker. Ethan Vance has just played his last game as a collegiate soccer star. They're sharp, hungry for success, and they share a secret.Last night, Ethan and Mia met at a bar, and, well . . . one thing led to another, which led to them waking up the next morning—together. Things turned awkward in a hurry when they found themselves sharing a post hookup taxi . . . to the same place: Boomerang headquarters.What began as a powerful connection between them is treated to a cold shower courtesy of two major complications. First, Boomerang has a strict policy against co-worker dating. And second, they're now competitors for only one job at the end of summer.As their internships come to an end, will they manage to keep their eyes on the future and their hands off each other, or will the pull of attraction put them right back where they started?
Boomerang was a fresh and fun romance that successfully bridged the gap between YA and the more graphic end of New Adult.  Ethan and Mia's romance s full of witty banter and a situation that actual early 20-somethings might find themselves in.  If you are looking for a book that's the more subtle side of New Adult, this new series might be for you.  I am happy to see that a second book is in the works!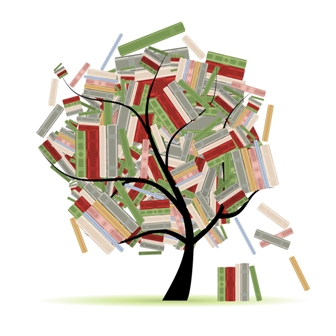 Related Posts