I received this galley in consideration for an honest review.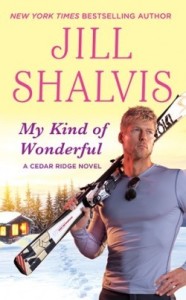 My Kind Of Wonderful by Jill Shalvis
Series: Cedar Ridge #2
Published by Grand Central on December 22, 2015
Genres: Romance
Goodreads

Bailey Moore has an agenda: skiing in the Rockies, exploring castles in Europe, ballroom dancing in Argentina. Now that she has a second lease on life, she's determined not to miss a thing. What she doesn't realize is that item #1 comes with a six-foot-one ski god hot enough to melt a polar ice cap. She doesn't want to miss out on him either, but Hudson Kincaid isn't the type of guy to love and let go. And as gorgeous as Cedar Ridge is, she's not planning to stick around.

As head of ski patrol at his family's resort, Hud thinks he's seen it all. But never has he run into someone like Bailey. She might look delicate, but her attitude is all firecracker. And her infectious joy touches something deep within him that he's been missing far too long. Now he'll just have to convince Bailey to take a chance on her biggest adventure yet . . . something rare and all kinds of wonderful.
Bailey has lived through a very serious illness so her enjoy life while you can approach is in direct contrast to Hudson's dedication to all of the commitments in his life.  Their relationship has sparks from the start and Hud's protectiveness is a great foil to Bailey's determination to be independent.  Throw in her meddling ex-fiance and Hudson's failing attempts to keep things casual and you have a story with heart and chemistry that eventually turns into much more.  As it always is with Jill Shalvis books, you also great supporting characters and a book with a strong sense of family, which is one of the things I always love about her writing. The ending was so wonderful, balancing a happily ever after with Bailey's original goals.  I also enjoyed learning more about Hud's twin, Jake, and I can't wait for book three!
I received this galley in consideration for an honest review.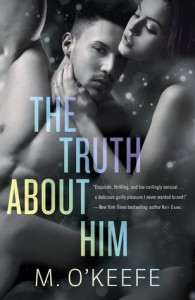 The Truth About Him
by
Molly O'Keefe
Series:
Everything I Left Unsaid #2
Published by
Random House
on November24, 2015
Genres:
Romance
,
Erotica
Goodreads

We played our roles, told each other lies.

But now Dylan is no longer just a mysterious deep voice on the other end of the line. We're face-to-face and our relationship is very, very real.

We still have secrets—but so much is crystal clear:

The thrilling danger.

The raw, naked desire.

The need to keep feeling the way he makes me feel. Forever.

Dylan is putting up walls, trying to keep me safe, but he can't shut me out. He has seen my darkness and rescued me. Now it's my turn, if only he will let me.
I reviewed the first book in this series, Everything I Left Unsaid, and talked about how I wasn't expecting it to be so intense. For book two, I knew the intensity level would be high, and I was right?  The story picks up right after the cliffie at the end of book one, and then follows  Dylan as the narrator this time, which was an interesting switch. (We still hear from Annie, but in third person.) Dylan had a lot of family issues to resolve and those were gripping and heartbreaking, at times.  The heat was scorching between Annie and Dylan, so the pace of the romance and the personal drama was really well done.  I was also intrigued by a side plot in the book that I really hope will spin off on its own. *fingers crossed*  This is a great series, with both books being equally strong in their story telling, character development, and (of course) sexy times!
How Forever Feels by Laura Drewry
Series: Friends First #4
Published by Random House on October 13, 2015
Genres: Romance
Goodreads



Maya McKay's heart is as big as Jack Rhodes's shoulders are broad. Their chemistry is out of control, but it could never work between them because Jack is more than just best friends with her cheating ex-husband—they're like brothers. Maya, the sensitive, practical florist, has given up on love and is ready to settle for like. But now that Jack's around again, he's stirring up old feelings—and turning Maya's fantasies into irresistible reality.

Jack blew his chance with Maya years ago when he stepped aside for his best friend, Will, and he's still kicking himself about it. Maya was promised forever once before, and she got burned. But when Jack realizes that second chances aren't going to fall out of the sky, he seizes the moment—and the woman he's always loved—to show her how forever truly feels.
As romances go, this one was ok.  The whole premise hinged on the fact that the hero was best friends with the man who broke his current love interest's heart.  I'm not sure I could be as forgiving as she was, but it made for an interesting story.  I guess I just felt that I didn't really get to know anyone.  The characters seemed a bit two dimensional which made it hard to invest in the romance, but it was a sweet story, overall.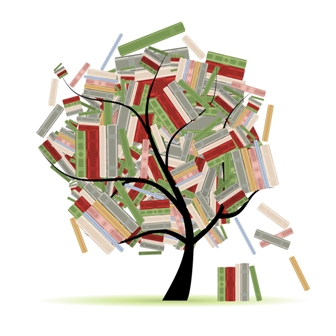 Related Posts