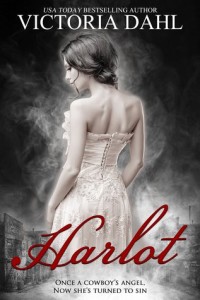 Harlot by Victoria Dahl
Published by Self-Published on October 26, 2015
Genres: Romance, Erotica
Goodreads


He came home to marry an angel...
After working in the gold fields of California for two years, Caleb Hightower has come home to marry his childhood sweetheart, Jessica Willoughby. But when he returns, Caleb learns his refined bride-to-be is now a whore. Enraged by her betrayal, he can't reconcile this shameless woman with the sweet innocent he once deeply loved—but Caleb knows what to do with a harlot. He's determined to get everything from her that she's sold to other men. And he's prepared to pay for the pleasure of his revenge.

But all he found was sin.
Left penniless after her father's death, Jess made a deal with a devil. Now she must face her first love, whose scorn is no match for her regret. To make amends, she'll let Caleb quench his rage with her body. Their bargain strips them down to searing passion and naked vulnerability, and Jess can still glimpse her loving Caleb buried deep inside this rough cowboy. In the end, an unbearable truth emerges that could push them toward forgiveness…or could destroy their fragile bond forever.
No one writes feminist romance like Victoria Dahl…I mean, no one.  I am not a big erotica reader, but this book really blew me away.  It combined a very emotional story with some blazingly hot sexy times.  I loved Jessica, who did what she had to do to survive, and while she regretted how much Caleb hurt, she refused to be judged more harshly than the people who used her, as well.  Caleb, for all of his initial blustering, ended up being the type of love interest who really grew as a character.  There was a nice, dramatic twist at the end and, of course, and HEA that was wholly satisfying.  If you like erotica or if you have been curious, this is it.  Harlot is your book.
I received this galley in consideration for an honest review.
Sweetest Scoundrel
by
Elizabeth Hoyt
Series:
Maiden Lane #9
Published by
Grand Central
on November 24, 2015
Genres:
Romance
,
Historical Romance
Goodreads
SHE'S TAKING CHARGE
Prim, proper, and thrifty, Eve Dinwoody is all business when it comes to protecting her brother's investment. But when she agrees to control the purse strings of London's premier pleasure garden, Harte's Folly, she finds herself butting heads with an infuriating scoundrel who can't be controlled.

HE'S RUNNING THE SHOW
Bawdy and bold, Asa Makepeace doesn't have time for a penny-pinching prude like Eve. As the garden's larger-than-life owner, he's already dealing with self-centered sopranos and temperamental tenors. He's not about to let an aristocratic woman boss him around . . . no matter how enticing she is.

BUT LOVE CONQUERS ALL
In spite of her lack of theatrical experience—and her fiery clashes with Asa—Eve is determined to turn Harte's Folly into a smashing success. But the harder she tries to manage the stubborn rake, the harder it is to ignore his seductive charm and raw magnetism. There's no denying the smoldering fire between them—and trying to put it out would be the greatest folly of all.
I really need to go back and start from the beginning of this series because it really is one that I am enjoying so much.  Eve is not what you would call traditionally beautiful, and neither is Asa, for that matter.  I actually really love stories like this because I feel like the attraction and the relationship is about more than just lust (although there is a lot of that, too.)  Asa is a self made man, not of noble birth, and that is something he carries as a bit of a chip on his shoulder.  Eve has a trauma in her past that is keeping her prisoner, much like Asa's determination to prove himself keeps him, as well.  It was interesting seeing this couple break free from the things that  were holding the back, and with a classic I hate you then I love you set-up, I really enjoyed Sweetest Scoundrel. This was a smart and sexy historical and roves that Elizabeth Hoyt is one of the Regency Romance queens.
I received this galley in consideration for an honest review.
Everything I Left Unsaid
by
Molly O'Keefe
Series:
Everything I Left Unsaid #1
Published by
Random House
on October 13, 2015
Genres:
Romance
,
Erotica
Goodreads
I didn't think answering someone else's cellphone would change my life. But the stranger with the low, deep voice on the other end of the line tempted me, awakened my body, set me on fire. He was looking for someone else. Instead he found me.

And I found a hot, secret world where I felt alive for the first time.

His name was Dylan, and, strangely, he made me feel safe. Desired. Compelled. Every dark thing he asked me to do, I did. Without question. I longed to meet him, but we were both keeping secrets. And mine were dangerous. If I took the first step, if I got closer to Dylan—emotionally, physically—then I wouldn't be hiding anymore. I would be exposed, with nothing left to surrender but the truth. And my truth could hurt us both.
 Well, this one kind of snuck up on me!  Annie is running away from an abusive marriage and though a series of weird events, ends up striking up a phone friendship/romance with a guy who wants her to look after a tenant in the trailer park.  Things go from there, of course, but because the romance is most over the phone, it  felt like it really had a chance to develop.  On top of that, I really loved all of the character sin the trailer park and Annie's transformation into her own person.  Dylan's past is mysterious and his present situation even more so.  I was surprised by a few of the twists that were thrown into the story, but it added a great common thread to every character.  I was blown away by the excellent story and very sexy romance. Be warned, there is quite the cliffie at the end, but luckily book two is out, so you can move right along in the story.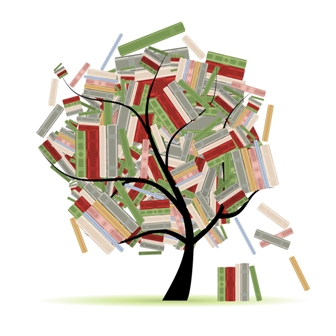 Related Posts