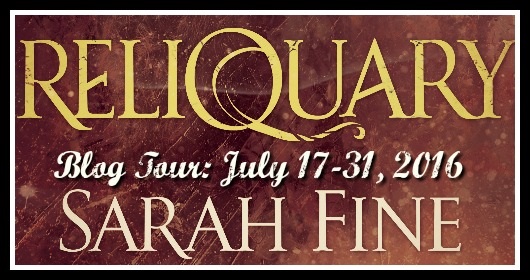 Welcome to my stop in the blog tour for Reliquary by Sarah Fine.  After you've read my thoughts, don't forget to enter for a chance to win a finished copy and check out the other stops on the tour!
I received this galley in consideration for an honest review.
Reliquary by Sarah Fine
Series: Reliquary #1
Published by Amazon Publishing on June 14, 2016
Genres: Fiction, Fantasy, Urban Fantasy
Amazon,  - B&N
Goodreads

Mattie Carver's engagement party should have marked the start of her own personal fairy tale. But when her fiancé, Ben, is violently abducted the next morning, her desperate quest to find him rips her away from small-town life and reveals a shattering truth: magic is real—and Ben is hooked. It's not the stuff of storybooks. It's wildly addictive, capable of producing everything from hellish anguish to sensual ecstasy almost beyond human endurance.

Determined to find out who took Ben and why, Mattie immerses herself in a shadowy underworld and comes face-to-face with the darkly alluring Asa Ward, a rogue magic dealer, infamous hustler…and her missing fiancé's estranged brother. Asa has the power to sense magic, and he realizes Mattie is a reliquary, someone with the rare ability to carry magic within her own body, undetected. Asa agrees to help find Ben on one condition: Mattie must use her uncommon talent to assist his smuggling operations. Now, from magic-laced Vegas casinos to the netherworld clubs of Bangkok, Mattie is on a rescue mission. With Asa by her side, she'll face not only the supernatural forces arrayed against her but the all-too-human temptation that she fears she can't resist.
As every urban fantasy story begins, we have Mattie, who is understandably in love with her fiance and looking forward to her wedding. Pretty suddenly, things fall apart when Ben is kidnapped and the magical underworld he inhabited is exposed.  Mattie learns very quickly that her fiance was not the man she though the was and gets pulled into his drama via his estranged brother, Asa. Asa is magically hot, carries a pretty big chip on his shoulder, and is kind of an emotional mess.  As Mattie and Asa figure out how they can rescue Ben, Mattie gets a glimpse into their childhood.  This was essential to the story because it gave Asa some much needed humanizing and it gave some background on the mostly absent Ben.
There was a seedy underworld quality to the story, and Mattie and Asa spent a lot of time dodging crime bosses and hoping they wouldn't get killed. The constant scenery changes kept the plot moving and I enjoyed the running from the mob feel to it.  The world building was very good, as well.  The magical world operated right under the nose of the non-magical, yet was everywhere, even Sheboygan Wisconsin..  Mattie's hidden magical talents made her a target and the author did a good job of showing the reader what was at stake and how the two worlds interacted.  I think the trick of urban fantasy is blending the two worlds, and Reliquary was able to do just that.  Ultimately, I saw a lot of character growth in Mattie.  She went from a woman focused almost solely on her fiance to someone who was learning to ask questions. I liked that, although Ben did some things that were completely unacceptable and I thought merited more attention.  The ending was uncertain and I wanted more, and it looks like I'm in luck because it appears to be a series.  If it is, I am definitely on board.  If you like urban fantasy, Reliquary should be on your reading list.
Tour Schedule:
Giveaway:
3 Finished Copies of RELIQUARY (US Only)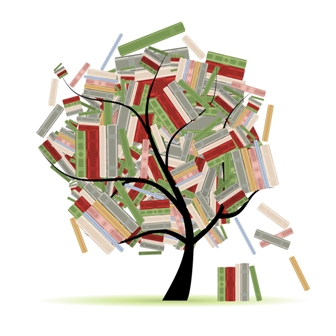 Related Posts