I received this galley in consideration for an honest review.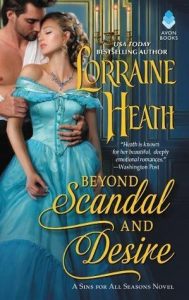 Beyond Scandal and Desire by Lorraine Heath
Series: Sins For All Seasons #1
Published by Avon on January 30, 2018
Genres: Historical Romance, Romance
Goodreads

At birth, Mick Trewlove, the illegitimate son of a duke, was handed over to a commoner. Despite his lowly upbringing, Mick has become a successful businessman, but all his wealth hasn't satisfied his need for revenge against the man who still won't acknowledge him. What else can Mick do but destroy the duke's legitimate son—and woo the heir's betrothed into his own unloving arms . . .

Orphaned and sheltered, Lady Aslyn Hastings longs for a bit of adventure. With her intended often preoccupied, Aslyn finds herself drawn to a darkly handsome entrepreneur who seems to understand her so well. Surely a lady of her station should avoid Mick Trewlove. If only he weren't so irresistible . . .

As secrets are about to be exposed, Mick must decide if his plan for vengeance is worth risking what his heart truly desires.
This series has become one of my historical romance obsessions!  It centers around one family, siblings not related by blood, who manage to make their way in the classist society of 19th century England.  Mick is not an entirely sympathetic character, as heroes go.  He is ruthless in his business dealings and hat ruthlessness is also focused on revenge for the father who gave him up as an infant.  Aslyn is Mick's pampered foil, incredibly sheltered and without any real say in her own life.  Her development into someone who realizes she has choices was fun to read.  The story takes some amazing twists and turns and there was a good balance of personal angst and romance-centered angst.  It also gives you some insight into the terrible struggles of illegitimate babies born to the peerage.  I liked the romance, the pacing, and it left me wanting more stories in this series.  Luckily, I know that Lorraine Heath always delivers!
I received this galley in consideration for an honest review.
A Dream of Redeption by Bronwen Evans
Series: The Disgraced Lords #8
Published by Random House on February 20, 2018
Genres: Romance, Historical Romance
Goodreads


Bookish and independent Lady Helen Hawkestone is expected to marry well. But, having grown up with warring parents, the institution holds little appeal. The trick, she realizes, is to marry for love—a task that's easier said than done. Only while Helen is raising funds for her do-gooder sister's orphanage does she meet a man who arouses her curiosity. Lowborn and yet so dignified that Helen can't help but try to elicit a response, Clary Homeward is an enigma—a heart-stopping, body-stirring, forget-her-social-upbringing enigma.

A single offense against a noblewoman such as Lady Helen would ruin a man like Clary. Her sister, Marisa, rescued him from hellish poverty and employs him with her charity work. Try as he might to push her away, Helen tempts him to want things he could never have. But when girls from the orphanage start disappearing, destined for a grim fate Clary knows all too well, Helen insists on helping. And soon Clary wonders whether something more were not just possible but inevitable—even right.
A Dream of Redemption was another book that confronted the class system of 19th century England and this time, the love interest was more of a beta hero, which is something I like.  Clary is much more conscience of his social standing because he worked so hard to gain it.  He is also much more aware of Lady Helen's privilege. In fact, he calls her out on it a few times, which I liked, because she really did live in a bit of a bubble.  Their romance was forbidden and that gave it a lot of sett tension that was fun to read.  I liked that both characters ended up surprising each other by not behaving as expected.  I enjoyed it!
I received this galley in consideration for an honest review.
The Bride Takes A Broom by Lisa Berne
Series: The Penhallow Dynasty #3
Published by Avon on April 24, 2018
Genres: Romance, Historical Romance
Goodreads

Katherine Brooke may be a fabulously wealthy heiress, but she's trapped, a pawn in her parents' ruthless game to marry her into the nobility. Then Captain Hugo Penhallow—so charming, as handsome as a Greek god—comes into her life once more, and suddenly she sees a chance to be free.

As a Penhallow, his is one of the highest names in the land, but still his family is facing ruin. So Katherine boldly proposes an exchange: his name for her money. But only if Hugo understands it's merely a practical arrangement, and that she's not surrendering herself entirely.

Back from eight years in America and determined to give his younger siblings a better life, Hugo agrees. He's never fallen in love, so why not? Yet neither of them guesses that this marriage will become far, far more than they ever dreamed of.
I love the Penhallows!  This is a marriage of convenience for both Katharine and Hugo, because Katharine needs to escape her awful family and Hugo needs the money.  When things don't exactly turn out as planned, the fun really starts.  I love books where the two main characters have to get to know each other.  Even thought this was a bit of a "reunited" plt, they were still strangers in many ways.  Their life did not go as planned and Hugo's laid back personality drove me a little crazy at times, but it was a good foil for Katharine's more type A leanings.  Each book in this series has very different heros, which is something I love about it.  If you haven't read this book or the others in The Penhallow Dynasty, I highly recommend them!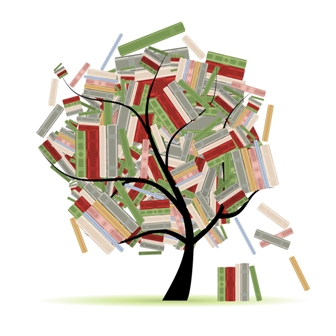 Related Posts