I received this galley in consideration for an honest review.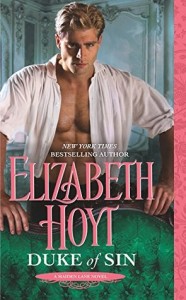 Duke Of Sin by Elizabeth Hoyt
Series: Maiden Lane #10
Published by Grand Central on May 31, 2016
Genres: Romance, Historical Romance
Goodreads


Devastatingly handsome. Vain. Unscrupulous. Valentine Napier, the Duke of Montgomery, is the man London whispers about in boudoirs and back alleys. A notorious rake and blackmailer, Montgomery has returned from exile, intent on seeking revenge on those who have wronged him. But what he finds in his own bedroom may lay waste to all his plans.

Born a bastard, housekeeper Bridget Crumb is clever, bold, and fiercely loyal. When her aristocratic mother becomes the target of extortion, Bridget joins the Duke of Montgomery's household to search for the incriminating evidence-and uncovers something far more dangerous.

Astonished by the deceptively prim-and surprisingly witty-domestic spy in his chambers, Montgomery is intrigued. And try as she might, Bridget can't resist the slyly charming duke. Now as the two begin their treacherous game of cat and mouse, they soon realize that they both have secrets-and neither may be as nefarious-or as innocent-as they appear
Duke of Sin is number ten in the Maiden Lane series with no signs of slowing down. Before I go on, a few things I like about this series is that each book seems very different, which isn't always the case with long romance series, and it is set in the 18th century rather than the seemingly ubiquitous Regency era. (nothing against Regency, it's just nice to have a change every now and then.) In the last few books there has been one crazy Duke who has gone around kidnapping and generally pissing everyone off, and now we get to hear his story.  I love a good redemption tale and I also love getting the "villain's" perspective. Duke of Sin tells the Duke of Montgomery's side of things and while it doesn't try to make him out as an angel, it does humanize him.  It was, of course, very sexy and even sweet at moments. The Duke and Bridget both have painful pasts, but it takes them a long time to realize they have so much in common.  It also picks up a story line that started in the previous book. Overall, this was a great addition to this long-running series.
Like No Other Lover
by
Julie Anne Long
Series:
Pennyroyal Green #2
Published by
Avon
on October 28, 2008
Genres:
Romance
,
Historical Romance
Goodreads

It's the last chance for Cynthia Brightly, the ton's most bewitching belle. Driven out of London by a secret scandal, she must find a grand husband at the Redmonds' house party before word of her downfall spreads all over England. Unfortunately, someone at Pennyroyal Green is already privy to the whispers of broken engagements and dueling lovers: Miles Redmond, renowned explorer and—thanks to his brother's disappearance—heir to the family's enormous fortune.

Miles set his sights on Cynthia once, at a time when the ambitious beauty thought herself too good for a second son. But now he's heir apparent, relishing his control. He strikes a bargain with her: he'll keep Cynthia's steamy secrets and help her find a husband among the guests—in exchange for a single kiss.

What could be the harm in a simple kiss? Cynthia is about to discover that it's enough to unleash fierce passion—and that Miles Redmond is most certainly like no other lover in the world.
The Pennyroyal Green series jumps back and forth between an Eversea and a Redmond,  Like No Other Lover is a Redmond book and I can see how the love lives will differ between families, which is one very fun aspect of this series. Miles Redmond is a big nerd, albeit a hot one. He loves women and bugs, and would like nothing more than to travel through the jungle collecting specimens. Of course, since his brother disappeared some family responsibilities lie on his shoulders, one of which being marriage. our two main charters have marriage goals, they just aren't to each other. This story was also the 19th century version of the "once spurned" rope, where the guy is turned down by the girl, only to have them reunite years later.  I really loved the way this book highlighted the unfair way women were thrown to the wolves when it came to virtue and rank.  Both Cynthia and Miles were absolutely bound by their social obligations and even in the face of heartbreak, they still saw their love as impossible.  It's clear that the Redmond and Eversea families approach love very differently when it come to their children, and the Senior Mr. Redmond puts love squarely in 2nd or third place.  Miles and Cynthia have one of those slow-burn, emotionally painful romances that are so fun to read because it makes the HEA so much more satisfying.  I am still loving this series!
I received this galley in consideration for an honest review.
Third Base
by
Heidi McLaughlin
Series:
Boys Of Summer #1
Published by
Grand Central
on June 7, 2016
Genres:
Romance
Goodreads


Ethan Davenport is already Boston's most eligible bachelor. In his second season with the Boston Renegades he has set his eyes on the girl behind the visitors' dugout.
That girl is Daisy Robinson, a journalism student at the University of Boston and a die-hard Renegades fan.
But with new found love comes challenges and Ethan and Daisy have to deal with his crazy schedule, school finals and his presence on her campus for some much needed media training.
For Ethan nothing can come between him and Daisy, until a secret that she's been keeping threatens to destroy them both.
Third base was a quick and somewhat cute baseball romance that centered around a young Boston Renegades (I guess they couldn't use Red Sox) player.  The secret that tears them apart is pretty easy t figure out.  I enjoyed this story, basically, but it could have been so much more than it was. There were some real opportunities for character development that didn't happen, and the narrative voice, which was 100% Ethan's point of view, really took away from the story, to be honest.  I suppose the author was trying to keep us from discovering the secret, but his voice was juvenile and repetitive. I would have rather known the secret and gotten more from their relationship.  In the end, while this was ok, it didn't grab my attention.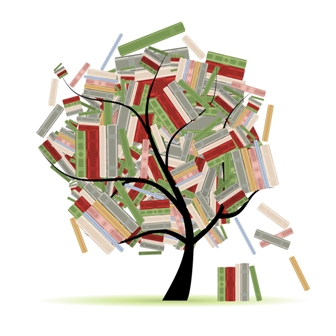 Related Posts