I received this galley in consideration for an honest review.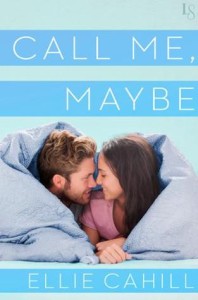 Call Me, Maybe by Ellie Cahill
Published by Random House on February 9, 2016
Genres: Romance
Goodreads



Clementine Daly knows she's the black sheep. Her wealthy, powerful family has watched her very closely since she almost got caught in an embarrassing scandal a few years ago. So when Clementine's sent on a mission to live up to the Daly name, politely declining isn't even an option. Of course, the last thing Clementine does before departure is grab a stranger's phone by mistake—leaving the hunky journalist with her phone. Soon his sexy voice is on the line, but he doesn't know her real name, or her famous pedigree—which is just the way Clementine likes it.

Despite all the hassles, Justin Mueller is intrigued to realize that the beautiful brown-eyed girl he met at the airport is suddenly at his fingertips. They agree to exchange phones when they're both back in town, but after a week of flirty texts and wonderfully intimate conversations, Justin doesn't want to let her go that easy. The only problem? It turns out that Clemetine has been lying to him about, well, everything. Except for the one thing two people can't fake, the only thing that matters: The heat between them is for real.
Call Me Maybe was a different kind of NA romance, but that is not a bad thing at all. The virtual meet cute was a very interesting way for these meet these two characters and it allowed them the space to get to know each other before meeting in person.  Clementine's wealth, which she tried to keep secret, created an interesting dynamic in their budding relationship.  Clementine made some pretty bad decisions, but since I felt I knew her as a character, I could see her point of view.  Justin was adorably flawed and appealing, as well, and while their romance was sweet and appropriately star-crossed, they also seemed like real people. I could imagine them telling this story, years in the future, to their kids or grandkids.  The ending wasn't what I would call a traditional romance ending, but I thought it struck the perfect tone to match the rest of the book and the struggles of the two main characters.  I will definitely be reading more from this author!
I received this galley in consideration for an honest review.
Keep On Loving You
by
Christie Ridgway
Series:
Cabin Fever #4
Published by
Harlequin
on January 26, 2016
Genres:
Romance
Goodreads


Mackenzie Walker's siblings have all found their happy-ever-afters, but she has everything a single girl needs in her California mountain hometown. Family, friends, a thriving business…and memories of Zan Elliott, her first love, whose touch—and betrayal—she's never forgotten. Now, ten years after he left town, Zan returns to manage his late grandfather's estate…and flip Mac's life upside down with one heated glance.

Documentary filmmaking has taken Zan all over the globe, yet nowhere was far enough away to make him forget Mac. Seeing her ignites their incredible chemistry all over again. Mac's trust won't be easily won, however, especially when Zan's inheritance jeopardizes her family's hard-earned dreams. But every moment together is challenging Zan to stop living life through a lens and dare to let his guard down for a chance at forever…
This is the fourth book in the Cabin Fever series and it was a sweet story full of mending hearts. If you love the long-lost love come back to town trope, this is definitely for you.  I love stories with close-knit families, and this book had that in spades, as well as my other favorite – small towns!  Interestingly, the side story involving Mac's employee ended up being just as good as the main plot.  That's not something that is too terribly common in romance, but I loved it because it was like I got two books in one.  I am definitely going to circle back and read the first three books in this series!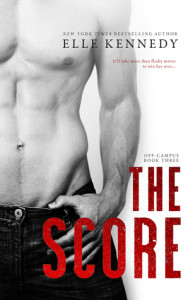 The Score by Elle Kennedy
Series: Off-Campus #3
Published by Self-Published on January 11, 2016
Genres: Romance, New Adult
Goodreads


Allie Hayes is in crisis mode. With graduation looming, she still doesn't have the first clue about what she's going to do after college. To make matters worse, she's nursing a broken heart thanks to the end of her longtime relationship. Wild rebound sex is definitely not the solution to her problems, but gorgeous hockey star Dean Di-Laurentis is impossible to resist. Just once, though, because even if her future is uncertain, it sure as heck won't include the king of one-night stands.

Dean always gets what he wants. Girls, grades, girls, recognition, girls…he's a ladies man, all right, and he's yet to meet a woman who's immune to his charms. Until Allie. For one night, the feisty blonde rocked his entire world—and now she wants to be friends? Nope. It's not over until he says it's over. Dean is in full-on pursuit, but when life-rocking changes strike, he starts to wonder if maybe it's time to stop focusing on scoring…and shoot for love.
I don't know what it is about this series, but I just love it so much.  In this third installment, we meet Dean, who could kindly be called….experienced.  In the other two books, he was the resident ladies man.  I always love a good redemption story, although I'm not sure this strictly qualifies, but I do love a story where the guy who refuses to settle down finally falls in love.  Allie was a great main character because she was kind of the opposite, or what I like to call a serial monogamist.  The realization that she is rarely without a boyfriend plays in beautifully to this story and it becomes about the romance, yes, but it was also about Allie finding out who she is without a boyfriend.  Dean also struggles with who is is, and when something terrible happens, he is forced to look at his life and consider whether his old coping mechanisms really work for him anymore.  As usual, there were a lot of steamy scenes and we also get to see the other couples from previous books.  If you have not picked up any of these books, you really should.  It is one of my very favorite new adult series and I think it's worth your reading time, if you like contemporary romance.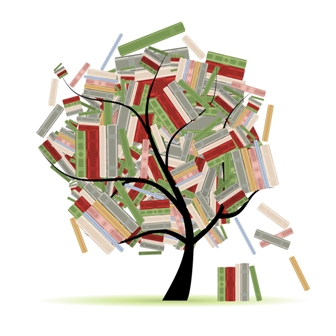 Related Posts