I received this galley in consideration for an honest review.
Too Hot To Handle by Tessa Bailey
Series: Romancing The Clarksons #1
Published by Grand Central on May 17, 2016
Genres: Romance
Goodreads


When Rita Clarkson's Suburban takes its last breath on a New Mexico roadside, rescue roars up on a Harley in the form of smooth-talking honkey tonk owner, Jasper Ellis, a man as mysterious as he is charming. Rita's cross-country journey to New York City--with her three estranged siblings in tow--is only beginning, but now that Jasper has found Rita, his plans do not include her leaving.
This very sexy book actually turned out to be a very emotional story about finding your place, even if it's not where you thought it would be.  Rita has lived in her mother's shadow her whole life and now that she's gone, Rita and her siblings want to fulfill one last wish.  I love stories with messy families and Too Hot To Handle has that in spades.  Rita and her siblings all have their own baggage and I loved their dynamics as well as the promise that each sibling would get a chance to tell their own story in another book.  I know I've started a good series when I can't wait to read more about the other characters.  As for Rita, her whirlwind romance/attraction to Jasper was hot, to say the least.  Jasper seemed like the typical "bad boy" from the outside, but his character ended up being well-rounded and very appealing.  I loved Rita's backstory involving a cooking reality show and her complicated relationship with her mother's memory. Overall, I really enjoyed Too Hot To Handle.
The Perils Of Pleasure
by
Julie Anne Long
Series:
Pennyroyal Green #1
Published by
Avon
on January 29, 2008
Genres:
Romance
,
Historical Romance
Goodreads

Scandal has rocked the city of London. Colin Eversea, a handsome, reckless unapologetic rogue is sentenced to hang for murder and, inconveniently for him, the only witness to the crime disappears. Then again, throughout history, the Everseas have always managed to cheat fate in style: Colin is snatched from the gallows by a beautiful, clever mercenary.

Cool-headed, daring Madeleine Greenway is immune to Colin's vaunted charm. Her mission is not to rescue Colin but to kidnap him, and to be paid handsomely for it. But when it becomes clear that whoever wants Colin alive wants Madeline dead, the two become uneasy allies in a deadly race for truth. Together, they'll face great danger—and a passion neither can resist.
Since reading The Legend of Lyon Redmond, I have gone back to the beginning of this long running series.  We meet our leading man as he is about to hang for a murder he didn't commit.  There are a lot of mysteries to solve in this book, starting with Madeleine and who hired her to rescue Colin.  As she and Colin travel around the countryside in order to solve the mystery and clear his name, they reveal snippets of their respective backstories. I liked the way it was written, so that you aren't getting all of the information at once.  It helped keep the story moving and made their romance very sweet. For Colin, it was a redemption story, of sorts.  As a younger son who seems to excel at spending and having affairs, Colin's life wasn't very focused. I enjoyed his journey as he discovers come family secrets and finds more of a purpose for himself. Madeleine has dreams, too, and her tragic history brought urgency to her own life goals. I liked this book and will continue to make my way through the rest of the series.
I received this galley in consideration for an honest review.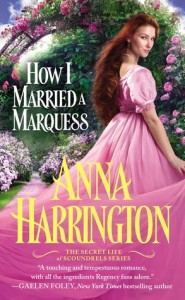 How I Married A Marquess
by
Anna Harrington
Series:
The Secret Life of Scoundrels #3
Published by
Grand Central
on April 26, 2016
Genres:
Romance
,
Historical Romance
Goodreads
Josephine Carlisle, adopted daughter of a baron, is officially on the shelf. But the silly, marriage-minded misses in the ton can have their frilly dresses and their seasons in London, for all she cares. Josie has her freedom and her family . . . until an encounter with a dark, devilishly handsome stranger leaves her utterly breathless at a house party. His wicked charm intrigues her, but that's where it ends. For Josie has a little secret . . .

Espionage was Thomas Matteson, Marquess of Chesney's game-until a tragic accident cost him his career. Now to salvage his reputation and return to the life he loves, the marquess must find the criminal who's been robbing London's rich and powerful. He's no fool-he knows Josie, with her wild chestnut hair and rapier-sharp wit, is hiding something and he won't rest until he unravels her mysteries, one by one. But he never expected to be the one under arrest-body and soul
This book is the last in The Secret Life of Scoundrels series, and it's a story that took some interesting turns.  Thomas suffers from PTSD after being shot and his life is at a crossroads as he faces a future out of the War Office. His quest to solve a mystery and gain his career back as a spy is his one goal.  Josephine, on the other hand, is almost "on the shelf" and isn't that upset about it, really.  Her deep insecurity about being adopted drives much of her thoughts about herself, but it also gives her purpose as she works at the local orphanage.  All of these elements come together in a mystery that involves highwayman, corrupt politicians, and a sexy romance.  I loved the way the other characters from the books came back into the story, although it takes nothing away from it if you haven't read them.  How I Married A Marquess was fun and sweet and I am glad I came across this series!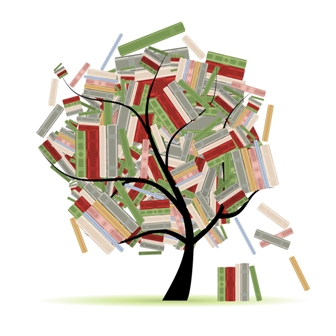 Related Posts