I received this galley in consideration for an honest review.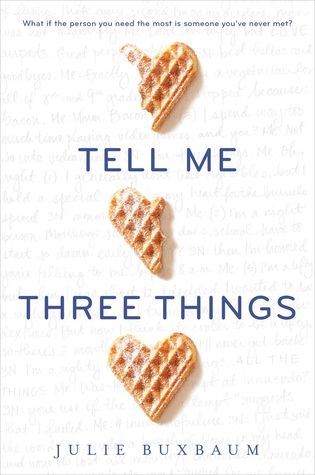 Tell Me Three Things by Julie Buxbaum
Published by Random House on April 5, 2016
Genres: Young Adult
Goodreads

Everything about Jessie is wrong. At least, that's what it feels like during her first week of junior year at her new ultra-intimidating prep school in Los Angeles. Just when she's thinking about hightailing it back to Chicago, she gets an email from a person calling themselves Somebody/Nobody (SN for short), offering to help her navigate the wilds of Wood Valley High School. Is it an elaborate hoax? Or can she rely on SN for some much-needed help?

The thing is, Jessie does need help. It's been barely two years since her mother's death, and because her father eloped with a woman he met online, Jessie has been forced to move across the country to live with her stepmonster and her pretentious teenage son.

In a leap of faith—or an act of complete desperation—Jessie begins to rely on SN, and SN quickly becomes her lifeline and closest ally. Jessie can't help wanting to meet SN in person. But are some mysteries better left unsolved?
There is something about talking to someone online that creates a sense of comfort (obviously) and the feeling of a safety net when you are exposing emotions you wouldn't necessarily divulge to someone, in person. Tell Me Three Things capitalized on that idea by creating a wonderful slow-building romance that was both honest and heartwarming.  Jessie lost her mom and a part of her felt as if she lost her dad, too, especially when he gets married suddenly and moves them across the country.  Her relationship with her dad is damaged and SN's email,. while a  little weird at first, becomes a beacon for her. Their bond grows as they find out all of the things and experiences that they have in common.  I love it when books depict  imperfect families because no family is perfect, let's face it.  Even within the change and the new everything, Jessie manages to carve out a place for herself. It takes time for her to realize that she can change while still keeping parts of her old life.  At home, Jessie had to learn that adjusting and opening yourself to new experiences was a two-way street.  I appreciated that the relationship between Jessie and her stepmom was not instantly fixed.  She wasn't perfect and she wasn't trying to be BFFs with anyone.  Rather, a foundation was set and by the end of the book, while things were far from perfect, you could see a relationship was established that would logically grow to understanding and even love.  The same could be said for Jessie's new step-brother who was, understandably, as upset and skeptical of this new arrangement as Jessie was.
For most of the book, I really went back and forth on who I thought SN was, but it does become fairly clear toward the end.  This did not distract me from the joy of the story, though.  Even though I eventually knew who SN was, I still wanted to read about Jessie trying to figure it out.  It's not set up as a mystery, so for me, it wasn't really necessary for his identity to be kept top secret.  The dialog was clever and funny.  Jessie's voice, especially, was smart and very entertaining.  Tell Me Three Things confronted grief and change in a way that was honest and endearing.  Most importantly, it got the combination of painful honesty and sweet romance just right.  It managed to keep me guessing and left me with a huge smile on my face.  You should definitely put this on your 2016 reading list!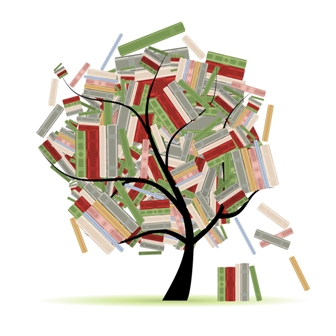 Related Posts