I received this galley in consideration for an honest review.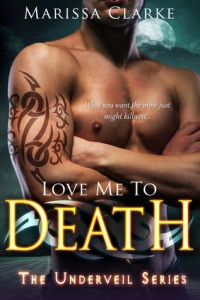 Love Me To Death by Marissa Clarke
Series: Underveil #1
Published by Entangled on October 28, 2014
Genres: Romance, Paranormal
Goodreads


Medical research scientist Elena Arcos has always lived her life under the radar, which is not easy to do when you live with the craziest woman in the world. But eccentric Aunt Uza is a picnic compared to the other people who enter her orderly life after she is shot in a convenience store robbery. Elena finds herself rocketed from comfortable predictability to supernatural insanity courtesy of her own private angel of death who happens to have the sexiest accent on earth and a body to match. Her death angel is convinced she's some kind of freaky half vampire thing and that her deceased dad was the real deal: a blood sucking monster.
I am not big on paranormal romance, but Love Me To Death was a great combination of sexy times with a story that played on several different mythologies.  Out leading man is a hot avenging angel, sent to kill the daughter of a man her hates, while our heroine has no idea what is going on.  Throw in an eccentric aunt, and Love Me To Death was action-packed, fun, and sexy.  Although it was outside of m usual romance reading profile, I enjoyed the plot ad the banter between characters was well done and kept the story moving.
I received this galley in consideration for an honest review.
Unfaded Glory by Sara Arden
Series: Home To Glory #2
Published by Harlequin on January 27, 2015
Genres: Romance
Goodreads


Byron Hawkins doesn't want to be responsible for anyone ever again. The former Black Ops soldier is better at taking lives than saving them. But on mission in Tunisia to deliver a package to safety, Hawk is dismayed to find that the precious cargo is actually a hostage rescue, and that his orders are to take Princess Demara Petrakis back to US soil and hide her in plain sight—as his newlywed wife. Back in Hawk's hometown of Glory, Kansas, petite, fierce Demara keeps surprising him; she may be royalty, but she's fully trained in martial arts and will sacrifice anything for her country. As the town rallies around the returning hero and his bride, he's finding that it's way too easy to play the part, and after the hell he has seen, that terrifies him. Hawk didn't want another life to save, but the passionate beauty he's sworn to protect might just turn the tables and save him, instead
Oh, how I loved this book!  It was non-stop action, a great political intrigue, and it managed to work with its a small town vibe, as well.  I am really loving the romances featuring soldiers and ex-soldiers and Unfaded Glory did a great job of developing a character who was once in service and now found himself a 'hired gun'.  His job working to save the princess was a great platform for some very romantic writing.  I really enjoyed this one!
I received this galley in consideration for an honest review.
Bad Romeo Series: Starcrossed #1
Published by St. Martin's Press on December 23, 2014
Genres: Romance, New Adult
Goodreads

When Cassie Taylor met Ethan Holt at acting school, sparks flew. She was the good girl actress. He was the bad boy about campus. But one fated casting choice for Romeo and Juliet changed it all. Like the characters they were playing, Cassie and Ethan's romance seemed destined. Until he broke her heart and betrayed her trust. Now the A-list heartthrob is back in her life and turning her world around. One touch at a time. Cast as romantic leads once again, they're forced to confront raw memories of the heartbreaking lows and pulse-pounding highs of their secret college affair. But they'll also discover that people who rub each other the wrong way often make the best sparks
I just couldn't help but get sucked into Cassie and Ethan's relationship drama!  Although I didn't entirely buy the reason behind Ethan's brokenness, especially the extent of it, I still enjoyed reading about their relationship.  I especially loved the use of flashbacks, which gave us the history of their ill fated romance as a contrast to their present day troubles.  The sexual tension was very well done and it was definitely one of those romances you have to finish in one sitting because you can't put it down.  It's the beginning of a series and I am very anxious for the next book.
Once More, My Darling Rogue by Lorraine Heath
Series: Scandalous Gentlemen of St. James #2
Published by Avon on August 26, 2014
Genres: Romance, Historical Fiction
Goodreads

How can you not love a book with a plot similar to the best movie ever, Overboard?  I love the 'different worlds' trope and the romance was both sexy and sweet. The execution of the plot was a little unbelievable since Ophelia seemed to remember everything except being a maid, but it ended up working well because the core issue of Drake's insecurity was really what was driving the plot.  Even at her snobbiest, I liked Ophelia, and as regency couples go, these two were fun to read about and had great chemistry.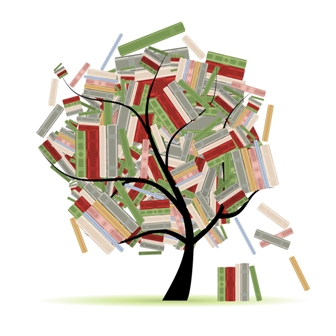 Related Posts