I received this galley in consideration for an honest review.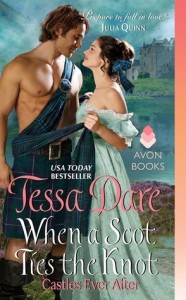 When A Scot Ties The Knot by Tessa Dare
Series: Castles Ever After #3
Published by Avon on August 26, 2015
Genres: Romance
Goodreads

On the cusp of her first London season, Miss Madeline Gracechurch was shyly pretty and talented with a drawing pencil, but hopelessly awkward with gentlemen. She was certain to be a dismal failure on the London marriage mart. So Maddie did what generations of shy, awkward young ladies have done: she invented a sweetheart.

A Scottish sweetheart. One who was handsome and honorable and devoted to her, but conveniently never around. Maddie poured her heart into writing the imaginary Captain MacKenzie letter after letter … and by pretending to be devastated when he was (not really) killed in battle, she managed to avoid the pressures of London society entirely.

Until years later, when this kilted Highland lover of her imaginings shows up in the flesh. The real Captain Logan MacKenzie arrives on her doorstep—handsome as anything, but not entirely honorable. He's wounded, jaded, in possession of her letters… and ready to make good on every promise Maddie never expected to keep.
If you have not read this delightful series from the amazing Tessa Dare, you are really missing out.  When A Scot Toes The Knot had such a wonderful meet-cute that I simply had to read it.  Imagine seeing the made-up fiancee that you killed off returning from the dead, when he was never actually real in the first place!  You can't help but love Maddie who is smart and resourceful enough to go to great lengths to remain acceptably single, in the eyes of society, by making up this tragic love. Logan's dedication to his former military unit and sensitivity to the scars that his men have suffered in war, gave good insight into his character and it certainly helped make Maddie's emotional attraction to him quite understandable.  Their give and take is the stuff that regency dreams are made of and I found myself really liking this last installment in the Castles Ever After series.  I'm just sad that there won't be any more in this series.
I received this galley in consideration for an honest review.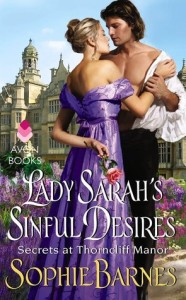 Lady Sarah's Sinful Desires by Sophie Barnes
Series: Secrets of Thorncliff Manor #1
Published by Avon on April 28, 2015
Genres: Romance
Goodreads

There are thousands of things Christopher, Viscount Spencer, would rather do than hunt for a bride, especially since experience has taught him that women are not to be trusted. Then he finds the intriguing Lady Sarah scrambling around in Thorncliff's conservatory and he is instantly charmed by her passionate nature. But why is she so intent on avoiding him?

Lady Sarah would make the perfect bride for a peer—if not for a tarnished past that she's hiding from the ton. A stay at Thorncliff Manor was meant to help her plan for her future, not fall in love. Yet Christopher's kisses are irresistible, his gallantry enticing. When her secret stands to be revealed, will the truth ruin their dreams of happiness?
Sarah had one night with a guy who turned out to be a huge jerk, and a liar, and is now is being relentlessly slut-shamed by her family and forced to marry a horrible person.  This is the core of the plot of Lady Sarah's Sinful Desires, which turned out to be a book that contained a multitude of characters and plot points that I enjoyed.  I liked that the story went away from the blushing virgin and had a lot of plot dedicated to the way Lady Sarah's sexual experience was viewed so differently than a man's would have been.  You might think that in a book set int he 19th century this goes without saying, but I don't see it confronted to plainly in very many regency romances.  The other thing that I really like is that Christopher is not a perfect hero.  He struggles with Sarah's past and while he eventually sees the light, of course, and realizes that his own hang-ups have nothing to do with the person Sarah is, the fact that Sarah wasn't relying on him to be her rescuer made this book refreshingly enjoyable.  Lady Sarah's Sinful Desires was a fun read, yes, but it had some oomph to it, as well.  Definitely put this on your reading list.
I received this galley in consideration for an honest review.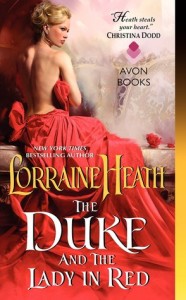 The Duke And The Lady In Red by Lorraine Heath
Series: The Scandalous Gentlemen of St. James #3
Published by Avon on April 28, 2015
Genres: Romance
Goodreads

When Rosalind Sharpe gains the attention of the deliciously wicked Duke of Avendale, she's torn between her distracting attraction to the notorious rogue and the knowledge that he—rich as Croesus—is the perfect target for a deception that will put her swindling days behind her.

However, Avendale is no fool. After he discovers the tantalizing lady packing up to leave London with his coins in tow, he confronts her with a scandalous proposition: she can have all the money she requires…for a week in his bed.

Desperate for the funds, Rose agrees, but on one condition: he must never question her motives. Avendale quickly sees beneath her mask and discovers she is more than passion and pleasure—she is everything he has ever desired. But claiming her requires he unveil her secrets and lose her forever. Unless he can put his own dark past aside and risk everything for a chance at love.
Oh, how I love the grifter with a really good reason trope.  Rosalind does what she has to do for her family and while she is beautiful, she also knows what it is like to be ridiculed and ostracized for  being different.  Her protectiveness of her brother tells you all you really need to know about Rosalind's life and it also gives you a chance to see the Duke's true character and compassion, as well.   In the end, this book actually made me a little weepy, but I find that to be the case with many of Lorraine Heath's books.  Rosalind's relationship with her brother is a remarkable part of this story and if it doesn't tug on your heart strings, you should definitely check and see if you're a robot. (Or should I say automaton?)  Make sure you also read the author's notes at the end because I found them to be extremely interesting. Loraine Heath's writing continues to provide sexy stories with a lot of heart .
I received this galley in consideration for an honest review.
Diary Of An Accidental Wallflower by Jennifer McQuiston
Series: Seduction Diaries #1
Published by Avon on February 24, 2015
Genres: Romance
Goodreads



Pretty and popular, Miss Clare Westmore knows exactly what (or rather, who) she wants: the next Duke of Harrington. But when she twists her ankle on the eve of the Season's most touted event, Clare is left standing in the wallflower line watching her best friend dance away with her duke.

Dr. Daniel Merial is tempted to deliver more than a diagnosis to London's most unlikely wallflower, but he doesn't have time for distractions, even one so delectable. Besides, she's clearly got her sights on more promising prey. So why can't he stop thinking about her?

All Clare wants to do is return to the dance floor. But as her former friends try to knock her permanently out of place, she realizes with horror she is falling for her doctor instead of her duke. When her ankle finally heals and she faces her old life again, will she throw herself back into the game?
I always love the grumpy and distracted science types and in Diary of an Accidental Wallflower, our hero is just that.  He must serve the noble class in order to fund his research, and his disdain for the ton was amusing. I think my favorite part of this story was the difference in finances and social standing of the two protagonists.  Social class played a big part in the dynamic between Clare and Daniel, which seemed to be done differently than it normally is.  (We usually see the heroine marrying 'up')  So, that made for some interesting dimensions to the romance.  I loved Daniel's dedication to his science and Clare's slightly crazy family.  IN the end, it was a very sweet romance that I enjoyed reading even if it didn't blow me away.  This is the beginning of a series, so I am looking forward to seeing who we'll meet next.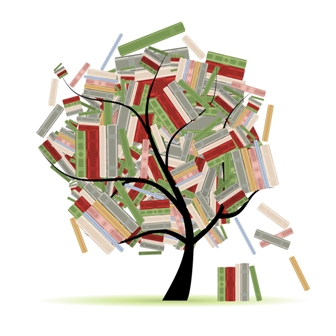 Related Posts