I received this galley in consideration for an honest review.
The Scoundrel and the Debutante by Julia London
Series: The Cabot Sisters #3
Published by Harlequin on April 28, 2015
Genres: Romance
Goodreads

The dust of the Cabot sisters' shocking plans to rescue their family from certain ruin may have settled, but Prudence Cabot is left standing in the rubble of scandal. Now regarded as an unsuitable bride, she's tainted among the ton. Yet this unwilling wallflower is ripe for her own adventure. And when an irresistibly sexy American stranger on a desperate mission enlists her help, she simply can't deny the temptation. The fate of Roan Matheson's family depends on how quickly he can find his runaway sister and persuade her to return to her betrothed. Scouring the rustic English countryside with the sensually wicked Prudence at his side—and in his bed—he's out of his element. But once Roan has a taste of the sizzling passion that can lead to forever, he must choose between his heart's obligations and its forbidden desires.
Oh, how I loved this sweet and funny story!  I think my favorite part of this is that the hero is American.  His attempts to navigate English society while trying to find his sister provided some comical moments.  The romance itself was very sweet and while there was attraction, it was not instalove.  I enjoyed the way that Pru and Roan grew to love each other throughout their adventures.  Prudence, especially, felt very confined and unfairly punished by the unconventional marriages of her sisters and what that meant for her in polite society at the time.  I think that's why Roan was such a good fit, being from America and having a much different view on life. I admit that I have not read the first two in this series, but I will circle back and read them.  If this book is any indication, they will be just as fun!
I received this galley in consideration for an honest review.
Captive
by
Brighton Walsh
Series:
Captive #1
Published by
St. Martin's Press
on March 24, 2015
Genres:
Romance
Goodreads


Madison Frost is desperate to escape her life. Daughter of a prominent businessman, she has everything a girl could ask for. Except for a family who's present in her life, and anyone to talk to outside the four walls of the prison she calls home. Madison dreams of one day leaving her life behind. She never thought being kidnapped is how it would happen. Now she's being held captive by a man who's as frightening as he is sinfully gorgeous. Enormous, muscular, and filled with secrets, the man they call Ghost is an enigmatic mercenary, and Madison is trapped with him. She doesn't know who hired him or why, but the more time she spends at his mercy, the more she realizes he's not what he seems. Beneath his rough exterior lies an unexpected gentleness and a heart as broken and battered as her own. But as Madison lets down her walls, Ghost holds tight to his, hiding secrets that could destroy everything.
 Captive was highly anticipated by many people, but unfortunately, it left me with much to be desired. I think my main issue with this book is that the relationship dynamic just didn't work for me.  I just couldn't get past the  fact that he kidnapped her for money.  I know that many people like this trope, so I don't want to say that it is a bad book because of that or shame anyone because of their likes, but it's not something that works for me.  Aside from that, the characters were just uninteresting.  I am seeing so much New Adult that is has complex and interesting, but this seemed to fall back on some character types that are becoming used to the point of exhaustion.  So, obviously, this wasn't really the book for me, but I see from reviews that I am the black sheep on this one.
I received this galley in consideration for an honest review.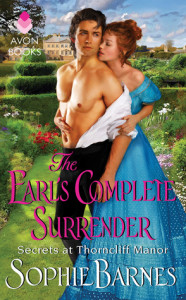 The Earl's Complete Surrender
by
Sophie Barnes
Series:
Secrets of Thorncliff Manor #2
Published by
Avon
on December 29, 2015
Genres:
Romance
Goodreads


Despite the diversions offered at Thorncliff Manor, former spy James, the Earl of Woodford, has one purpose in staying there. He must find an encoded book that exposes a conspiracy within the British aristocracy. And he must do so without revealing his purpose to the clever, tempting Chloe Heartly. The lady has a knack for appearing wherever it is least convenient. In the library. In the salon. And, especially, in his arms... Somewhere within Thorncliff's labyrinth of rooms lies the journal Chloe desperately seeks. When she realizes the brooding, handsome earl is hunting the same quarry, Chloe enters into an uneasy partnership. But in the face of public danger and enemies hiding in plain sight, both must decide how much they're willing to risk to solve the mysteries of the heart.
 I adored the first book in this series (Lady Sarah's Sinful Desires), but unfortunately, the second book was a little blah.  There really wasn't a lot of romance at all. I'm not just talking about sexy times, which were of the fade to black variety, but the actual interaction between the two romantic leads was very tepid.  The story mostly centered around secret passages and intrigue, which was fun, but would have made a better historical fiction than romance.  I admit that I had a hard time making it through this one, but if you prefer romances that are not at all graphic or have very little on-page intimacy, this might be a good choice for you.  I am not giving up on this series, though, and I look forward to book three.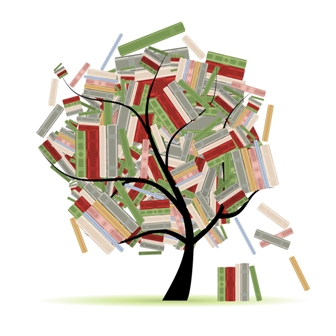 Related Posts