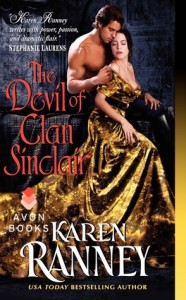 The Devil Of Clan Sinclair by Karen Ranney
Series: Clan Sinclair #1
Published by Avon on July 30, 2013
Genres: Romance, Historical Romance, Scottish Romance
Goodreads


For Virginia Traylor, Countess of Barrett, marriage was merely the vehicle to buy her father a title. Widowhood, however, brings a host of problems. For her husband deliberately spent the money intended for Virginia and her in-laws, leaving them penniless—unless she produces an heir. Desperate and confused, Virginia embarks on a fateful journey that brings her to the doorstep of the only man she's ever loved...

He's known as The Devil, but Macrath Sinclair doesn't care. He moved to a tiny Scottish village in hopes of continuing his work as an inventor and starting a family of his own. He bought the house; he chose the woman. Unfortunately, Virginia didn't choose him. Macrath knows he should turn her away now, but she needs him, and he wants her more than ever. Whatever game Virginia's playing, Macrath intends to win—one wickedly seductive deed at a time...

A self-made Scottish hero and a hidden baby story – sign me up!  I came across this as a recommended read and I really enjoyed it.  Virginia is an American who is not your typical headstrong, going against the grain type of heroine. No, Virginia is a rule follower, which is how she ends up not married to the man she loves.  I found that a little frustrating at first, but really it gave her a lot of room to grow as a character.  The hidden baby plot is not one that's not typical for this trope, and while it presented its challenges, I found it to provide some interesting dimensions to the story.  There was a good villain and a lot of heartache, so that it was a very satisfying HEA.  I love discovering new-to-me series, and I am definitely going to keep reading this one.
Someone TO Watch Over Me by Lisa Kleypas
Series: Bow Street Runners #1
Published by Avon on May 1, 1999
Genres: Romance, Historical Romance
Goodreads


Grant Morgan is one of London's most eligible and unattainable bachelors. He's also a powerful member of the Bow Street Runners, and when he's called to the waterfront late one night to investigate a drowning victim, Grant is stunned to recognize the face of Vivien Rose Duvall, a well-known woman of the night. He's even more startled when he realizes that she's alive. With no one to care for her, Grant carries Vivien to his home and revives her, only to learn that she is suffering from amnesia.

Vivien hesitantly accepts her handsome rescuer's claim that she is his mistress, despite her misgivings about her true identity. Nevertheless, she can't deny the marks on her throat that prove her near-drowning in the Thames was not an accident, and now she must trust the man who claims her as his paramour, for her life is in danger. As Grant searches for Vivien's attacker, the two find themselves falling in love, all the while struggling to stay one step ahead of the evil forces that will stop at nothing to see Vivien dead.

I came across the Bow Street Runners series by accident, but seeing that it was a Lisa Kleypas book, buying it was a no-brainer.  As the first in the series, we are introduced to the group f men who will be our heroes.  The Runners were mostly from more humble backgrounds than your usual historical romance men, which brought a nice variety to the story.  The heroine, a courtesan who gets amnesia, provides the mystery that must be untangled. (Each book has a central mystery)  I liked the characters and I liked the heat, but the story fell apart just a bit toward the end.  However, I would still recommend it.  I am reading the other books right now and I am anxious to meet the other Runners in the series.
The Duke And I by Julia Quinn
Series: Bridgertons #1
Published by Avon on June 27, 2006
Genres: Romance, Historical Romance
Goodreads

By all accounts, Simon Basset is on the verge of proposing to his best friend's sister, the lovely—and almost-on-the-shelf—Daphne Bridgerton. But the two of them know the truth—it's all an elaborate plan to keep Simon free from marriage-minded society mothers. And as for Daphne, surely she will attract some worthy suitors now that it seems a duke has declared her desirable.

But as Daphne waltzes across ballroom after ballroom with Simon, it's hard to remember that their courtship is a complete sham. Maybe it's his devilish smile, certainly it's the way his eyes seem to burn every time he looks at her… but somehow Daphne is falling for the dashing duke… for real! And now she must do the impossible and convince the handsome rogue that their clever little scheme deserves a slight alteration, and that nothing makes quite as much sense as falling in love…

I know I'm super late to the Bridgerton party, but the important thing is that I'm here now and I love it!  The Bridgerton series is eight books long, each telling the story of one of the siblings and their quest for love.  I absolutely loved this story.  Daphne was funny and smart, not willing to settle for just anyone, and really not that eager to marry. Simon felt the same, but their courtship was unconventional and, at times, a disaster.  The best part about these books is the other Bridgertons.  I love romances where the siblings play a big role, an this loud and boisterous family is so entertaining that you'll want to keep reading just to hear more about them.  If you haven't read this series, yet, you really need to!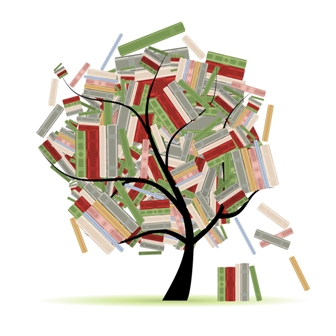 Related Posts