I am so happy to be on the tour for this amazing book.   I picked up a galley of SAY WHAT YOU WILL at TLA this year and it's one of those books that I know I'll be buying for people as gifts.  First, here's a little bit about SAY WHAT YOU WILL: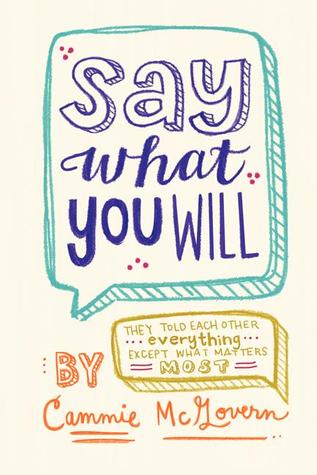 Say What You Will
Author:
Cammie McGovern
Category:
Young Adult
Publisher:
Harper Teen
Release Date:
6-3-14
John Green's
The Fault in Our Stars
meets Rainbow Rowell's
Eleanor & Park
in this beautifully written, incredibly honest, and emotionally poignant novel. Cammie McGovern's insightful young adult debut is a heartfelt and heartbreaking story about how we can all feel lost until we find someone who loves us because of our faults, not in spite of them. Born with cerebral palsy, Amy can't walk without a walker, talk without a voice box, or even fully control her facial expressions. Plagued by obsessive-compulsive disorder, Matthew is consumed with repeated thoughts, neurotic rituals, and crippling fear. Both in desperate need of someone to help them reach out to the world, Amy and Matthew are more alike than either ever realized. When Amy decides to hire student aides to help her in her senior year at Coral Hills High School, these two teens are thrust into each other's lives. As they begin to spend time with each other, what started as a blossoming friendship eventually grows into something neither expected. – Goodreads
My shamefully limited knowledge of books that have main characters with disabilities really left me wanting more.  I never felt connected to the characters because they seemed more like A DIAGNOSIS and less like a person.  In SAY WHAT YOU WILL, Cammie McGovern wrote about two people, two funny, quirky, and lonely people, and let the reader see their friendship develop into something beautiful.  In many ways, Matthew's OCD cripples him much more than Amy's CP limits her, and while that reversal of thinking (the girl with the  physical disability is actually the least disabled) restructured my preconceived ideas about their relationship dynamic,  it really wasn't about rescuing anyone.  It was about setting aside fears, limitations, and appearances, and taking a chance at opening up to another human being.
Say What You Will was a wonderful illustration of the idea that we are more than the sum of our outside parts and we are more than our limitations.  That sounds like such an obvious thing to know, yet I think that most people go through their day thinking that they know people based on what they see, not based on real interaction.  This book didn't just change the way I might see a person with a physical disability, it reminded me that we all struggle in one way or another.  Amy and Matthew were a unique duo, sure, but also not so very unlike any other teens; they felt lonely, had insecurities, wondered about the future, wanted more from their parents, and wanted less from their parents.  I can't adequately express how this book grabbed my heart, but it did, and I guarantee you that it will grab your heart, as well.  I laughed out loud, I winced, and I got a little teary while reading Say What You Will.  Don't miss out on the opportunity to expand your world by reading this book.
I received this galley in exchange for my honest review.
Cammie McGovern was kind enough to send a list of books she thinks are great YA novels featuring a main character with a disability.  Looking at this list makes me realize what a gap there is in my TBR pile, so I am really grateful for the suggestions!
GREAT YA BOOKS ABOUT DISABILITY

STONER AND SPAZ   by Ron Koertge    The characters in this book are fiercely alive.  Ben, a charming loner with mild CP, has been raised by his grandmother and spends most weekends going to see movies.  One day, in the dark of a theater, he meets Colleen who is fabulous and frightening, hip in a way that scares him and the reader in equal measure.  Their relationship is funny and electrifying and very true. There's a sequel that is just as good as the first book.

WONDER by Patricia Palacio   This is a beautiful book that everyone should read.  Though ostensibly it's "middle grade" book, teens will find plenty to love and celebrate in this story about August, a fifth grader with severe facial "differences" attending school for the first time.  It's August's story, but really it's the story of everyone around him and the lives he changes and the people he gets to know.

OUT OF MY MIND by Sharon Draper   This books sits more firmly in the "middle grade" category, but I read it a few times to help me imagine what Amy's early life might have been like.  A high intelligent girl who severe CP who hasn't been able to communicate until she gets her first talking computer in fourth grade.  A beautiful book.

STUCK IN NEUTRAL, CRUISE CONTROL, and LIFE HAPPENS NEXT  by Terry Trueman   These books are almost contemporary classics in disability literature.  Written by the father of a boy with severe CP, they tell the story of Shawn McDaniels, unable to move or communicate the extent of his intelligence, and his complicated relationships with his family, and especially his father.  Each book is quite different (the middle one is told from his brother's point of view) but all are terrific.

CURIOUS INCIDENT OF THE DOG IN NIGHT TIME by Mark Haddon    I was writing my own book about an autistic boy who witnesses a murder and helps solve a crime (EYE CONTACT) when this book came out.  I was so upset until I actually read this one and was so utterly charmed by the main character and his funny voice that I didn't mind that he'd used my idea without even knowing it existed.

TELL ME YOU LOVE ME, JUNIE MOON by Marjorie Kellogg   You have to get this book out of the library, I fear, but if you can find it, you MUST read it.  Oh, it's so, so good—about three characters with different disabilities who meet in a rehab hospital and decide to live together after they're released.  It's funny and irreverent and wildly romantic by the end, when two of them fall in love.

FLOWERS FOR ALGERNON by Daniel Keyes    This is another classic in the world of disability literature.  If you read it a long time ago, it's every bit as good as you vaguely remember.  The story of Charlie Gordon, a developmentally disabled man, who is "cured" of his retardation by surgery and must learn to live as a highly intelligent adult.  Written in the form of diary entries, the ending will slay you, I promise.
Thank You, Cammie!
Buy SAY WHAT YOU WILL online:
GOODREADS | AMAZON | B&N | INDIEBOUND
About the Author:
Cammie McGovern was a Stegner Fellow at Stanford and received the Nelson Algren Award in short fiction. Her work has been published in Redbook, Seventeen, Glimmer Train, TriQuarterly, and other publications.
GIVEAWAY
2 Winners will each get a copy of SAY WHAT YOU WILL
Ships in US only | Must be 13+ to enter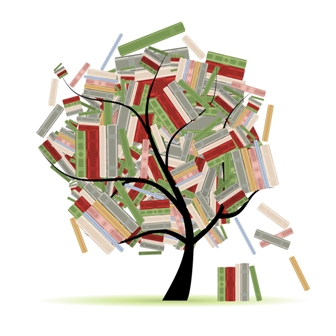 Related Posts