I received this galley in consideration for an honest review.
Along Came A Rogue by Anna Harrington
Series: The Secret Life Of Scoundrels
Published by Grand Central on February 23, 2016
Genres: Romance, Historical Romance
Goodreads



Major Nathaniel Grey is free to bed whomever he wants, whenever he chooses, and that's exactly how he likes it. His only loyalties are to country and the two friends he served with—brothers he'd do anything for. So when one of them is gravely injured and asking for his little sister, Grey will move heaven and earth to bring her home. He's greeted not by the gangly girl he remembers, but a stunningly beautiful woman holding a loaded musket. And he's utterly captivated by her...

Once upon a time, Emily would have loved nothing more than a stolen hour with her brother's best friend, the dashing officer who captured her heart and soul. But things are different now—and so is she. Gone is the eager young woman who believed in love. In her place is a widow weighed down with secrets who desperately needs to disappear before they're revealed. But Grey's sinfully sexy smile offers protection unlike anything she's ever known, tempting her to risk everything . . . even her heart.
Ah, the 'brother's friend' trope.  It's been used a lot and for good reason.  It creates a history between two love interests (sometimes a bad one) and gives the chance for the 'friend's annoying younger sibling becomes desirable' transformation.  Along Came A Rogue was fun and held just the right amount of intrigue via a small mystery in the plot.  That mystery created a good foundation for a dashing rescue, as well.  This story kind of had everything, from a painful past to a present danger.  It had family drama and a baby plot.  There was a lot going on, but it wasn't overcrowded.  I had fun reading this and I think you will, too.
The Duke Of Dark Desires
by
Miranda Neville
Series:
The Wild Quartet #4
Published by
Avon
on December 30, 2014
Genres:
Romance
,
Historical Romance
Goodreads
Rebellious Julian Fortescue never expected to inherit a dukedom, nor to find himself guardian to three young half-sisters. Now in the market for a governess, he lays eyes on Jane Grey and knows immediately she is qualified—to become his mistress. Yet the alluring woman appears impervious to him. Somehow Julian must find a way to make her succumb to temptation . . . without losing his heart and revealing the haunting mistakes of his past.

Lady Jeanne de Falleron didn't seek a position as a governess simply to fall into bed with the Duke of Denford. Under the alias of Jane Grey, she must learn which of the duke's relatives is responsible for the death of her family—and take her revenge. She certainly can't afford the distraction of her darkly irresistible employer, or the smoldering desire he ignites within her.

But as Jane discovers more clues about the villain she seeks, she's faced with a possibility more disturbing than her growing feelings for Julian: What will she do if the man she loves is also the man she's sworn to kill?
I quite liked this one!  I bought it after hearing it was on sale and I am glad that I did.  The plot involved some stolen art and a woman who is avenging the death of her family during the revolution, which was such an intriguing motivation.  In addition to that, she had to take lovers in order to survive, so she is a woman with a sexual past.  To make it even more interesting, it is a past that she refuses to apologize for, which was one aspect of her character that I loved.  The Duke, who may or may not hold the answer to Jane's questions, is also interesting.  His disdain for his title makes him unconventional, and the guilt he carries for his actions during the Revolution added some depth beyond the simple hot guy who suffers from emotional pain trope.  Instead, it becomes a story about facing your past and forgiving yourself.  The Duke of Dark Desires is the fourth in a series and if they are as good as this book, I am definitely going to go back and read the others.
I received this galley in consideration for an honest review.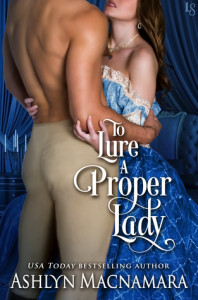 To Lure A Proper Lady by Ashlyn Macnamara
Series: Duke-Defying Daughters #1
on March 29, 2016
Genres: Romance, Historical Romance
Goodreads



When Lady Elizabeth Wilde and her sisters are summoned once again to their chronically anxious father's deathbed, she's shocked to find that his worries are at last justified. He's terribly ill, and Lizzie suspects poison. But when she seeks help from the Bow Street Runners, her request is answered by a rough-hewn rogue known only as Dysart. Though his irreverent charm by turns shocks and captivates her, a man of Dysart's background is an altogether inappropriate choice for a duke's daughter—isn't he?

Although Dysart has his reasons to disdain polite society, the promise of supplemental income from a noble's coffers is too tempting to deny. But if Dysart means to apprehend the culprit who poisoned the duke, he'll need to avoid any and all distractions—like the delicious swish of Lady Elizabeth's hips. Yet as the investigation begins to unearth secrets he'd rather remain hidden, Dysart must decide at a moment's notice whether to hold Elizabeth at arm's length . . . or pull her dangerously close.
I have come across a lot of books involving the Bow Street Runners, and they are perfet for romance.  To Lure A Proper Lady balances romance, intrigue and even some humor to form a story that was fun and sexy.  I loved the Elizabeth's strong will and exasperation at her father's (and society's) insistence that she marry.  Dysart want to come off as a mercenary, only there to solve a crime, but his sense of honor gets the better of him.  As a couple, I really enjoyed getting to know them and watching them move toward each other.  Much of the book takes place during a house party (they lasted weeks back then) which added to the mystery of what was happening.  Overall, I enjoyed it.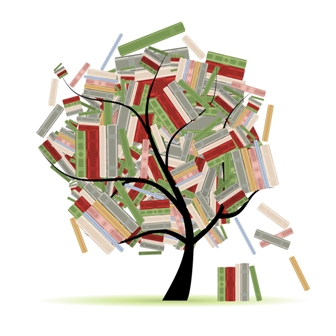 Related Posts