I received this galley in consideration for an honest review.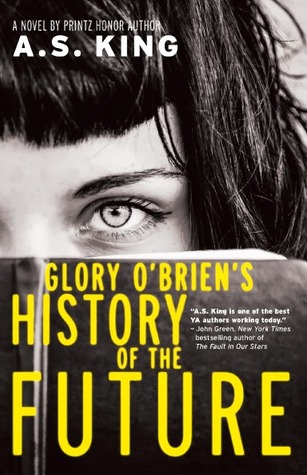 Glory O'Brien's History Of The Future by A.S. King
Published by Little Brown on October 14, 2014
Genres: Young Adult, Magical Realism
Goodreads

Graduating from high school is a time of limitless possibilities--but not for Glory, who has no plan for what's next. Her mother committed suicide when Glory was only four years old, and she's never stopped wondering if she will eventually go the same way...until a transformative night when she begins to experience an astonishing new power to see a person's infinite past and future. From ancient ancestors to many generations forward, Glory is bombarded with visions--and what she sees ahead of her is terrifying: A tyrannical new leader raises an army. Women's rights disappear. A violent second civil war breaks out. And young girls vanish daily, sold off or interned in camps. Glory makes it her mission to record everything she sees, hoping her notes will somehow make a difference. She may not see a future for herself, but she'll do anything to make sure this one doesn't come to pass.
I never really know what I am going to get when I read an A.S. King book, but I do know that it is going to be interesting and engaging, and Glory O'Brien's History Of The Future was certainly that.  Glory is a rather disaffected teen who is rapidly approaching graduation and has no real idea of what she wants to do.  She thinks a lot about her mom, who committed suicide when she was young, and starts to spend time with her mom's photographic diary.  It's through photography that she finds a kind of purpose, or at least a way to express some of the things she's feeling.  The pivotal moment, of course, is when she and her friend drink a dried up bat (yes, you read that right) and start to see things.  Glory looks at people and see their pasts and their futures.  She sees things that are sometimes funny, sometimes sad, and often disturbing.  Through these visions she glimpses a future that seems a bit over the top until you take into account some of the news stories lately, and then it is chilling how plausible the scenario becomes.  As Glory comes to terms with her visions, the reader gets to learn more an more about the terrible things that will happen.  It was almost like getting two books in one.  Glory's understanding of what happens and her place in it drastically changes her views on life and her own immediate future, as you can imagine.
Glory O'Brien's History of the Future was everything about YA contemporary that I love combined with a touch of magical realism.  I was especially drawn to Glory's relationship with her dad and, to a certain extent, her mother's memory.  The things she discover's about the relationship between her parents versus the version she carried around in her head was a very well told and moving part of the story.  I have seen blurbs and reviews that call this a feminist book, and in every positive way, I agree with that.  Glory looks at the way girls are treated in the present, how they are treated in the future, and she is driven to do something about it.  On a smaller scale, her observations about her best friend, who has a drastically different life than she does, also brings Glory's choices and possibilities into sharper focus.  This was a book that I thought was entertaining and thought provoking.  It definitely deserves a place on your fall reading list.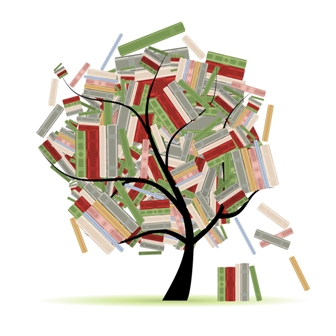 Related Posts