I received this galley in consideration for an honest review.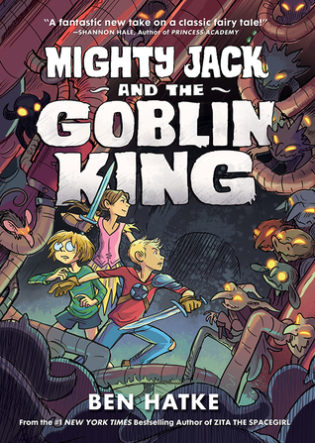 Mighty Jack And The Goblin King by Ben Hatke
Series: Mighty Jack #2
Published by First Second on September 5, 2017
Genres: Graphic Novel
Goodreads

The garden behind Jack's house has gone wild with creatures set loose by the magic beans Jack and his kid sister Maddy planted. One particularly mean creature has kidnapped Maddy and carried her off. Now Jack and his neighbor Lilly must follow her to a world between worlds beyond the vines and stalks, where giants grind the bones of human children to feed their beast in the castle up above, and a fearsome goblin king rules down below. It'll take more than Lilly's bag of concoctions and tricks, and more than one hero, to rescue Maddy, reunite Jack's family, and bring them all safely home again.
I was thrilled when a copy of Mighty Jack and the Goblin King showed up on my doorstep because I enjoyed the first book so much.  Maddy, Jack's sister, is taken by an ogre, so Lillly and Jack follow the ogre to rescue her.  Their journey takes them through vividly imagined worlds that are beautifully illustrated.  The story puts its own unique spin on the old tale of Jack the Giant Killer with writing that kept my kids and I engaged in the story.
I think I actually liked this book even more than the first Mighty Jack.  I really enjoyed the adventure and the many strange creatures that Jack and Lilly meet, but I also enjoyed Lilly's character development.  She is brave and strong but she also rises to the occasion when she must stand up and save her friends.  Her actions do a lot of good, but they also have a lasting effect on her, which I'm sure we'll hear more about in the next book.  As with book one, fans of Zita the Space Girl will really love the ending.  Once I was able to pry this out of the hands of my nine year old (he LOVED this book), I enjoyed Mighty Jack and the Goblin King immensely.  I am officially a Ben Hatke fan and I can't wait for the next book!
If you'd like to visit the other stops on the tour, make sure you stop by the tour page!  You can also check out Ben Hatke talking about living creatively by going here.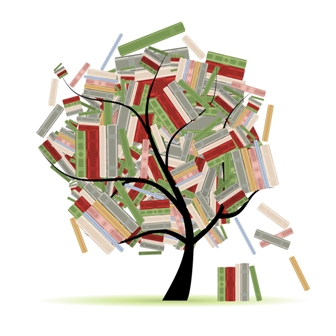 Related Posts