I received this galley in consideration for an honest review.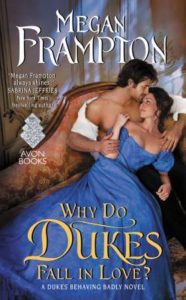 Why Do Dukes Fall In Love? by Megan Frampton
Series: Dukes Behaving Badly #4
Published by Avon on July 26, 2016
Genres: Romance, Historical Romance
Goodreads



Michael, the Duke of Hadlow, has the liberty of enjoying an indiscretion . . . or several. But when it comes time for him to take a proper bride, he ultimately realizes he wants only one woman: Edwina Cheltam. He'd hired her as his secretary, only to quickly discover she was sensuous and intelligent.

They embark on a passionate affair, and when she breaks it off, he accepts her decision as the logical one . . . but only at first. Then he decides to pursue her.

Michael is brilliant, single-minded, and utterly indifferent to being the talk of the ton. It's even said his only true friend is his dog. Edwina had begged him to marry someone appropriate–—someone aristocratic . . . someone high-born . . . someone else. But the only thing more persuasive than a duke intent on seduction is one who has fallen irrevocably in love
I went back and forth about this one.  On the one hand, I love the fact that she was a single mom who needed to work and was constantly being underestimated by people because she was a female (and then proving them wrong).  On the other hand, I think Michael was a little two dimensional.  It seemed to press the point a little too much that he was very analytical.  It was a little too Big Bang Theory in that he was a super nerd who needed to find out that he couldn't use his smarts to think his was out of every situation.  Their romance was sweet, though, so while I was frustrated with aspects of the book, it was an enjoyable read.
I received this galley in consideration for an honest review.
To Have And To Hold by Serena Bell
Series: Returning Home #3
on July 19, 2016
Genres: Romance, Military Romance
Goodreads


The reunion is supposed to be the start of the rest of their lives. But when Trina Levine sees the soldier she promised to love forever, Hunter Cross looks at her like she's a stranger. The connection is gone, lost in the blank stare of those soulful brown eyes. Hunter remembers his young daughter but not Trina, and he certainly can't recall why Trina and her own child are living in his house. Although his lean, rugged frame bears the scars of battle, his mind took the worst hit.

But Hunter Cross hasn't forgotten everything. His body remembers caressing Trina's delicate curves, holding her close, never wanting to let go. Was it just a dream, or was it real life? Now, as he tries to put the pieces back together, Trina's the one who comforts him when his night terrors strike. It's Trina whose warm touch rekindles a connection no man could deny. Even with the odds stacked against them, Hunter wants to believe. Because passion has the power to awaken the past—and remake the future.
This series is fantastic and if you love soldier/military romance, it's a must read.  The books are full of heavy emotions and don;t gloss over the after-effects of combat.  In this story, we have a romance that is on hold due to a head injury.  Hunter and Trina had a romance that seemed perfect for them and their daughters, but when he returns they have to decide whether to rebuild or start over without each other.  The decision and circumstances are heartbreaking and the romance is so sweet and emotional.  I loved the idea of a second chance romance where one of the people involved remembered everything while the other didn't.  Put this book on the top of your romance reading list.
Lady Isabella's Scandalous Marriage by Jennifer Ashley
Series: Mackenzies & McBrides #2
Published by Berkley on July 6, 2010
Genres: Romance, Historical Romance, Scottish Romance
Goodreads


Six years ago, eighteen-year-old Lady Isabella Scranton scandalized all of London by eloping the night of her come-out ball with the notorious rake, Lord Mac Mackenzie. After three turbulent years of marriage, she scandalized London once again—this time by leaving him.

Now Mac has resurfaced, every bit as charismatic, and with one goal: to seduce Isabella back into his life and his bed even if it means acting like a real gentleman. But when Isabella rises to the challenge of posing nude for Mac's erotic paintings, her pent-up hunger for the decadent rake is exposed as well, and she finds herself unable to resist the smooth strokes of an artist at work.

But someone's been watching them—dangerously close. This ingenious forger with designs on Mac's paintings also sets his sights on Isabella herself. Deciding to become Isabella's protector, Mac vows to never leave her side, whether his independent and proud lady likes it or not.

After reading The Madness of Lord Ian Mackenzie, I definitely wanted to continue the series.  In the second book, we hear more about the estranged marriage between Mac and Isabella.  Their courtship was quick (less than 24 hours) and their marriage full of big parties and even bigger fights.  This is really a second chance romance story, which is a trope I always enjoy.  There is an underlying mystery that beings them back together again, but what I most enjoyed was the way their past in contrasted with their present. Meaning, they have to see each other in a new light as people who have matured and changed.  As a bonus, you get to see Ian an Beth again, which I loved.  Lord Ian was a tough act to follow, but Mac's story is a solid addition to the series.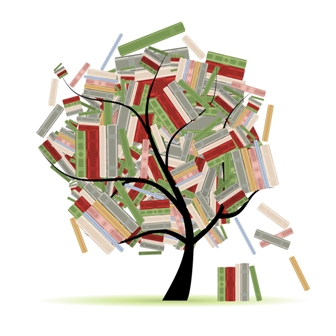 Related Posts