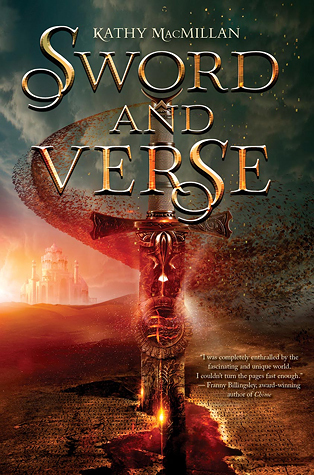 Sword and Verse by Kathy MacMillan
Narrator: Emily Rankin
Series: Sword and Verse #1
Published by Harper Collins on January 19, 2016
Genres: Young Adult, Fantasy
Format: Audiobook
Goodreads


Raisa was only a child when she was kidnapped and enslaved in Qilara. Forced to serve in the palace of the King, she's endured hunger, abuse, and the harrowing fear of discovery. Everyone knows that Raisa is Arnath, but not that she is a Learned One, a part of an Arnath group educated in higher order symbols. In Qilara, this language is so fiercely protected that only the King, the Prince, and Tutors are allowed to know it. So when the current Tutor-in-training is executed for sharing the guarded language with slaves and Raisa is chosen to replace her, Raisa knows that, although she may have a privileged position among slaves, any slipup could mean death.

That would be challenging enough, but training alongside Prince Mati could be her real undoing. And when a romance blossoms between them, she's suddenly filled with a dangerous hope for something she never before thought possible: more. Then she's approached by the Resistance—an underground army of slaves—to help liberate the Arnath people. Joining the Resistance could mean freeing her people…but she'd also be aiding in the war against her beloved, an honorable man she knows wants to help the slaves.

Working against the one she loves—and a palace full of deadly political renegades—has some heady consequences. As Raisa struggles with what's right, she unwittingly uncovers a secret that the Qilarites have long since buried…one that, unlocked, could bring the current world order to its knees.

And Raisa is the one holding the key.
Sword and Verse has been on my reading list for a long time, so I decided to gibe it a listen.  The story was a good one, all in all,  but in many ways it was not original. Raisa is an orphan and a slave who is picked to be a royal tutor. Her lineage, as the daughter of the slaughtered "learned ones" is something she must hide and so she becomes the girl who will rise up and save everyone in this story.  Her constant self-doubt is a song that I wish we could erase from the repertoire of YA fantasy because not only did it become repetitive, it started to make me not care whether or not she succeeded.  I saw a lot of people who gave up on this book at 30 or even 40 percent, and I can see why.  It was very slow until about half way through.  Unfortunately, the pacing suffered under the weight of the information that had to be given to the reader in order to build the story. It's a shame, because once things finally started happening, I really quite enjoyed it.  There is no love triangle, but the romance was a bit lackluster and the differential in power between Mati (a prince) and Raisa (a slave) made me a bit uncomfortable.  There were some intriguing background characters, but for the most part they were typical of fantasy stories; the stern but caring teacher, the cruel king, the misunderstood prince, to name a few. They were all ok characters, just not original.
That being said, there were parts of the world that I found to be very interesting and entertaining.  There is a slave population that is kept illiterate because reading and writing are believe to be gods-given and therefore not for slaves.  Their act of rebellion, in many cases, is to learn how to read and write. Certain slaves, such as the Raisa, are taught so they can become tutors to the nobility.  They receive partial freedoms but are still slaves.  The way that literacy, or lack thereof, is used to suppress an entire population was a powerful aspect of Sword and Verse.  Alphabets plays a big role in the story, as well, which I know sounds weird. The Qilarite language is logographic, meaning the symbols have meaning rather than sound, so the way you form the symbols can change the meaning of what you are trying to communicate, and that plays into the plot nicely. I thought their whole system of writing and the almost spiritual approach to knowledge was interesting.  Interspersed between the story is a myth of the gods that they worship, which parallels what is going on in the book.
Looking back at my audiobooks, I don't believe I have ever listened to this narrator, but she was very good.  She read the story with feeling without being overly dramatic.  I would definitely consider another book read by her.  Overall, Sword and Verse was an enjoyable story set in a world that was fairly well-built.  I read that there will be a sequel told from another character's point of view, and I think I would be interested in reading more stories set in this world.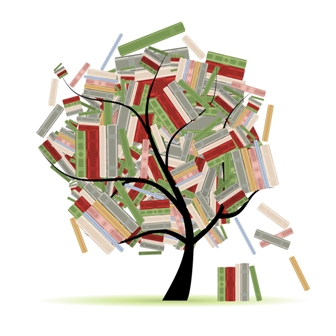 Related Posts