Welcome to my stop on the blog tour for Spill Zone!  Part of my tour is featuring a photo that was taken by the illustrator, Alex Puvilland, as he was researching for the book.  Spill Zone features a very distinctive look and Alex found structures in and around Poughkeepsie, New York, where the story is set.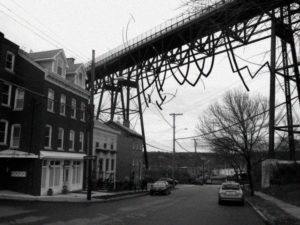 I received this galley in consideration for an honest review.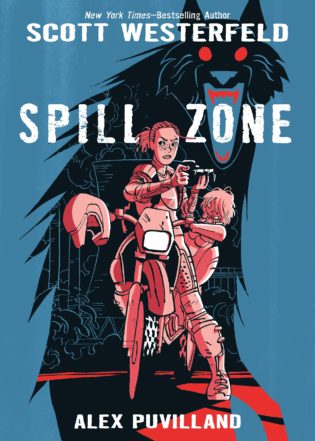 Spill Zone by Scott Westerfeld, Alex Puvilland
Series: The Spill Zone #1
Published by First Second on May 2, 2017
Genres: Young Adult, Graphic Novel
Goodreads

Three years ago an event destroyed the small city of Poughkeepsie, forever changing reality within its borders. Uncanny manifestations and lethal dangers now await anyone who enters the Spill Zone.

The Spill claimed Addison's parents and scarred her little sister, Lexa, who hasn't spoken since. Addison provides for her sister by photographing the Zone's twisted attractions on illicit midnight rides. Art collectors pay top dollar for these bizarre images, but getting close enough for the perfect shot can mean death—or worse.

When an eccentric collector makes a million-dollar offer, Addison breaks her own hard-learned rules of survival and ventures farther than she has ever dared. Within the Spill Zone, Hell awaits—and it seems to be calling Addison's name.
I started reading Spill Zone without knowing much about it, which I like to do, particularly with graphic novels.  The world is an interesting one.  It's not exactly post-apocalyptic since the town seems to be operating in a somewhat normal way outside the restricted zone, but there is something post-disaster about the way that Addison lives her life.  She obviously doesn't like accepting help and she doesn't want to move away, even though it is so near the spill zone. Her sister's survival is a mystery, as is her non-verbal state.  I will warn you that her sister has a raggedy Ann type doll that speaks only to her, telepathically, and it is creepy.  I simultaneously want to know more and forget I ever saw it so it doesn't haunt my dreams. Since the girls are on their own, Addison takes the role as provider for them both, but the way she brings money in is by sneaking back into the spill zone to photograph the strange and sometimes chilling phenomenon that have occurred since the spill.  Everything from comatose zombies to strange animals can be found beyond the barriers and a mysterious customer wants all of Addison's documentation.  There was so much information given through Addison's journeys into the spill zone, yet the story still doesn't reveal most of its secrets. I am so full of questions about what the spill is, why is happened, and what exactly was spilled or leaked.
The artwork is vivid and arresting.  It helped complete the feeling that this is a familiar world, but the spill zone is wrong somehow.  The bizarre animals and the former people reduced to a zombie-like state got very creepy.  As you can see from the photo above, the illustrator studied the real Poughkeepsie to bring in the element of reality and create that feeling that things in the spill zone aren't right.  Ultimately, I was left with an urgent need for the next book.  I loved the world and I loved Addie….hell, I even loved that creepy doll.  I highly recommend Spill Zone!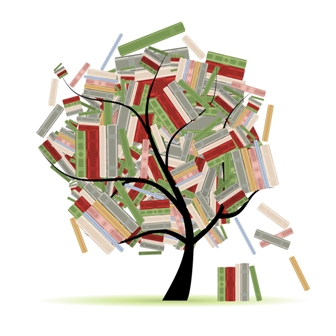 Related Posts