Welcome to my stop on the Dream Things True tour!  I am sharing my thoughts on this very timely book and then you will find an excerpt, thanks to Griffin Teen!
I received this galley in consideration for an honest review.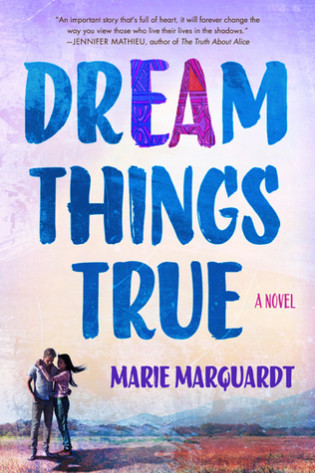 Dream Things True by Marie Marquardt
Published by St. Martin's Press on September 1, 2015
Genres: Young Adult
Amazon,  - IndieBound,  - B&N
Goodreads

A modern-day Romeo and Juliet story in which a wealthy Southern boy falls in love with an undocumented Mexican girl and together they face perils in their hostile Georgia town. Evan, a soccer star and the nephew of a conservative Southern Senator, has never wanted for much -- except a functional family. Alma has lived in Georgia since she was two-years-old, excels in school, and has a large, warm Mexican family. Never mind their differences, the two fall in love, and they fall hard. But when ICE (Immigration and Customs Enforcement) begins raids on their town, Alma knows that she needs to tell Evan her secret. There's too much at stake. But how to tell her country-club boyfriend that she's an undocumented immigrant? That her whole family and most of her friends live in the country without permission. What follows is a beautiful, nuanced, well-paced exploration of the complications of immigration, young love, defying one's family, and facing a tangled bureaucracy that threatens to completely upend two young lives.
Dream Things True confronted a lot of very uncomfortable truths about immigration, particularly as it relates to undocumented children and teens.  While this could have easily been a simple Romeo and Juliet story, I think it did a good job of digging a little deeper. Evan is the epitome of privilege.  He simply doesn't have experience with people who have to worry about paying bills and putting food on the table, much less people who must try to live while keeping their very existence a secret.  I appreciated that he was so clueless because it really served to communicate the way that so many people don't understand what an undocumented teen might go through.  They see what could be and they are so close, but in many instances, they cannot fully participate in a future they so badly want.  I loved Alma's family.  They were tight-knit and flawed, but they really loved each other and Alma's father, in particular, clearly just wanted the very best chance for his children. I wish I had seen more than just the dysfunction in Evan's family. I think the book could have benefited from more about Evan's background, but I would say that his character was still pretty well developed. Dream Things True had a great ending.  It wasn't the easy way out,  and it was a large dose of bittersweet, but it was a good end to a very emotional story.  I thought it confronted a lot of tough issues surrounding immigration and I am sure that there are a lot of readers who will be able to relate to Alma's story.
Here is a short excerpt, which I hope you'll love. Don't forget to enter for a chance to win a finished copy in the Rafflecopter located after the excerpt.
Evan led her onto the dock, where a dozen people she didn't know were climbing into ski boats. She watched as all of these strangers, presumably students at her new school, casually distributed themselves into boats.

Do teenagers own boats? Alma wondered. Evan led her onto his boat, where two other people were already rummaging around under the seats for life jackets. An athletic-looking girl with long brown hair threw her one.

"I'm Caroline," she said, "and that's Logan." She motioned toward a short, muscular guy with a shaved head. He had his back to Alma, and was untying ropes from the boat. Hearing his name, he turned and grinned.

"¡Bienvenidos!" he said in terrible, Southern-accented Spanish.

"Just ignore him when he acts like an idiot," Caroline said. "That's what I do."

Evan got behind the wheel and started the engine. Just as he was backing out, an amazingly beautiful girl came running down the dock.

"Evan, hon! Wait for me!" she called out.

The girl reached the edge of the dock and, without hesitating, leapt gracefully across the water and toward the boat. She was wearing nothing but a bright-red string bikini. Her sandy-blond hair bounced and shone like a model's in a shampoo commercial.

Evan pulled her safely onto the boat, and she collapsed into the passenger seat.

"Thanks, sweetheart," she said to Evan.

"This is Alma," Evan said, nodding in Alma's direction. "She'll be starting at Gilberton next week. And this is Mary Catherine," he said, grabbing onto the beautiful girl's shoulder and squeezing hard. "She's my perpetually late neighbor."

"But he loves me anyway!" Mary Catherine proclaimed. Then she smiled, revealing perfect teeth to match her perfect body.

Were they flirting? Alma felt a tightness in her chest, knowing that she was no competition for this girl.

The engine rumbled, and the boat lurched forward from the dock. Evan grasped Alma's arm to steady her and then pulled her toward him. "Ready to learn how to drive?"

"You're mocking me," she called out above the noise of the engine. "I don't think you even need a license to drive a boat," Evan said.

"Plus, no brakes, so we're safe."

Keeping one hand on the steering wheel, he wedged her body in front of his and guided her hand to the throttle. "Do you want to go faster?"

"No." The wind pressed her back against him, and she felt the heat of his chest through the T-shirt.

"Are you scared?" His lip brushed her ear as he spoke.

"Yes," she said. Her body was off balance, as if the floor of the boat were shifting under her.

"Get over it," he replied, lifting her hand gently and placing it on the throttle.

Together, their hands guided the throttle forward. She tried looking across the lake, in the direction that he was steering, but all she noticed was his hand on hers. The floor kept shifting. She wondered if this was what it felt like to be drunk.

He slipped out from behind her.

"I'm gonna dig out the skis. Just keep going straight, Alma. It's easy."

She grasped the wheel hard to avoid falling back. The boat skittered over the water, and the wind fused Evan's T-shirt to her practically bare skin. Alma tried hard to ignore the dull ache spreading at the pit of her stomach.

After a few minutes, Evan took the wheel. Caroline and Logan both dived into the water and began to swim fast as Evan tossed a ski rope in their direction.

"This should be entertaining," he said as they wrestled with their slalom skis.

"Entertaining?" Alma asked. "Yeah, they'll both show off." "Are they, uh, a couple?"

"Most of the time. They fight all the time and break up every couple of months."

Evan shoved the throttle forward and the boat lurched.

"Logan gets bored easily," he said. "He's always looking for a rush." Logan and Caroline both popped out of the water, crisscrossing each

other as they leapt and dived over the wake. "So they just break up for fun?"

"Yeah, I think it runs in his blood. Everybody says his dad was the same, back in the day. He stole boats and stuff, just for the hell of it." He shrugged and continued, "Which is weird, since he's the sheriff now." The sheriff. Evan said it like it was nothing, like he was describing

the color of Logan's dad's car, or his height—not like he knew this man had the power to throw people in jail and keep them there.

Evan gestured toward Logan and Caroline and winced. "That's gotta hurt."

Caroline was spinning in rapid circles as Logan did strange contortions with his arm.

Maybe, Alma thought, they were all so used to being around powerful people that they didn't even notice it anymore. Maybe they never had.

"Come back here, Alma!" Mary Catherine called from the back of the boat. "I can't hear what y'all are saying and I'm lonely."

Alma glanced at Evan and shrugged. She made her way back and settled into a bucket seat next to Mary Catherine.

Alma wasn't sure how to make conversation with Mary Catherine. She seemed so unapproachable—this girl who wore a bikini confidently, like she was hanging in comfy sweats. But within moments, it became clear that Mary Catherine—or M.C., as Evan called her—was not your typical Southern belle.

"So, when did you and Evan start hooking up?" she asked. For starters, she was excruciatingly blunt.

"Uh, we're just sort of friends," Alma replied, shrugging.

"Alma, honey," she said, "I've known that boy forever, and the way he looks at you, he doesn't wanna be your friend."

M.C. let out a deep, bellowing howl that sounded like it should come from a balding white guy with a beer gut. Alma was so surprised by M.C.'s laugh that she forgot to be embarrassed.

"OK." Alma shrugged. "Maybe we're not exactly friends. But we're

not hooking up."

"Makes sense," Mary Catherine responded, sort of talking to herself. "Evan doesn't really hook up. Plus, I would have known."

Confused and desperate to change the subject, Alma asked, "So how did you two meet?"

"Meet?" M.C. asked. "We've been neighbors for as long as either of us can remember. I mean, we used to play doctor together! I was the doctor. I always made Evan be the nurse."

Mary Catherine bellowed again.

"So when you and Evan do hook up," she said, "you can thank me for his gentle, nurturing touch."

Now Alma was blushing.

"You mean, you and Evan were, uh . . ."

"Together? Lord, no. He's like a baby brother to me, Alma. I think

I went through puberty something like four years before he did."

Alma and Mary Catherine turned to look at Evan, his perfectly toned arms casually gripping the steering wheel, his broad shoulders gleaming in the sun.

"My baby's all grown up," Mary Catherine continued. "Now, he's what my grandmomma calls a 'tall drink of water.' "

They both laughed, catching Evan's attention.

"What are you ladies talking about back there?" he asked.

"Nothing that concerns you, Ev, sweetheart," Mary Catherine re- plied. "You just drive the boat."

"Not unless Alma gets back up here to finish her driving lesson," Evan said, reaching his arm out toward her.

Mary Catherine laughed and nudged her out of the seat.

"You heard him," she called out. "You better get on up there, darlin', because I'm sure as hell not driving."

Alma closed her eyes and stood up slowly, her head spinning and her legs quivering.

He took her hand and pulled her body back toward the wheel, and she realized, finally, the meaning of the word "swoon."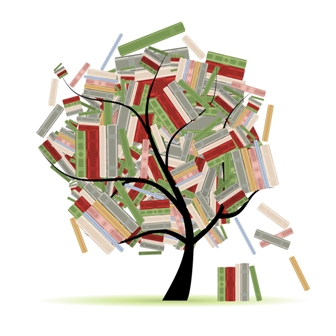 Related Posts