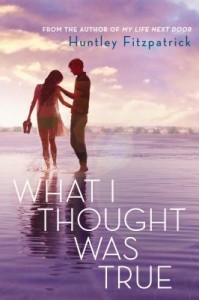 What I Thought Was True
Author:
Huntley Fitzpatrick
Category:
Young Adult
Publisher:
Dial
Release Date:
4-15-14
Gwen Castle's Biggest Mistake Ever, Cassidy Somers, is slumming it as a yard boy on her Nantucket-esque island this summer. He's a rich kid from across the bridge in Stony Bay, and she hails from a family of fishermen and housecleaners who keep the island's summer people happy. Gwen worries a life of cleaning houses will be her fate too, but just when it looks like she'll never escape her past—or the island—Gwen's dad gives her some shocking advice. Sparks fly and secret histories unspool as Gwen spends a gorgeous, restless summer struggling to resolve what she thought was true—about the place she lives, the people she loves, and even herself—with what really is. –
Goodreads
There was so much about this story that I loved.  First and foremost, I loved Gwen's family.  Her family was perhaps not a traditional setup, and things were messy, but there was love there.  I really appreciated the way they were allowed to be flawed, but they were also written as caring and passionate.  Although Gwen felt stifled by them, they were still a big part of what she was, for better or for worse.  Her mother, who reads romance novels and still does her ex-husband's laundry, and her grandfather, who exalts his dead wife to an almost saint-like status, provides this crazy, contrasting view of what love is or could be.  Gwen's  sexual past is a big part of the story, as well.  First, of course, was her initial interaction with Cas, which ended up being sex.  It might sound unusual for a YA book to start a relationship where the sex comes first and the intimacy later, but it was very well done.  Gwen had more of a sexual history than Cas, which is not something I often see in books, and it was not one that she was ashamed of or apologized for.  However, I did appreciate the way the author showed how others used her past as a way to judge Gwen, because it is a point well taken that while it was ok and even encouraged by their peers for the boys to be promiscuous, Gwen's choices were judged much more harshly.  Adding to that tension was the difference in socioeconomic status on the island.  As with many vacation spots, the "haves" come in for the summer and the "have nots" are there all year.  Gwen's mom cleans houses, and Gwen's father serves the island's wealthy, as well.  Gwen really struggles with her simultaneous love for the place she grew up and her desire to leave and make her own way.
Cas will be another YA Guy favorite, I predict.  I found him to be charming, but flawed.  He tries to navigate Gwen's mixed emotions and complicated feelings about her life on the island with various degrees of success.  Although his family is very wealthy, the book manages to avoid the usual pitfalls in the "rich boy, local girl" trope.  Huntley Fitzpatrick is quickly becoming the queen of complicated characters.  While some people in the book made what you might consider to be unfortunate choices, I never felt that they were one-dimensional vehicles for "the character that does the wrong thing".  Everyone was layered and everyone had something to contribute to the story.  I felt this was particularly true for Gwen's father, whose advice was shocking, as the jacket copy tells you, but as Gwen learns more about who her dad was before kids, there is a realization that even parents can be flawed.  I really liked the wide age rage of people in the story, too.  Everyone from kids, to parents, to an elderly employer, had something to teach Gwen about life, disappointment, and triumph.  I also want to mention that for fans of My Life Next Door, there s a little Easter egg hidden in the story that you will enjoy.  What I Thought Was True is a book that will speak to all ages and is a story that drew me in and enchanted me with its perfect summer setting and honesty.
I received this ARC in exchange for my honest review.
Find Huntley Fitzpatrick online:
Website
Twitter
Facebook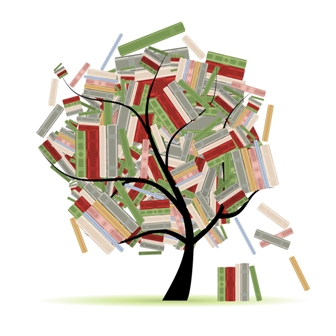 Related Posts