This review is spoiler free if you're read Legend and Prodigy.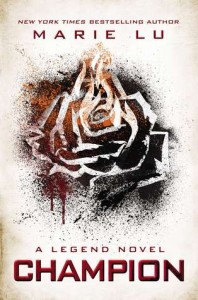 Champion
(Legend #3)
Author:
Marie Lu
Category:
Young Adult
Publisher:
Putnam
Release Date:
11-5-13
June and Day have sacrificed so much for the people of the Republic—and each other—and now their country is on the brink of a new existence. June is back in the good graces of the Republic, working within the government's elite circles as Princeps Elect while Day has been assigned a high level military position. But neither could have predicted the circumstances that will reunite them once again. Just when a peace treaty is imminent, a plague outbreak causes panic in the Colonies, and war threatens the Republic's border cities. This new strain of plague is deadlier than ever, and June is the only one who knows the key to her country's defense. But saving the lives of thousands will mean asking the one she loves to give up everything he has. With heart-pounding action and suspense, Marie Lu's bestselling trilogy draws to a stunning conclusion. –
Goodreads
It's an understatement to say that Champion was emotionally draining.  From the first page, I was thrown back into the world where there was a constant state of worry and apprehension.  Day and June spend much of this book thinking about each other, but not together.  That has always sort of been their thing, though.  Neither one of them is prone to grand romantic speeches, but this book was deeply and breathtakingly romantic.  At the end of Prodigy, we got some devastating news about Day and it was news that June was unaware of.  This secret can't be sustained forever, but as with the rest of this series, each secret leads to more twists and surprising revelations.  The book was well-paced and even when there wasn't a lot of physical movement, the story never stopped or felt like it was dragging.  Day's internal struggles about his new position in the Republic and his need to protect his brother really drove his character development in this book.  He is not the same person we met on the streets in Legend.  June is not the same, either, as she tries to meet her duties as Princeps-Elect, while her heart is elsewhere.  One thing I noticed about June is that she was much more willing to martyr herself emotionally in this book, and she did on several occasions, which was a bit frustrating, but not out of the realm of behavioral possibilities for her character.
The way that Marie Lu set up the political strife between the different countries and the descriptions of the battles that ensue was heart-pounding.  You should clear your calendar because once you pick up this book, you won't want to put it down again until you've read the last page.  The end actually gave me physical pain with its bitter-sweetness.  I do call minor shenanigans on some aspects of the ending, mainly having to do with the plausibility of it, but I think that it was something that stayed true to the characters, even if it was frustrating.  Day and June did not have an easy journey and this series did not have an easy ending.  However,  it was not an unhappy one and I could tell that this was something that was carefully crafted to give the conclusion a tone that matched the rest of the books.  So, in that respect, it was enormously successful and worthy of this outstanding series.
Find Marie Lu online:
Website
Twitter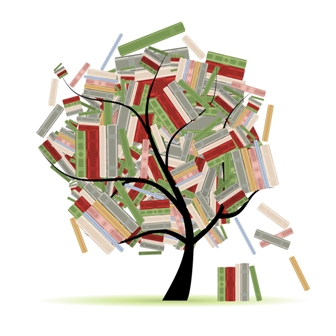 Related Posts