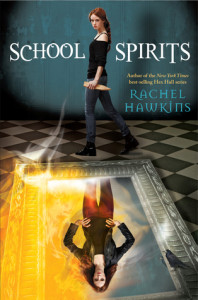 School Spirits
Author: Rachel Hawkins
Category: Young Adult
Format: ARC
Publisher: Disney-Hyperion
Release Date: 5-14-13
Fifteen-year-old Izzy Brannick was trained to fight monsters. For centuries, her family has hunted magical creatures. But when Izzy's older sister vanishes without a trace while on a job, Izzy's mom decides they need to take a break. Izzy and her mom move to a new town, but they soon discover it's not as normal as it appears. A series of hauntings has been plaguing the local high school, and Izzy is determined to prove her worth and investigate. But assuming the guise of an average teenager is easier said than done. For a tough girl who's always been on her own, it's strange to suddenly make friends and maybe even have a crush. Can Izzy trust her new friends to help find the secret behind the hauntings before more people get hurt? – Goodreads
I was very happy when I found out that we would get to know more about the Brannicks via a new series and School Spirits was a fantastic beginning to a series that I know I will enjoy.  Izzy has been raised to fight, but you see right away that the disappearance of her sister has created cracks in her armor.  Her sadness over her sister and the somewhat stiff relationship she has with her mom, who has been more drill sergeant than nurturer, gives the reader an interesting glimpse into what it must have been like growing up in a famous supernatural hunting family.  Torin, the warlock trapped in the mirror gets a much meatier role in this story and his scenes were some of my favorites.  I am so glad that he's going to be a bigger pat of the story!
Comparisons to the Hex Hall series will be unavoidable and because this is a spin-off, not entirely unfounded.  I loved the Hex Hall series for its wit and string characters and School Spirits has the same elements, but in its own, unique way.  Izzy is used to being under the radar.  Her life has depended on it, so when she is thrown into a normal high school, it's a completely new experience.  I really liked her view of the social rituals that define high school and the way she seems simultaneously older and younger than the other students.  One thing you will definitely notice is that Rachel Hawkins has written another funny, smart and spooky story.  I like the structure that the series seems to be taking, not unlike Supernatural, with one large story arc and what appears to be smaller problems to solve along the way.  Hey, that works for a reason and it certainly worked in School Spirits.  You can go ahead and sign me up for the book two waiting list!
I received this ARC in exchange for my honest review.
Find Rachel Hawkins online:
Website
Twitter
Facebook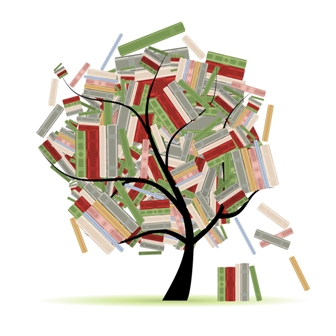 Related Posts