I am very pleased to host a stop on the TMI tour today!  Patty Blount's debut YA novel, SEND, was a deeply emotional look at bullying from the bully's point of view.  It really grabbed my attention and I was excited to hear that Patty was writing another book that took on the subject of teens navigating the social media landscape.  Patty was kind enough to answer a few of my questions about TMI.  First, here's a little bit about the book: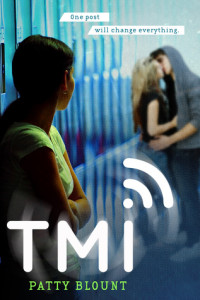 TMI
Author:
Patty Blount
Category:
Young Adult
Publisher:
Sourcebooks
Release Date:
8-6-13
Bailey's falling head-over-high-heels for Ryder West, a mysterious gamer she met online. A guy she's never met in person. Her best friend, Meg, doesn't trust smooth-talking Ryder. He's just a picture-less profile.  When Bailey starts blowing Meg off to spend more virtual quality time with her new crush, Meg decides it's time to prove Ryder's a phony.  But one stupid little secret posted online turns into a friendship-destroying feud to answer the question:  Who is Ryder West? –
Goodreads
1. This is the second book where you have confronted some of the issues that teens face with the lives they lead online.  What has drawn you to this subject?
Well, I have teens. Two of them. Wait, one. The oldest is twenty-one now. I also write about technology as part of my day job. I learned the two don't often mix well. After my oldest son was the victim of bullies during sixth grade, I remember being so thankful he wasn't online yet. I am sure I'd have lost him if he'd been on Facebook or Twitter back then. And then it hit me that a lot of teens ARE online and are suffering deeply because complete strangers are joining their alleged 'friends' in taunting and teasing and torturing.
2. I've seen you mention on twitter that you have teenage children.  Do they read your books?  Does it open discussions about some of the things that happen to them or their friends?
My sons are great; they help me brainstorm plot ideas and find me beta readers. Sometimes, they read sections of a book in progress but both prefer to read my books when they're published now. They won't tell me why. But yes, it does open discussion. SEND started after I saw a talk show segment about sexting, sat them down and said, "Never do this."
 
3. Bailey and Meg are very different from each other.  Meg is more rigid and Bailey is more of a pleaser.  What made you decide to go with that particular dynamic instead of, say, two girls who are more alike.
I find I do this often maybe because I believe that opposites attract? I loved the idea of Meg acting like a parent instead of a teen and having Bailey rebel against her. It just struck me as a unique perspective on a 'best friendship.' But underneath that, they are very much alike, both searching for what they lost when they were young.
 
4. I am glad every day that I was in high school before social media.  In your opinion what is the biggest challenge that teens face regarding their online lives? 
Oh, yes, me, too! I think teens need to redefine what privacy means now that so much of their interactions take place online in various forms. Text messages, posts, tweets, video and pictures —  God, if anybody had pictures of me with my Farrah Fawcett hairdo and Shaun Cassidy t-shirt, I think I'd faint.
 
5. What's next for you on the writing front?
Ooo, let's see. I've got a ghost story I'm hoping to spin into a series. Book 1 is finished and I've got ideas for 2 and 3. It's about a teen who develops these psychic visions, which could be a link to his dad who died in a fire year earlier. By interpreting the signs, he discovers his dad was murdered and identifies the killer. I'm also working on a third internet issues story for Sourcebooks. This one is about a teen who is shunned after she accuses the boy who bragged online about having sex with her line of rape.
Thanks so much, Patty!!  Be on the look-out for my review next month.  In the mean time, go to Goodreads and add TMI to your TBR today!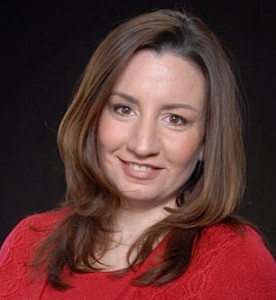 Patty spends her days writing facts and her nights writing contemporary romantic fiction. A coworker once said if Patty were a super-villain, she'd be called The Quibbler. Her costume would be covered in exclamation points. Fueled by a serious chocolate obsession, a love of bad science-fiction movies, and a weird attraction to exclamation points, Patty looks for ways to mix business with pleasure, mining her day job for ideas to use in her fiction.
Find Patty Blount online:
Website
Twitter
Facebook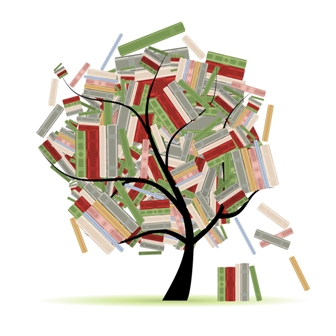 Related Posts