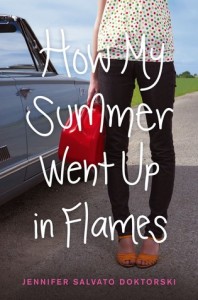 How My Summer Went Up In Flames
Author:
Jennifer Salvato Doktorski
Category:
Young Adult
Publisher:
Simon Pulse
Release Date:
5-7-13
Rosie's always been impulsive. She didn't intend to set her cheating ex-boyfriend's car on fire. And she never thought her attempts to make amends could be considered stalking. So when she's served with a temporary restraining order on the first day of summer vacation, she's heartbroken—and furious. To put distance between Rosie and her ex, Rosie's parents send her on a cross-country road trip with responsible, reliable neighbor Matty and his two friends. Forget freedom of the road, Rosie wants to hitchhike home and win back her ex. But her determination starts to dwindle with each passing mile. Because Rosie's spark of anger? It may have just ignited a romance with someone new. –
Goodreads
Rosie's boyfriend cheated on her, so she set fire to everything he ever gave her,  in his driveway. There you have the beginning of a summer road trip book that takes four young adults across the country.  Rosie is definitely a flawed protagonist.  She is impulsive and a bit selfish.  The TRO that is filed against her by her ex's mom after the driveway fire incident is a very harsh wake-up call, and getting out of town until her court date is the motivation behind the cross-country trek.  I liked the fact that she was the only girl in the car.  I thought that it added some pretty funny moments and a good chance for Rosie to contrast these guys with her ex, Joey.  Each guy was very different, which kept thing interesting and I enjoyed reading about places that I have visited on my own cross-country trips.  As the trip progresses and the group finds out more about each other, Rosie shows a lot of character growth.   She is able to step out of the role of girlfriend and discover what it is that she wants. She is not the same person at the end of the trip that she was at the beginning, and the story really showed that, which was nice.
While I could appreciate the character growth and the fun road trip related story, there were a few things that just didn't gel with me.  First of all, and I know this makes me sound really old, is the premise.  I just couldn't stop thinking about how my parents would never have let me go on an unsupervised road trip if I had a TRO against me.  Beyond that was the picking up of story lines and then only halfway developing relationships.  Without giving too much away, I thought that the issue with Rosie and Matty was much too easily resolved given how much Matty has done for Rosie over the years.  Lastly, I just didn't like Rosie.  I am glad that she was not perfect, but despite her character growth, I just didn't like her.  I know that there are many thoughtful readers that really loved this book, and while it didn't gel with me, I know that it resonated with a lot of people as a fun summer read.
I received this galley in exchange for my honest review.
Find Jennifer Salvato Doktorski online:
Website
Twitter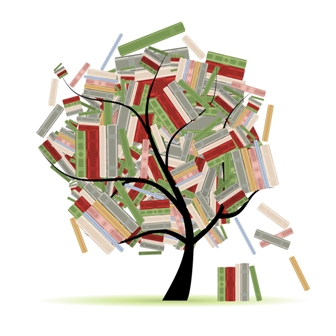 Related Posts