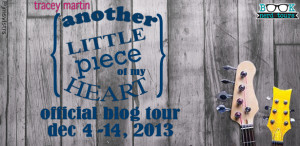 Welcome to my stop on the Another Little Piece Of My Heart blog tour!  After you've read my review, don't forget to enter to win some great prizes!
Another Little Piece Of My Heart
Author:
Tracey Martin
Category:
Young Adult
Publisher:
Harlequin Teen
Release Date:
12-1-13
At her dying mother's request, Claire dumps Jared, the only boy she's ever loved. Left with a broken family and a broken heart, Claire is furious when she discovers that her biggest regret became Jared's big break. While Jared is catapulted into rock-star status, another piece of Claire's heart crumbles every time his song plays on the radio. The summer after her senior year, it's been months since the big break-up, and Claire is just trying to keep her head down and make it through a tense trip to the beach with her family. But when Jared shows up, and old feelings reignite, can Claire and Jared let go of the past? Or will they be stuck singing the same old refrain? –
Goodreads
I am always a sucker for a book about music.  Another Little Piece Of My Heart was a fun and fast read with a plot that was equal parts funny and emotional.  Most teens don't have to deal with their break-up becoming a radio hit, but every time Claire turns on the radio, she hears exactly what her ex, Jared, thinks of her.  It was an interesting idea since she had to stay quiet if she wanted to keep everything private.  On top of that, she's dealing with the death of her mom and her family's financial crisis that is ruining her plans for college.  There were a lot of family dynamics that played into her feelings about the break-up, her mom, and her relationship with her dad and sister.  While Claire was a funny and snarky character, her sense of humor also hid some very deep hurt.
One trope  I love in books is the summer of change trope.  When you are a teen, summer always represents a time when things change.  You are out of school, you are bridging a gap between school years, and it's always a great time to set books because of that sense of freedom and potential.  Another Little Piece Of My Heart really plays into that idea and gives Claire a summer to confront some of her demons, like her ex, but to also think about what is next for her and her music.  While Jared was the impetus for this story, I can't say that I felt he was really fully formed as a character.  However, I think the important part of this story, really, was the growth that Claire accomplished in the two years in between their break-up and seeing him again.  Her ability to see the situation a little more clearly helped to make her more interesting and three dimensional. Jared's ability to see where she was coming from when she dumped him made him more sympathetic as a character.  Overall, I loved the way the story developed, including the romance and the way music played a role in all of the relationships in the book.  If you are looking for a little warm-up this winter, consider Another Little Piece Of My Heart to help you take a fun trip back to summer.
I received this galley in exchange for my honest review.
 You can purchase Another Little Piece of My Heart at the following Retailers:
About the Author
Tracey Martin grew up outside of Philadelphia, the lucky recipient of a drama-free childhood, which is why she spent so much time reading about other people's lives. It was while she was working on her doctorate in psychology that she had an epiphany–imaginary people are way more fun than real ones. And so she began writing. Never able to choose just one of anything, she currently writes both urban fantasy for adults and contemporary stories for teens.
  Giveaway is open to US Only. | Must be 13+ to Enter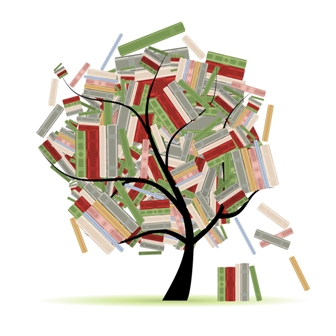 Related Posts