I am very excited to be a part of the Tin Star Blog Tour.  I loved this book and was lucky enough to have the author, Cecil Castellucci, answer a few of my questions.
First, here is a little bit about Tin Star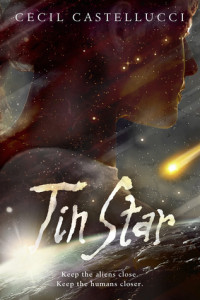 Tin Star
Author:
Cecil Castellucci
Category:
Young Adult
Publisher:
Roaring Brook Press
Release Date:
2-25-14
On their way to start a new life, Tula and her family travel on the
Prairie Rose
, a colony ship headed to a planet in the outer reaches of the galaxy. All is going well until the ship makes a stop at a remote space station, the Yertina Feray, and the colonist's leader, Brother Blue, beats Tula within an inch of her life. An alien, Heckleck, saves her and teaches her the ways of life on the space station. When three humans crash land onto the station,
Tula's desire for escape becomes irresistible, and her desire for companionship becomes unavoidable. But just as Tula begins to concoct a plan to get off the space station and kill Brother Blue, everything goes awry, and suddenly romance is the farthest thing from her mind. –
Goodreads
What made you want to write a Science Fiction story?
One of the reasons that I became an author was because I fell in love with stories when I saw Star Wars.  It was a pivotal moment in my journey as an artist.  Darth Vader fascinated me.  He still does.  So complex.  That movie introduced me to hero, anti-hero, villain and kick ass lady hero and on top of that – it was in SPACE!  So I have always known that I was going to write a Science Fiction novel one day.  I have actually written quite a few genre short stories that have been published.  I also had a novel FIRST DAY ON EARTH that may or may not have an alien in it, depending on how you want to read it.  It's funny, because while I've written a bunch of contemporary YA novels, I think they have all liked outer space in some way!  My first novel BOY PROOF is about a fan girl who is  obsessed with Science Fiction films and comic books and cosplays at her favorite character every day to go to school!   I feel like I've been gearing up to write a Science Ficiton book for quite a long time, but this was finally the moment.  Tula Bane was the character.  And the Yertina Feray space station was the place.

In Tin Star, you created a world that exists almost entirely on a space station.  What are the things you think about or steps you take when building this type of world for the readers?
First off, I should mention that I got the idea for this novel from watching Casablanca.  I loved the idea of this insular place that everyone is kind of stuck in and can't get out of due to a war and needing to get the right kind of pass to escape this limbo.  So that was the first seed of the idea.  The other thing is I wanted it to feel a little bit like a western, as in a town that is small and dangerous and far flung from "civilized" society.   Then when you are thinking of creating aliens, you can't just slap something on them and that's it.  You have to try to come up with things that are alien.  I always hate it when everyone is humanoid and we can all breathe and walk fine.  You'll notice when you read the book that I "solve" this problem by saying that the station has a base atmosphere that have elements that most species can process, but you in order to breathe without a mask you have to get nanites – small replicating nano robots – that regulate the gases in your system to enable you to breathe.  There is also a sunspa on the station where you go to sit and bathe in the star type of your planet.  It's little things like that.  There's no research for that per se because currently we don't live with aliens in other solar systems!  But I think it's more like you have to think about the problems that could arise from living far away from your planet and with species that evolved in different ways.  Not only physically but who have different moral codes than we do.  One thing that I did was make it so that the Prarie Rose flips up on its side before it slingshots to lightskip out of the system.  I went to a lecture about spaceships and one thing that engineers are thinking about is solar sails and slingshots to gain speed (which we actually do).  I like science a lot and so I just try to pay attention and learn and then make stuff up.
How did you come up with the idea of the Brother Blue character?
I think a lot of evil comes from people who are convinced that they are doing something good.  But it becomes misguided.  I thought what if Earth didn't want to join the rest of the galaxy.  What if it wanted to be isolationist?  But what if one guy, and one movement had a different idea about that?  Basically, I thought of visionaries and charismatic cult leaders.  A lot of those people have an incredible sway and big dreams and ideas that are just a little too good to be true.  And yet, people believe them and follow them and support those ideas and dreams.  I've never been in a cult, but on a much smaller scale, I've certainly met people who draw people to them and try to control them.  I find it fascinating to watch as people become trapped in the web that those people weave. That's where Brother Blue comes from.

I saw you tweet about writing book two in this series.  What should we expect from Tula's next adventure?
Well, I don't want to give anything away!  But this is a two book series.  A duet!  So I can say that things get tied up.  I will say that it's called A Stone in the Sky and it's got a bit of a different tone than book one.  A lot of stuff happened at the end of Tin Star!  You know, characters come together and fall apart. Tula figures out some stuff about herself and the galaxy.  I think you'll have to read the new book to see how it all plays out!
Thank you so much, Cecil!
Find Cecil Castellucci online:
Website
Twitter
Facebook
The wonderful people at Roaring Brook are letting me give away one gorgeous finished copy of Tim Star!  You must be 13+ to enter.  Open to residents of the US and Canada only.  Good luck!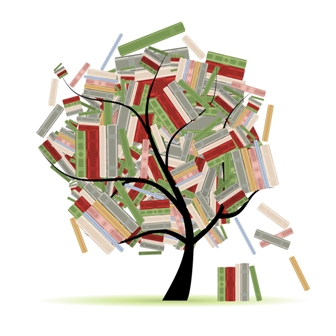 Related Posts