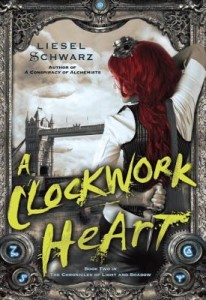 A Clockwork Heart
(The Chronicles of Light & Shadow #2)
Author:
Liesel Schwarz
Category:
Fiction
Publisher:
Del Rey
Release Date:
8-13-13
As Elle devotes herself to her duties as the Oracle—who alone has the power to keep the dark designs of Shadow at bay—Marsh finds himself missing the excitement of his former life as a Warlock. So when Commissioner Willoughby of the London Metropolitan police seeks his help in solving a magical mystery, Marsh is only too happy to oblige. But in doing so, Marsh loses his heart . . . literally. In place of the flesh-and-blood organ is a clockwork device—a device that makes Marsh a kind of zombie. Nor is he the only one. A plague of clockwork zombies is afflicting London, sowing panic and whispers of revolution. Now Elle must join forces with her husband's old friend, the Nightwalker Loisa Beladodia, to track down Marsh's heart and restore it to his chest before time runs out. –
Goodreads
There are a few steampunk series that I have really enjoyed, and The Chronicles Of Light & Shadow series is one of them!  At the end of  book one, Marsh and Elle were able to be married, but not without a huge sacrifice on Marsh's part.   I was intrigued by the way that Marsh and Elle have navigated married life.  After the HEA comes the realization that Marsh had sacrificed quite a lot so that they could be together and Elle was not going to stay at home and organize tea parties.  She was still an airship captain and was determined not to let her position as oracle or her new marriage get in the way.  Elle was not used to anyone telling her what to do, and Marsh worries about her and misses his old life.  All of this contributed to the fights and the tension in their marriage.  When Marsh is taken captive, that discord in their relationship makes the whole thing even more devastating to Elle.    The clockwork zombies were very inventive and as someone who is not a big zombie fan, the steampunk twist was such that it made an old idea seem very fresh.
I was pleased to see the return of Loisa, who I really liked in book one.  The presence of vampires would normally be a deal breaker for me, but Loisa is a wonderful and interesting character that ended up being a great help to Elle.  Although Elle is very powerful, the new villain that emerges in this book was really fun to read.  She is powerful, really evil, and out to conquer all of London.  Elle must make some pretty heartbreaking choices in order to save Marsh, and you know I always love heartbreaking choices. This installment wasn't quite as strong a story as book one, but I still really enjoyed it.  This steampunk world is well built and filled with both allies and enemies that make the story exciting.  A Clockwork Heart ends on more of a cliffhanger than book one did, so I am anxious to see what book three has in store for us.
I received this galley in exchange for my honest review.
Find Liesel Schwarz online:
Website
Twitter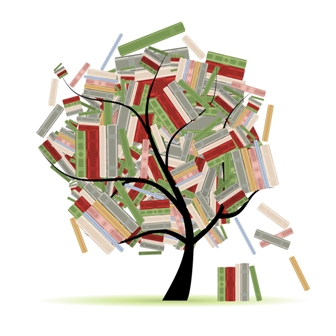 Related Posts