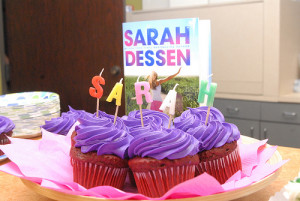 Houston was thrilled to have Sarah Dessen visit…and on her birthday, no less!  Wherever Sarah goes, her devoted fans will follow and the Houston stop was no exception.  Sarah even admitted that some of her more ardent fans can sometimes stump her on trivia questions from her own books!
The great people at Blue Willow Bookshop hosted a wonderful event, as usual, and I was lucky enough to have a few minutes to sit down and talk to Sarah about her new book, The Moon and More.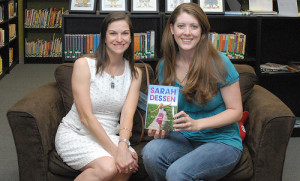 Kate: You did an interview with Penguin Canada and you said that "I find with my writing that the beginnings are usually from real life." So, was there a real life beginning to The Moon and More?
Sarah:  Yes! I finished What Happened to Goodbye. Well, I finished the draft and then I set it aside and we went on vacation. Usually when I finish a draft I'm so tired and I really don't want to write.  We were in Emerald Isle, which is my Colby, and I was sitting out by the pool and this pool guy walks up.  He was this typical Emerald Isle pool guy with no shirt, really cute, dragging all these hoses, very friendly.  He said "Dude, what's up?" So we started talking and he started telling me all about how he's from Emerald Isle and he works on a charter fishing boat and he told me what he really wanted to do with his life and what it was like being from there and having the vacationers come in every season.  When he left I said "Well, there's my next book!"
Kate: And that was Luke
Sarah: Right! I knew I didn't want to write a book just about Luke, but that's often where it starts; something small like that.
Kate:  You started writing before you became a mom, so how did motherhood change the way you write about parents?
Sarah:  I think I have a lot more sympathy for the mothers than I used to. I used to write as a daughter and now I write as a daughter and a mother. So, it's definitely changed. I used to think "well, that's the mother character and she's controlling and overprotective and she's trying to quash this teen's individuality" and now I think, "she's just doing the best she can!" I just didn't know what it was like. You get this little person and you're in charge of them and in charge of keeping them alive as they toddle around and try to stick things in their mouths. So, of course I'm not going to let my daughter go out the door and get in the car with someone I don't know. It's given me a lot more sympathy.
Kate:  I thought the dynamic between the Dad and the Father was interesting.
Sarah:  I think I've done so much with the mothers. I've done a lot with the mother daughter thing. My mom read the book and  said "Thank you for finally taking on the dads!" I like the idea that, as a parent, you realize that you can be a parent biologically and not be a hands-on parent. So much of parenting is the day-to-day being there. It's not just about being genetically linked to someone.
Kate:  There are a lot of adults reading YA right now.  Why do you think his has become such a trend?
Sarah:  I think that there's so much good YA out there right now. There was Harry Potter, Twilight, The Hunger Games. All were very tightly written, suspenseful books and it didn't matter where you found them on the shelf because they would appeal to anybody. They appeal to you if you were ever in high school, or a teenager, or if you are now. I have yet to meet anyone who went through high school and doesn't have an opinion about it. It's a watershed experience whether your high school was 20 years ago or 20 minutes ago. You will remember that time in your life when everything is changing.
Kate:  When I saw the name Emaline I immediately thought about a Ben Folds Five song that nobody knows about on an album called Naked Baby Pictures.  Do you know it? 
Sarah:  That song is my ring tone! It's not one of those songs of his that everyone knows. Well, originally, I wanted to name her Esmé because I was listening to Michael J. Fox's memoir and that's the name of one of his daughters. Then I found out there was a character in Twilight with that name, so I didn't want to repeat it. I was looking for another good E name and I heard his song on the radio.
Thank you, Sarah!  There was a great crowd at the signing and everyone was very excited to get their hands on The Moon and More!  (Such a gorgeous cover.)
Since it was Sarah's birthday, there was cake!  It wasn't just any cake, though…..it was a book cake! Happy Birthday, Sarah!
If you can't make it to one of Sarah's tour stops, you can order signed copies from Blue Willow Bookshop.  You can also see Sarah in September at the Austin Teen Book Festival!
The wonderful people at Penguin are letting me give away one finished copy of The Moon and More.  Just fill out the rafflecopter for a chance to win this thoughtful and poignant story.    After you've done that, scroll on down to hear Emaline by Ben Folds Five.  I love this song and I really love that Sarah Dessen found some inspiration in it!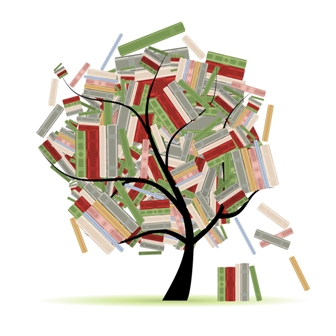 Related Posts