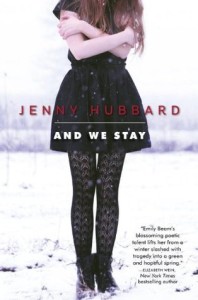 And We Stay
Author:
Jenny Hubbard
Category:
Young Adult
Publisher:
Delacorte Press
Release Date:
1-28-14
When high school senior Paul Wagoner walks into his school library with a stolen gun, he threatens his girlfriend Emily Beam, then takes his own life. In the wake of the tragedy, an angry and guilt-ridden Emily is shipped off to boarding school in Amherst, Massachusetts, where she encounters a ghostly presence who shares her name. The spirit of Emily Dickinson and two quirky girls offer helping hands, but it is up to Emily to heal her own damaged self. This inventive story, told in verse and in prose, paints the aftermath of tragedy as a landscape where there is good behind the bad, hope inside the despair, and springtime under the snow . – Goodreads
Didn't he realize when he pulled the trigger, the world would go on without him? Didn't he know that dead, he'd be nowhere? – eGalley pg. 12
With a detached and almost dreamy narrative voice, And We Stay tells the story of  Emily, whose life is being pieced back together, slowly and painfully, as she starts a new year at a boarding school in Amherst, Massachusetts.  Through flashbacks, we read about Emily's boyfriend Paul, whose terrifying and tragic death hangs over Emily and casts a shadow over her ability to heal.  I really thought  this book was going to be about the aftermath of a school shooting, but it ended up being much more internal than that.  Emily is a poet, and her poetry serves as a vehicle for expressing the things that Emily cannot tell people.  It is haunting and beautiful, and I thought it was a very effective way to communicate Emily's struggles without relying on heavy, first person narrative.
I liked the boarding school setting because it served as a physical demonstration of what her parents seemed to want to do emotionally, which was to hide Emily away.  The events that happened right before she shooting were revealed slowly, and I really felt Emily's confusion, loss, and hurt.  The girls at the boarding school were the usual assortment, but a few of the characters saved it from falling into the hazards of the typical boarding school trope.  Along the way, Emily becomes obsessed with Emily Dickinson, whose own isolation fascinated our protagonist.  And We Stay really worked for me.  I liked the writing style and the poetry, but it might not work for everyone.  I thought the way it was written made it seem like a very intimate story, and although it's a very short book, I became invested in Emily and her ability to find her voice, and hope,  through poetry.
I received this galley in exchange for my honest review.
Find Jenny Hubbard online:
Website
Twitter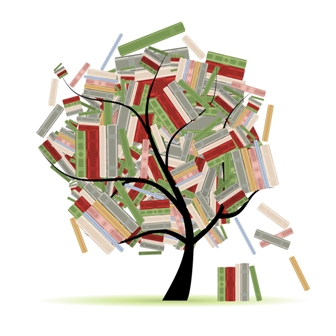 Related Posts