When Workman Publishing reached out and asked if I would like to host a giveaway for some Halloween books, I said YES. (I mean, of course).  My kids were soooo excited when they showed up on my doorstep and we have been enjoying them ever since. I could go on and on about all of them, but I decided to feature two that were of particular interest to my family:
I received this galley in consideration for an honest review.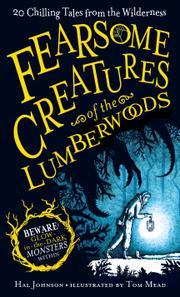 Fearsome Creatures Of The Lumberwoods by Hal Johnson, Tom Mead
Published by Workman Publishing on September 8, 2015
Genres: Folktales
Goodreads

Just for kids, twenty bone-chilling tales about the most dangerous fantastical beasts in American folklore. Meet the Snoligoster, who feeds on the shadows of its victims. The Hodag, like a spiny-backed bull-horned rhinoceros. The Hoop Snake, which can chase prey at speeds of up to 60 miles per hour and then, with one sting of its tail, cause it to turn purple, swell up, and die.

Illustrated throughout, including eight drawings printed with glow-in-the-dark ink, Fearsome Creatures of the Lumberwoods is for every young reader who loves a good scare. The book was originally published in 1910 by William Thomas Cox and is now inspiringly retold by Hal Johnson, author of Immortal Lycanthropes. The creatures are all scales and claws, razor-sharp teeth and stealth, camouflage and single-minded nastiness. Straight out of the era of Paul Bunyan, they speak to an earlier time in American history, when the woods were indeed dark and deep and filled with mystery. The tone is smart and quirky. The illustrations have a sinewy, retro field-guide look. Read them around a campfire, if you dare.
This book was straight-up scary, sometimes.  It's full of stories from American and Native American folklore that was shaped by life in the woods and wilderness.  The stories are great for this time of year, of course, but they would be especially excellent around a campfire.  You don't even have to find a flashlight to shine under your face while you read because the illustrations glow in the dark!  We all loved reading these stories and they are just the right length for a kid's attention span. They were really spooky!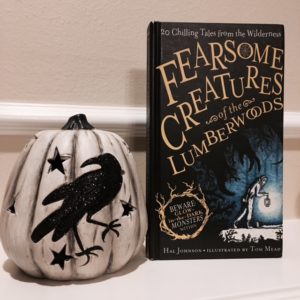 I received this galley in consideration for an honest review.
Papertoy Glowbots by Brian Castleforte
Published by Workman Publishing on August 23, 2016
Genres: Crafts
Goodreads

Origami meets amazing creatures in a book of paper craft fun!

Papertoy Glowbots introduces 46 robots that have the added cool factor of lighting up, whether using glow-in-the-dark stickers that come with the book or light sources like flashlights, Christmas tree lights, and electric tea lights.

The 46 die-cut paper robots are created by Brian Castleforte, author of Papertoy Monsters, along with the hottest papertoy designers from around the world. Meet the robots and read about their entertaining backstories in the front, then turn to the card stock section in the back to build them. The templates are die-cut and ready to pop out, fold, and glue. Bold, colorful graphics ensure the robots look as amazing in the daytime as they do with the lights off.
So, I thought this was going to be a fun thing to do with they kids. It was fun, but these Glowbots were way above their crafting level. (They are 8 and 7).  Glowbots are super cute and they glow in the dark, as the name suggests, but I would say that this is more for older kids and adults.  The robots are pretty small and the construction requires a delicate hand and some pretty precise glue application. (We just used regular white glue).  If you have someone in your life who loves building models or is interested in paper crafting, this would be an awesome book for them.  The robot designs are really clever and they are the finished product is adorable!  We (ok, my husband) made one called Phil. Isn't he the cutest??? Say hi to Phil!
The awesome part about this tour is that I get to give away the whole collection of books!  In addition to the two I talked about, the winner will also receive:
EEK! Halloween by Sandra Boynton | Ages 0-4
It starts with an uh-oh—the chickens are nervous! Strange things are happening. One chicken saw a pumpkin with flickering eyes, another spied a mouse of enormous size. They all saw a wizard and a witch, and a spooky robot. "WHAT'S GOING ON HERE? WHAT DOES IT MEAN? / Relax, silly chickens! It's HALLOWEEN!"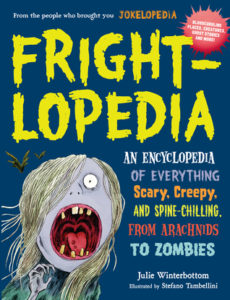 Frightlopedia by Julie Winterbottom | Ages 8&up
Combining fact, fiction, and hands-on activities, Frightlopedia is an illustrated A-Z collection of some of the world's most frightening places, scariest stories, and gruesomest creatures, both real and imagined.
Oh, Ick!: 114 Science Experiments Guaranteed to Gross You Out! Ages 8&up
By Joy Masoff with Jessica Garrett and Ben Ligon
Featuring 114 interactive experiments and ick-tivities, Oh, Ick! delves into the science behind everything disgusting. Stage an Ooze Olympics to demonstrate viscosity and the nature of slime. Observe how fungi grow by making a Mold Zoo. Embark on an Insect Safari to get to know the creepy crawlies around your home. And learn what causes that embarrassing acne on your face by baking a Pimple Cake to pop—and eat. Eww!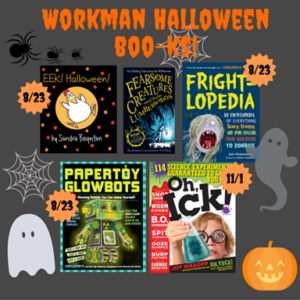 You must be 13+ to enter. Open to US residents only.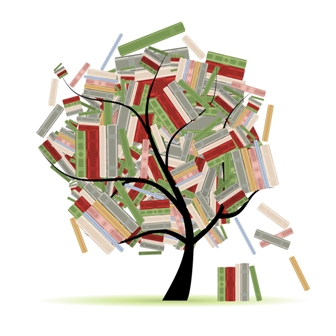 Related Posts