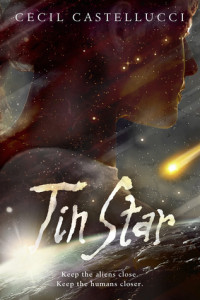 Tin Star
Author:
Cecil Castellucci
Category:
Young Adult
Publisher:
Roaring Brook Press
Release Date:
2-25-14
On their way to start a new life, Tula and her family travel on the 
Prairie Rose
, a colony ship headed to a planet in the outer reaches of the galaxy. All is going well until the ship makes a stop at a remote space station, the Yertina Feray, and the colonist's leader, Brother Blue, beats Tula within an inch of her life. An alien, Heckleck, saves her and teaches her the ways of life on the space station. When three humans crash land onto the station,
Tula's desire for escape becomes irresistible, and her desire for companionship becomes unavoidable. But just as Tula begins to concoct a plan to get off the space station and kill Brother Blue, everything goes awry, and suddenly romance is the farthest thing from her mind. –
Goodreads
Tin Star is most definitely in the sci-fi category, but unlike the non-stop, no-time-to-breathe action of a lot of YA sci-fi that I read, its presence was very thoughtful, with careful world building and character development.  The author builds a world that can be cruel and isolated, much like the space station itself, but manages to make you care about the people on board.  The culture of the station was so fascinating to me.  This is a universe where all species interact and humans are often seen as a lower life form.  I loved reading about the different aliens and the way life on Yertina Feray worked.  Part of Tula's character development was about her becoming accustomed to the life forms that all had varying cultural practices and ideas about how to barter and hat held value.  As yo can tell, I enjoyed the world building quite a bit.  It was important to understand the space station in order to understand the people who who were there.  Some were stranded, some were banished there, and some (like the humans who arrived) may have had sinister motivations.  It all made for a very interesting setting.
Tula's transformation as a character was so interesting to read.  She began as a believer of Brother Blue and after his betrayal, her complete shutting down helped her to reemerge as someone who was unrecognizable, almost.  She learned very quickly how to survive in such a cut throat environment, but it was not without its friendships.  Hecklek was one of my favorite characters in this book.  He was just at mercenary as everyone else trying to get by on the ship, but he also had a softer side.  He was a teacher and friend to Tula when she had no one and while he may have stated out by using her for his own devices, I really got the sense that his feelings for Tula became familial.  The story has twists and turns that I didn't expect and although it was not a neck breaking action packed read, i was really drawn into the story and was really glad to hear that there will be a second book.  I know that Tula's journey is not yet over, and I can't wait to read more about everyone on Yertina Feray.
I received this ARC in exchange for my honest review.
Find Cecil Castellucci online:
Website
Twitter
Facebook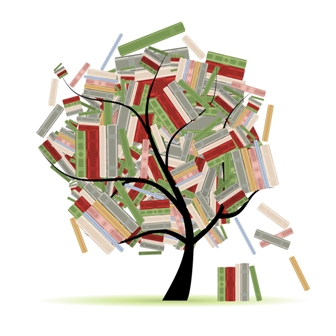 Related Posts