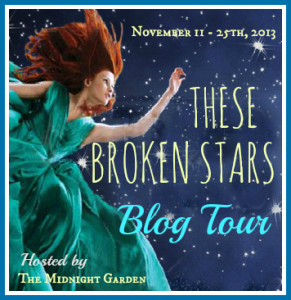 I am so pleased to offer my review of These Broken Stars as a part of the blog tour, hosted by The Midnight Garden.  I enjoyed this book immensely and I think you will, too!  After you've read my thoughts, scroll down for more information about he other your stops and an opportunity to win some fantastic prizes!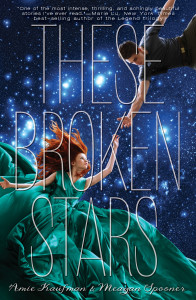 These Broken Stars
Authors:
Amie Kaufman and Meagan Spooner
Category:
Young Adult
Publisher:
Disney-Hyperion
Release Date:
12-10-13
It's a night like any other on board the Icarus. Then, catastrophe strikes: the massive luxury spaceliner is yanked out of hyperspace and plummets into the nearest planet. Lilac LaRoux and Tarver Merendsen survive. And they seem to be alone.  Lilac is the daughter of the richest man in the universe. Tarver comes from nothing, a young war hero who learned long ago that girls like Lilac are more trouble than they're worth. But with only each other to rely on, Lilac and Tarver must work together, making a tortuous journey across the eerie, deserted terrain to seek help.  Then, against all odds, Lilac and Tarver find a strange blessing in the tragedy that has thrown them into each other's arms. Without the hope of a future together in their own world, they begin to wonder—would they be better off staying here forever? Everything changes when they uncover the truth behind the chilling whispers that haunt their every step. Lilac and Tarver may find a way off this planet. But they won't be the same people who landed on it. –
Goodreads
I have to admit that the gorgeous cover of These Broken Stars is what drew me to it, initially, but what lies beneath the amazing cover is the sci-fi that I've been missing since the Across The Universe series ended a year ago.  The foundation for the story is easy to grasp; a star ship, aptly names the Icarus,  crashes, leaving only two survivors on a planet that holds dangerous mysteries.  The story, however, is much more than that.  Lilac is the daughter of the wealthiest and most powerful business man in the universe and Tarver is a hero, tolerated at fancy parties for his medals, but not really one of them.  The fact that they are thrown together on a deserted planet could have quickly become cliche, but instead it turned into a book about two people that feel like outsiders being pushed together for the sake of survival.  Both Lilac and Tarver have parts of themselves that they hide from people.  Lilac, especially, has had to become adept at being the empty headed socialite that everyone assumes she is, but her character is strong, complex, and an absolute joy to read.
The science fiction elements of the story were outstanding, as well.  The planet is habitable and holds both life saving resources and dangers, but there was a wonderful feeling of foreboding the whole time.  I kept wondering what the secret really was, and when they find it, it wasn't anything like I thought it would be.  In fact, it probably would have been funny to take a time lapse of all of my expressions as I read this book because between the excellent banter, the swoony scenes (yes, there were a few of those), and the outstanding plot twists, I'm sure it would have been entertaining to see all of my reactions.  I mean it when I say that I haven't felt this enthusiastic about a sci-fi series in a long time, and I think that fans of this genre, as well as newcomers, will enjoy this marvelously crafted story.  I was so relieved to find out that this is a series and I am anxiously awaiting the next book!
Amie Kaufman and Meagan Spooner are longtime friends and sometime flatmates who have traveled the world (but not yet the galaxy), covering every continent between them. They are sure outer space is only a matter of time. Meagan, who is also the author of the Skylark trilogy, currently lives in Asheville, NC, while Amie lives in Melbourne, Australia. Although they currently live apart, they are united by their love of space opera, road trips, and second breakfasts.
Visit the These Broken Stars website for the latest news on the series and follow the authors on Twitter at @AmieKaufman and @MeaganSpooner. You may also sign up for their newsletter as well! These Broken Stars will be available in North America on December 10, 2013.
If you pre-order the book from Malaprop's Bookstore, you can also get a collectible TBS poster autographed by the authors!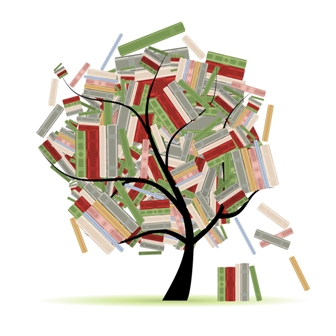 Related Posts