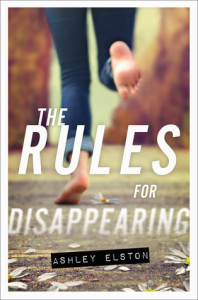 The Rules For Disappearing
(The Rules For Disappearing #1)
Author:
Ashley Elston
Category:
Young Adult
Publisher:
Disney-Hyperion
Release Date:
5-14-13
She's been six different people in six different places: Madeline in Ohio, Isabelle in Missouri, Olivia in Kentucky . . . But now that she's been transplanted to rural Louisiana, she has decided that this fake identity will be her last.  Witness Protection has taken nearly everything from her. But for now, they've given her a new name, Megan Rose Jones, and a horrible hair color. For the past eight months, Meg has begged her father to answer one question: What on earth did he do – or see – that landed them in this god-awful mess? Meg has just about had it with all the Suits' rules — and her dad's silence. If he won't help, it's time she got some answers for herself.  But Meg isn't counting on Ethan Landry, an adorable Louisiana farm boy who's too smart for his own good. He knows Meg is hiding something big. And it just might get both of them killed. As they embark on a perilous journey to free her family once and for all, Meg discovers that there's only one rule that really matters — survival. –
Goodreads
"The changes transform my face. My eyes are larger. The angles are stronger.  My face looks too thin. The woman is right – no one from my former life would recognize me.  I am truly gone." – ARC pg. 5
The Rules For Disappearing was a surprise win for me.  I am not usually one to try books where the plot could go so easily into well trod territory with seemingly unavoidable cliche, but this story managed to avoid that.  Meg's life on the move was exhausting and disheartening and, as a reader, I felt every bit of her despair.  I wasn't expecting for the story to be so internal to Meg's experience and I must say that it helped me  feel connected with everyone in the story.  With  no knowledge of why her family was in witness protection, her life seems to stretch ahead of her, a long road with no clear end to it.  The small town in Louisiana where Meg and her family end up was a great setting for the book.  There were some moments of humor when Meg had some you ain't from around here, are you? experiences and I liked the way the small town made Ethan a very grounded character to contrast with Meg's constant movement, both emotionally and geographically.
The pacing was very good.  The book starts in the middle of a relocation so I was immediately given a picture of what Meg and her family had been going through, while the story moved ahead and described the real toll that this life was taking on her parents and her sister.  As the emotional elements of the story leveled out, the mystery of their relocation, the truth behind their reasons for being out in the program, and Megs determination to fix everything, was laid out very quickly and succinctly.  There were some great plot twists and the ending was closed enough to make me smile, but creepy enough to make sure that I will be back for book two.  If you've been wondering about this book, I highly recommend that you pick it up and give it a chance.  I am certainly glad that I did.
I received this galley in exchange for my honest review.
Find Ashley Elston online:
Website
Twitter
Facebook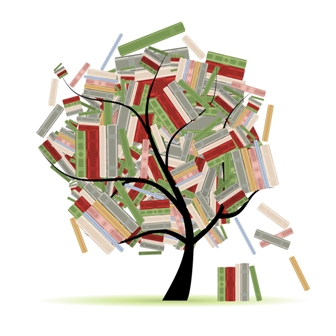 Related Posts