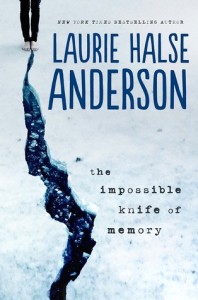 The Impossible Knife Of Memory
Author:
Laurie Halse Anderson
Category:
Young Adult
Publisher:
Viking
Release Date:
1-7-14
For the past five years, Hayley Kincaid and her father, Andy, have been on the road, never staying long in one place as he struggles to escape the demons that have tortured him since his return from Iraq. Now they are back in the town where he grew up so Hayley can attend school. Perhaps, for the first time, Hayley can have a normal life, put aside her own painful memories, even have a relationship with Finn, the hot guy who obviously likes her but is hiding secrets of his own. Will being back home help Andy's PTSD, or will his terrible memories drag him to the edge of hell, and drugs push him over? –
Goodreads
I'm not sure if it's a weird thing to say, but I think that my favorite "issue" in "issue books" is mental illness.  More specifically, in YA books, about how a mentally ill parent impacts a teen.  Hayley has had an unusual upbringing, to say the least, and a lot of that is because of her father's battle with crippling PTSD after two violent tours of duty in Afghanistan.  Hayley is  her father's caretaker.  While she feels that she has had a free childhood on the road with her father while he home-schooled her, I felt very early into the book that this life of worry was really a prison for everyone involved.  Slowly, Hayley's acclimation into a more traditional high school setting gives her the perspective of just how deeply she has retreated into her father's world.  At times, it even seemed like she had adopted some of his paranoia.  When she meets Finn, a boy that refuses to be put off by her prickly exterior, the cracks in her world open up even more. As she lets Finn in, she must also let in the memories of a life that she hasn't thought about for a long time.  Those memories were a bittersweet mix of pain and happiness.  All of it reached out and grabbed my heart. The pacing of this story was so good that I started and finished it in one day.  I was simply unable to put this book down.
The teens in this book were all dealing with very heavy things; a family member who abuses drugs, parents going through a nasty divorce, and a parent dealing with mental illness.  Not surprisingly, they all dealt with it in different ways.  When I finished the book and kind of stood back to think about it, I realized how amazing it was to show people struggling, all with different levels of self-awareness of their situations.  What is it that makes one person stand strong against adversity while another disappears into habits that dull the pain while causing more harm in the long run?  The title made more sense to me when I looked at it from that perspective.  Everyone was dealing with the memories of what used to be while trying to move forward in their current reality.  Finn and Hayley, especially, must try to love each other while trying not to be swallowed by the pain in their lives.  It would be great to say that Finn handled it all perfectly, never giving up that "perfect guy" facade, but he didn't.  His reaction to Hayley and to his own situation was realistic and complicated, and it made me love him even more, to be honest.   The same went for Hayley, whose tough exterior hid deep, deep hurt.   All of these situations made my heart ache.  Hayley's, in particular, because we are a country dealing with the consequences of war.  More and more, soldiers are returning with heavy mental burdens, and I am glad that Laurie Halse Anderson has told this story, because I think it's so relevant to what many soldiers and their families are going through today.  In the end, I wanted Hayley's father to be successful and I really wanted Hayley to be free. The ending was very hopeful, but it also gave an open-ended and realistic view of the never ending presence of mental illness.  I can only hope that in that imaginary place where I write endings for my favorite characters, that Hayley and her dad have found the peace they deserve.  The Impossible Knife Of Memory stayed with me for a long time after I finished it and I hope that everyone who reads it feels the same way.
I received this ARC in exchange for my honest review.
Find Laurie Halse Anderson online:
Website
Twitter
Facebook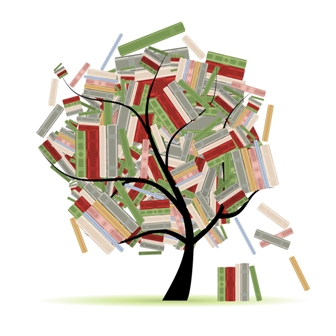 Related Posts