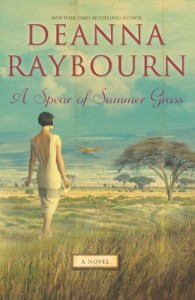 A Spear Of Summer Grass
Author:
Deanna Raybourn
Category:
Fiction
Format:
ARC
Publisher:
Harlequin/Mira
Release Date:
4-30-13
The daughter of a scandalous mother, Delilah Drummond is already notorious, even amongst Paris society. But her latest scandal is big enough to make even her oft-married mother blanch. Delilah is exiled to Kenya and her favorite stepfather's savannah manor house until gossip subsides. Fairlight is the crumbling, sun-bleached skeleton of a faded African dream, a world where dissolute expats are bolstered by gin and jazz records, cigarettes and safaris. As mistress of this wasted estate, Delilah falls into the decadent pleasures of society. Against the frivolity of her peers, Ryder White stands in sharp contrast. As foreign to Delilah as Africa, Ryder becomes her guide to the complex beauty of this unknown world. Giraffes, buffalo, lions and elephants roam the shores of Lake Wanyama amid swirls of red dust. Here, life is lush and teeming-yet fleeting and often cheap.  Amidst the wonders-and dangers-of Africa, Delilah awakes to a land out of all proportion: extremes of heat, darkness, beauty and joy that cut to her very heart. Only when this sacred place is profaned by bloodshed does Delilah discover what is truly worth fighting for-and what she can no longer live without. –
Goodreads
As a fan of historical romance, I was very excited about getting a chance to review this book.  Set in the post-WWI, pre-depression era, A Summer Spear Of Grass follows the journey of Delilah who appears to be a frivolous, often married socialite.  However, the story slowly reveals Delilah to much more than that.  While she escapes to Africa to avoid a scandal, she becomes more and more involved in the wildness and fierce landscape around her.  She notices the societal tensions that existed between the native population and the imperial British in power.  She experiences the dangers that people face every day in a land that is largely untamed.  As she grows and gets in touch with who she used to be, her relationship with Ryder completes her transformation from party girl to the person she truly is inside.  I loved the rich descriptions of Africa, the stories of the people she encountered, and the complex and bittersweet romance.  I think that anyone who loves historicals will enjoy this story.
I received this ARC in exchange for my honest review.
Find Deanna Raybourn online:
Website
Twitter
Facebook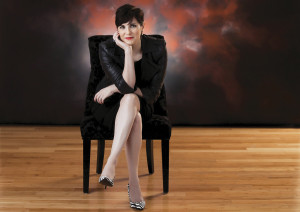 A sixth-generation native Texan, Deanna Raybourn graduated from the University of Texas at San Antonio with a double major in English and history and an emphasis on Shakespearean studies. She taught high school English for three years in San Antonio before leaving education to pursue a career as a novelist.
Harlequin has very generously offered up two copies of this book to give away!  Two winners will receive a gorgeous finished copy of A Spear of Summer Grass.  you must be 13+ to enter. This giveaway is open to residents of the US and Canada.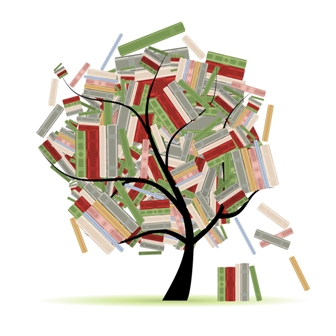 Related Posts