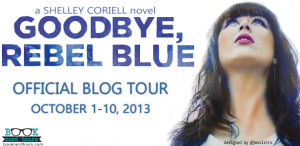 Welcome to my stop on the GOODBYE, REBEL BLUE blog tour.  Today, I'm sharing my thoughts about the book.  Don't forget to scroll down and enter the giveaway!
Goodbye Rebel Blue
Author:
Shelley Coriell
Category:
Young Adult
Publisher:
Abrams
Release Date:
10-1-13
Rebecca Blue is a rebel with an attitude whose life is changed by a chance encounter with a soon-to-be dead girl. Rebel (as she's known) decides to complete the dead girl's bucket list to prove that choice, not chance, controls her fate. In doing so, she unexpectedly opens her mind and heart to a world she once dismissed—a world of friendships, family, and faith. With a shaken sense of self, she must reevaluate her loner philosophy—particularly when she falls for Nate, the golden boy do-gooder who never looks out for himself. Perfect for fans of Jay Asher's blockbuster hit Thirteen Reasons Why, Coriell's second novel features her sharp, engaging voice along with realistic drama and unforgettable characters. –
Goodreads
The premise of Goodbye, Rebel Blue is perhaps a bit far-fetched, at first, but as the story progresses it turns into something that creates meaning.  Rebel is not what you would call a happy fuzzy person.  She is acerbic, snarky, and lives with the belief that she is not a blessing in anyone's life.  Her home life isn't very smooth and her school experience is even more bumpy.  Her only friend seems to be Nate, who is what I like to call a Golden Boy.  It seemed like an odd paring at first and I wasn't sure how true their relationship would ring, but it soon becomes apparent that Nate is attracted to Rebel's unwavering belief that she shouldn't have to change for anyone.  She is who she is.  I admired that about her and even though she stayed true to herself, I also saw that Nate had an influence on her, as well.  I always like it when couples compliment each other rather than behave in the same way.   I think that's something that deepens relationships in books and in real life.  The list that Rebel decides to fulfill after the death of a girl she hardly knows puts her on a path toward enlightenment, but in a very believable, and sometimes funny, way.
More than just Rebel changing into a more open person through this list, was the way she regarded human interaction.  Where she was reluctant to make friends or invest very much in relationships with others at the beginning of the book, through this list she started to appreciate the simple joy of reaching out to others and helping them, even if it was a small gesture.  I also liked the way she developed more self awareness regarding her feelings about her mom and her aunt and uncle, who she has lived with since her mom's death.  It wasn't a book about the "weird" girl becoming popular or the outcast becoming more integrated; rather, it was a book about self-acceptance and finding the worth in life and understanding that your interactions do mean something to the people around you.
 I received this ARC in exchange for my honest review.
I'm a former newspaper reporter, magazine editor, and restaurant reviewer. These days I write smart, funny novels for teens and big, edgy romantic suspense. A six-time Romance Writers of America Golden Heart Finalist, I live and love in Arizona with my family and the world's neediest rescue Weimaraner. When I'm not behind the keyboard, you'll find me baking high-calorie, high-fat desserts and haunting local farmers markets for the perfect plum.
TWITTER | BLOG | GOODREADS | FACEBOOK
Buy a copy of GOODBYE, REBEL BLUE:
AMAZON | B&N | BOOKS-A-MILLION | INDIE BOUND
There is also an awesome giveaway that you can enter!
One Winner will get a swag pack with pen, journal, finished copy of GOODBYE REBEL BLUE + More!
Must be 13+ To Enter – Ships in US only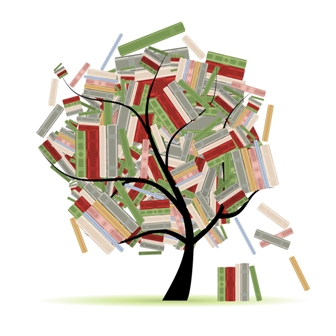 Related Posts