When I was contacted and asked if I would be interested in talking about some girl power graphic novels, I couldn't say YES fast enough!  Until a few years ago, I hadn't been a big graphic novel reader, but that has changed!  My kids and I have been enjoying some of the fantastic stories that have been released lately and today I am going to briefly talk about three graphic novels that I have enjoyed that feature some definite girl power!
I received this galley in consideration for an honest review.
Scarlett Hart: Monster Hunter by Marcus Sedgwick, Thomas Taylor
Published by First Second on April 3, 2018
Genres: Graphic Novel, Fantasy, Middle Grade
Goodreads

Scarlett Hart, orphaned daughter of two legendary monster hunters, is determined to carry on in her parents' footsteps—even if the Royal Academy for the Pursuit and Eradication of Zoological Eccentricities says she's too young to fight perilous horrors. But whether it's creepy mummies or a horrid hound, Scarlett won't back down, and with the help of her loyal butler and a lot of monster-mashing gadgets, she's on the case.

With her parent's arch-rival, Count Stankovic, ratting her out to T.R.A.P.E.Z.E. and taking all the monster-catching rewards for himself, it's getting hard for Scarlett to do what she was born to do. And when more monsters start mysteriously manifesting than ever before, Scarlett knows she has to get
When I saw Marcus Sedgwick was the author, it was an immediate yes.  This book was so much fun!  Slightly steampunk, with an old family estate that needs cash and an orphan who is desperately trying to save the legacy of her parents.  It's a world where monsters roam freely and those who capture them can earn money!  The art is dark and moody, with vividly drawn monsters and a heroine who is agile, smart, and good at hunting monsters!  I really hope there will be more books about Scarlett Hart!
I received this galley in consideration for an honest review.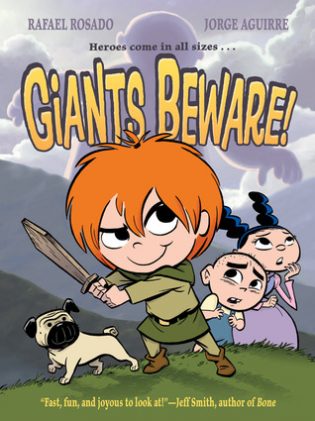 Giants Beware! by Jorge Aguirre, Rafael Rosado
Published by First Second on April 10, 2012
Genres: Graphic Novel, Fantasy, Middle Grade
Goodreads

Make way for Claudette the giant slayer in this delightful, fantastical adventure!

Claudette's fondest wish is to slay a giant. But her village is so safe and quiet! What's a future giant slayer to do?

With her best friend Marie (an aspiring princess), and her brother Gaston (a pastry-chef-to-be), Claudette embarks on a super-secret quest to find a giant—without parental permission. Can they find and defeat the giant before their parents find them and drag them back home?

Giants Beware! offers up a wondrous, self-contained world in the tradition of the very best of Pixar. Claudette and her friends will have you laughing out loud from page one.
Giants Beware is a book I purchased for my son a few years ago and has remained one of his favorites.  Claudette is a wonderful heroine. She is hilarious and was the source of many giggles while my son was reading.  The books are larger than standard which I think is why it appealed to him both as an early reader and a more experienced one now.  There are two more books in the series and we have all enjoyed reading about Claudette's funny adventures.
I received this galley in consideration for an honest review.
The City On The Other Side by Mairghread Scott, Robin Robinson
Published by First Second on April 24, 2018
Genres: Graphic Novel, Middle Grade, Fantasy
Goodreads

When a wealthy and sheltered young girl stumbles into a pitched war between two fairy kingdoms, the fate of San Francisco itself hangs in the balance!

The first decade of the twentieth century is coming to a close, and San Francisco is still recovering from the great earthquake of 1906. Isabel watched the destruction safely from her window, sheltered within her high-society world.

Isabel isn't the kind of girl who goes on adventures. But that all changes when she stumbles through the invisible barrier that separates the human world from the fairy world. She quickly finds herself caught up in an age-old war and fighting on the side of the Seelie—the good fairies.
My daughter immediately took this book and started reading.  I love it because I will always love any book about the Seelie court.  The art is so colorful and engaging and it matched the adventurous story.  It's a historical fantasy set at the turn of the century, which was another appealing factor. I liked how Isabel is thrown into a situation where she is forced to be brave and step out of her comfort zone.  Those types of stories appeal to me and I am looking forward to more stories in this world.
If you'd like to learn more about any of the other books on the Girl Power Graphic Novel Tour, check out the tour page!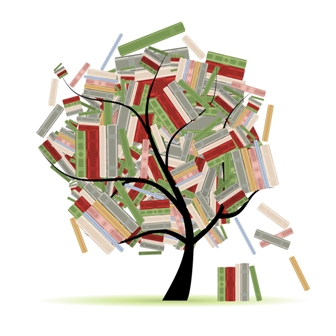 Related Posts