Welcome to my stop in the blog tour for Mighty Jack by Ben Hatke!  I'll be sharing my pick for favorite fairy tale retelling AND my thoughts on Mighty Jack. If you'd like to stop by the other blog hosts on this tour, you can find them here
When I think about retellings, I think the stories that stick with me are the ones that make you think about an old story in a new way.  One retelling that immediately came to mind was Of Beast and Beauty by Stacey Jay.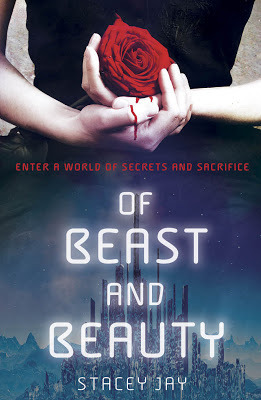 Of Beast and Beauty by Stacey Jay
Published by Random House Genres: Young Adult, Retelling

In the domed city of Yuan, the blind Princess Isra, a Smooth Skin, is raised to be a human sacrifice whose death will ensure her city's vitality. In the desert outside Yuan, Gem, a mutant beast, fights to save his people, the Monstrous, from starvation. Neither dreams that together, they could return balance to both their worlds.

Isra wants to help the city's Banished people, second-class citizens despised for possessing Monstrous traits. But after she enlists the aid of her prisoner, Gem, who has been captured while trying to steal Yuan's enchanted roses, she begins to care for him, and to question everything she has been brought up to believe.

As secrets are revealed and Isra's sight, which vanished during her childhood, returned, Isra will have to choose between duty to her people and the beast she has come to love.
Beauty and the Beast is probably in the top three of retellings, and it's no wonder because I think the idea that we are more than our appearance is one that is universally appealing.  Of Beast and Beauty took that idea and ran with it, but in a way that made you question which character was the "beast" and which was the "beauty".  It was well written and very twisty.  If you haven't read it, I highly recommend it!
I received this galley in consideration for an honest review.
Mighty Jack by Ben Hatke
Published by First Second on September 6, 2016
Genres: Fantasy, Graphic Novel, Retelling, Young Adult, Middle Grade
Goodreads

Jack might be the only kid in the world who's dreading summer. But he's got a good reason: Summer is when his single mom takes a second job and leaves him at home to watch his autistic kid sister, Maddy. It's a lot of responsibility, and it's boring, too, because Maddy doesn't talk. Ever.

But then, one day, she does talk. Maddy tells Jack in no uncertain terms to trade their mom's car for a box of magic beans. It's the best mistake Jack has ever made. The little garden behind his house is about to become home to tiny onion babies running amok, dangerous biting cabbages, and, in a fiery cliff-hanger at the end of this first volume: a dragon.
I have became a big fan of Ben Hatke ever since I read Little Robot.  His books are not only visually magical, but the stories hit you right in the feels every time.  Mighty Jack is, if course, a Jack and the Beanstalk retelling.  This is a fairy tale that is very old, with many variations, but with one consistent theme: overcoming impossible odds.  The Jack we meet in Mighty Jack is the son of a single mom and brother to  non-verbal sister.  His mom works long hours to provide for them and money is tight.  Jack worries about his mom, he worries about his sister, and he wants to do something. Of course, a box with weird seeds in it probably (definitely) isn't what his mom had in mind, but that magical garden is where the adventure really begins.  In Mighty Jack, the beanstalk itself plays more of a sinister role and it was really interesting to read the new angle to this story, which is always why retelling are so interesting.  With the help of Lily, a home-schooled girl that live nearby, they embark on a magical adventure.  I don't want to give too much away, but just know that the story was so engaging and wonderful.  The art, of course, was also fantastic, which just added to the impact of the book.  His mother's fatigue, Jack's worry, and Lily's determination and intelligence were all beautifully communicated in each panel.  If you need more proof that Mighty Jack is awesome, you could ask my eight year old son, who has already read it several times. (It has become one of his favorites)  I love books that my kids and I can both enjoy, and Mighty Jack definitely falls into that category.  I am so happy that there will be more books in this adventure and I am really looking forward to another installment in what will surely be an enjoyable and fantastic series.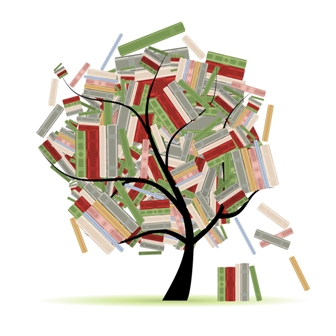 Related Posts