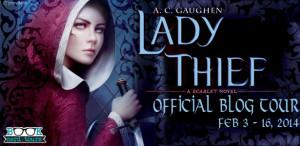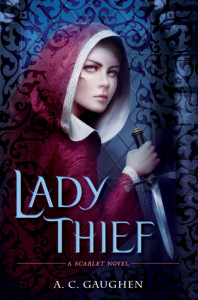 Lady Thief
(Scarlet #2)
Author:
A.C. Gaughen
Category:
Young Adult
Publisher:
Walker
Release Date:
2-11-14
Scarlet's true identity has been revealed, but her future is uncertain. Her forced marriage to Lord Gisbourne threatens Robin and Scarlet's love, and as the royal court descends upon Nottingham for the appointment of a new Sheriff, the people of Nottingham hope that Prince John will appoint their beloved Robin Hood. But Prince John has different plans for Nottingham that revolve around a fateful secret from Scarlet's past even she isn't yet aware of. Forced to participate at court alongside her ruthless husband, Scarlet must bide her time and act the part of a noblewoman—a worthy sacrifice if it means helping Robin's cause and a chance at a future with the man she loves. With a fresh line of intrigue and as much passion as ever, the next chapter in Scarlet's tale will have readers talking once again. – Goodreads
I jumped at the chance to be on this tour because I absolutely adored Scarlet.  Well, let me tell you that Lady Thief was even better than book one!  Lord Gisbourne is as evil and manipulative as Scrlet feared and I could see why she felt the need to flee this life.  Most importantly, we find out some very important information about Scarlet, her sister, and what they ran from when they left their home.  Rob and Scarlet's connection was as romantic and, at times, heart breaking, as ever.  Scarlet is, after all, married and until she can free herself from that union, her future with Rob is threatened.   Really, there was more than one moment that made me (figuratively) clutch my heart for some of these characters.
Scarlet's toughness hides a lot of hurt and vulnerability, but I think it grabs me because those vulnerabilities never stopped her or kept her from fighting for those she loved.  It's not just about Rob, but about the band of thieves that she has made her family.  In many ways, this book is about family and while they aren't blood relatives, they fight and stand by each other as any biological family would.  For that reason, I really grew attached to everyone, just as Scarlet was attached to them.  The action in this book was non-stop.  As Scarlet fluctuated between her identity as a noble thief and a noblewoman, she never loses the ability to physically an emotionally fight for herself and for her friends.  The scenes inside the palace were full of heart stopping political intrigue and there were a few times when I wished I could have covered my eyes because it was just so suspenseful.  The plot twists were masterful and wonderfully surprising.  Lady Thief was a very strong second book and I was so happy to dive back into this exciting and dangerous world.  Needless to say I will be waiting anxiously for book three!
I received this galley in exchange for my honest review.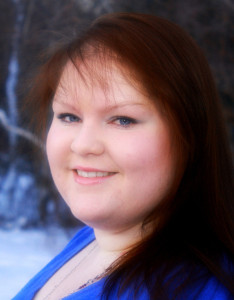 I am shamelessly addicted to staying up far too late (it feels like stealing time), diet coke (it burns so good), Scotland (stupid country stole my heart and won't give it back. Interpol has been ineffective for prosecution) and thieves (so I guess I'm not that mad at Scotland).
Find A.C. Gaughen online.
Website 
TUMBLR
YouTube

 Giveaway is open to US Only. | Must be 13+ to Enter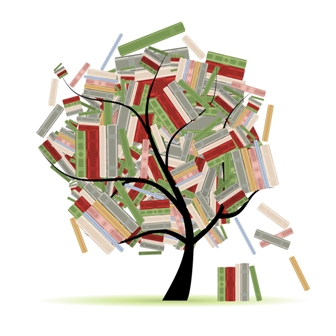 Related Posts