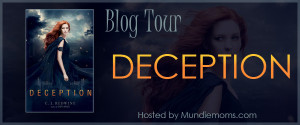 I am thrilled to be a stop on the Deception Blog Tour, hosted by Mundie Moms!  Here is a little bit about the book: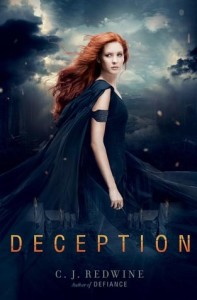 Deception (Defiance #2)
Author: C.J. Redwine
Category: Young Adult
Publisher: Balzar + Bray
Available Now
Baalboden has been ravaged. The brutal Commander's whereabouts are unknown. And Rachel, grief stricken over her father's death, needs Logan more than ever. With their ragged group of survivors struggling to forge a future, it's up to Logan to become the leader they need—with Rachel by his side. Under constant threat from rival Carrington's army, who is after the device that controls the Cursed One, the group decides to abandon the ruins of their home and take their chances in the Wasteland.

 But soon their problems intensify tenfold: someone—possibly inside their ranks—is sabotaging the survivors, picking them off one by one. The chaos and uncertainty of each day puts unbearable strain on Rachel and Logan, and it isn't long before they feel their love splintering. Even worse, as it becomes clear that the Commander will stop at nothing to destroy them, the band of survivors begins to question whether the price of freedom may be too great—and whether, hunted by their enemies and the murderous traitor in their midst, they can make it out of the Wasteland alive.  In this daring sequel to Defiance, with the world they once loved forever destroyed, Rachel and Logan must decide between a life on the run and standing their ground to fight.
Purchase it from
: 
Harper Teen
 | 
Amazon
 | 
Barnes & Noble
Add it to
Goodreads
C.J. was kind enough to answer a few questions I had about DECEPTION and her writing process:
When I read DEFIANCE, which I really enjoyed,  I was not a big reader of fantasy.  I have since noticed that a lot of people like me are more willing to try fantasy and that it's become much more popular, especially in YA.  Why do you think that is?
I've always loved reading fantasy because it's such a complete escape from my world. It offers romance and action and suspense, and it also gives me the opportunity to immerse myself in something fresh and new. Also, I think there's part of us that loves the clear delineation of good vs evil in fantasy and the fact that there are definitive ways to fight the evil. Who doesn't love hot boys with swords and kick butt girls who are their equals on the battlefield?
World building is a big part of writing fantasy.  Do you use any tools to help you when you are writing? (maps, drawings, etc…)
Sadly, I am ridiculously inept at drawing maps. I do, however, use Pinterest to build story boards. And I think through each area of the world as I approach it. I explain all the pieces of it to myself (and sometimes to my critique partners) even though I know only a fraction of that will ever make it onto the page.
In DEFIANCE we got to know Logan and Rachel quite well.  Will we get to meet any new characters in DECEPTION, or perhaps get to know anyone a bit better?
Yes! There's quiet a cast of secondary characters in DECEPTION, and they are very important to the story. Quinn and Willow, the Tree People who were waiting for Rachel in the Wasteland, have a very strong story arc, as do Sylph, Thom, Nola and some others readers will get to meet for the first time.
What were some of the books that most influenced you when you were a teenager?
The Chronicles of Narnia, the Sword of Shannara series, Lord of the Rings, and all of Louisa May Alcott's books. (I know, I know … it's kind of a "which of these things is not like the other" game, isn't it? lol)
I know you are working furiously on Book 3 (yay!).  After you're done with this series, what are you working on? 
I have a couple of projects in the works. One is high fantasy based on (without being strict retellings) fairy tales. The other is kind of  … Percy Jackson meets Supernatural. We'll see which one gets picked up by my publisher. 🙂
C. J. Redwine lives in Nashville, Tennessee, with her four beautiful kids, an amazing husband, two fairly crazy cats, and a dog. She has books in every corner of her house, an impressive Harry Potter memorabilia collection, and a bunch of really cool friends she doesn't get to see nearly as much as she'd like to. She is also the author of Defiance.
Visit C.J. via her Blog | Twitter | Facebook | Tumblr
We're giving away a signed copy of either Defiance or Deception (winner's choice), and 2 runner up winners will receive a set of bookmarks
a Rafflecopter giveaway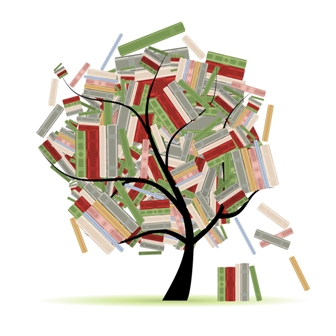 Related Posts